Nuuly forms exclusive partnership with plus-size apparel brand Eloquii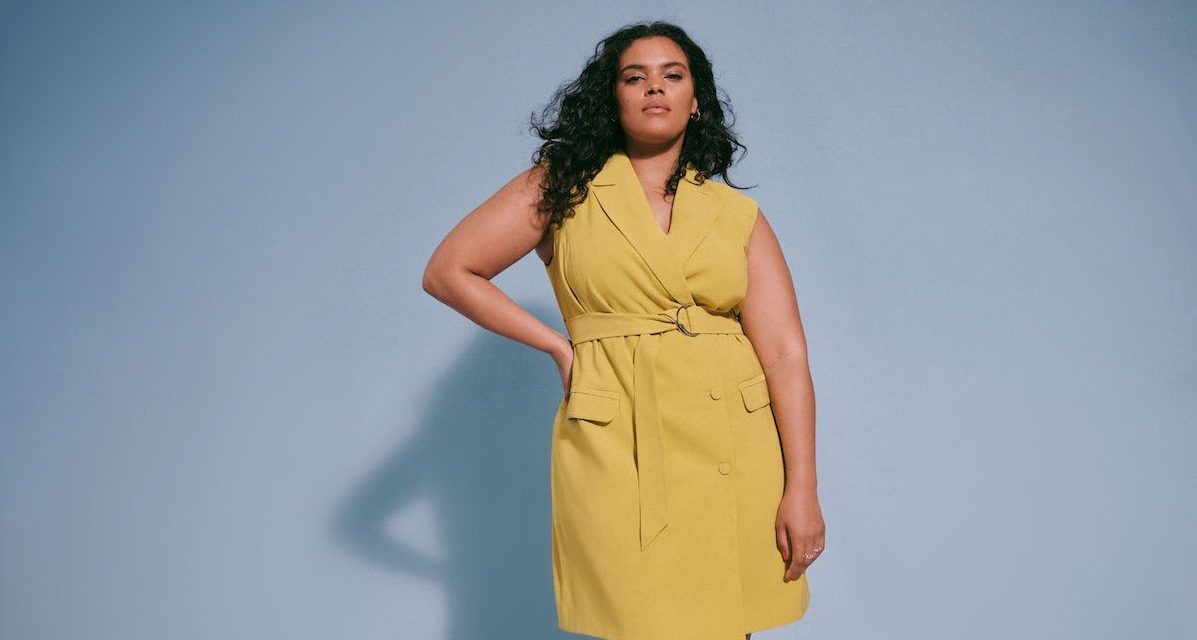 Nuuly x Eloquii
Nuuly, the clothing rental subscription service under Urban Outfitters Inc., is expanding its plus-size offerings via an exclusive partnership with women's fashion brand Eloquii.
This month, Nuuly is adding 25 new Eloquii styles to its website, many of which are from Eloquii's core collection or summer line. Items go from sizes 14 to 32 and include everything from dresses to tops to leather jackets. Nuuly plans to add new novelty pieces and top-selling styles in the coming months and seasons to ensure a wide assortment.
Nuuly carries thousands of styles ranging from sizes 00 to 5X and 40W. Between 15% and 20% of its clothing comes in plus sizes, Sky Pollard, head of product at Nuuly, told Modern Retail. An average of 4% to 6% of subscribers buy plus-size apparel, a statistic Nuuly hopes to grow in the coming months and years by bringing in more brands and working with existing ones to include a robust selection of sizes. Eloquii joins a number of brands offering plus sizes on the platform, including Anthropologie, Good American and For Love + Lemons.
"It's definitely been a mission for Nuuly and for us on the product side to offer as many sizes as we can to our subscribers, since day one," Pollard said.
Nuuly wants those buying plus-sized clothing to "have a really great assortment to choose from, so everywhere that we can, we push a lot of our vendors to go there with us, even if it's just adding one size a year," she said. "This partnership with Eloquii has really given us the opportunity to hopefully speak to that community more and really show that we're committed to this customer and that we want to keep bringing more on for them."
Eloquii has gained a steady following since launching in 2011 under The Limited. Not long after, Eloquii shut down as part of a wider restructuring. It re-launched online as a DTC brand in 2014. In 2018, Walmart bought Eloquii for a reported $100 million, saying the brand "has a direct connection with its customers that helps inform how products get developed, how they're marketed and how the brand comes to life."
Earlier this year, Walmart sold Eloquii to FullBeauty Brands for an undisclosed sum. With the acquisition, FullBeauty Brands will launch a "new digital mall" with Eloquii as its anchor tenant. "We had a lot of respect for that brand and how it took care of its customer," FullBeauty Brands CEO Jim Fogarty told Modern Retail last month.
Pollard reached out to Eloquii about joining forces in the summer of 2022 after hearing customers rave about the brand. "They have a lot of expertise around fit and fabric and construction," she said. "[Eloquii] offers two things that are particularly hard to find with inclusive sizing from quality brands: A really good point of view on trend and great wear to work."
Nuuly has two prongs to its business: A subscription business and a resale business. For the former, subscribers pay $98 a month to rent any six pieces, with the option to buy any of those items at the end of the month. These typically retail from $60 to $160, although prices can fluctuate based on wear. Urban Outfitters Inc. launched Nuuly in 2019; It's currently navigating a lawsuit from Le Tote, who alleges that Nuuly stole its business model and intellectual property.
Nuuly has become popular among customers looking to add variety to their wardrobes, while also saving money and keeping clothes out of landfills. At the end of Q1 2022, Nuuly had 76,500 subscribers, Nuuly told Modern Retail. It's since nearly doubled that to 150,000 subscribers. Nuuly reported nearly $130 million in full-year revenue for 2022, up $81.9 million from a year before. Some of this may have to do with its resale marketplace, which debuted in fall 2021.
"[Nuuly] has been growing rapidly, faster than I originally expected," David Swartz, senior equity analyst at Morningstar, told Modern Retail. "I think the pandemic pushed ahead the idea of renting clothes and online sales. It seems like so far, Urban Outfitters is doing a pretty good job with it… It's getting close to the point where it's becoming really relevant to the company."
Nuuly is still small compared to other brands under the URBN umbrella, though, Swartz pointed out. Anthropologie, for instance, reported nearly $2 billion in revenue in 2022.
Clothing rental and subscription services have also had their ups and downs over the past few years. Stitch Fix reported losses of $65.6 million in its fiscal second quarter. Nordstrom discontinued its Trunk Club service last summer. In 2020, Nike folded its subscription service for kids' shoes, Adventure Club.
Plus-size apparel is sometimes difficult to find on rental or resale platforms. Rent the Runway says it carries sizes from 00 to 22, but many items only go up to size 16. A search for "plus size women's" on The RealReal returned approximately 70 results, but many were not in plus sizes.
Nuuly has yet to turn an annual profit. "It's a question whether they can ever get to be big enough to overcome the overhead cost of running this type of business, which is quite complicated and does require a certain amount of manpower and warehouse space," Swartz said.
Still, Urban Outfitters Inc.'s chief operating officer told Bloomberg he believes the company is "sitting on a billion dollar-plus brand."
Nuuly is optimistic about the future as well, especially when it comes to forming partnerships like the one it has with Eloquii.
"I can definitely see down the line us doing special things with them, whether it's exclusives or partnering in another way," Pollard said. "They're just so wonderful to work with… And once we know how the brand will perform, then we can be really confident in where we go together."