Kizik hopes to be the Hoka of slip-on shoes as it plots retail expansion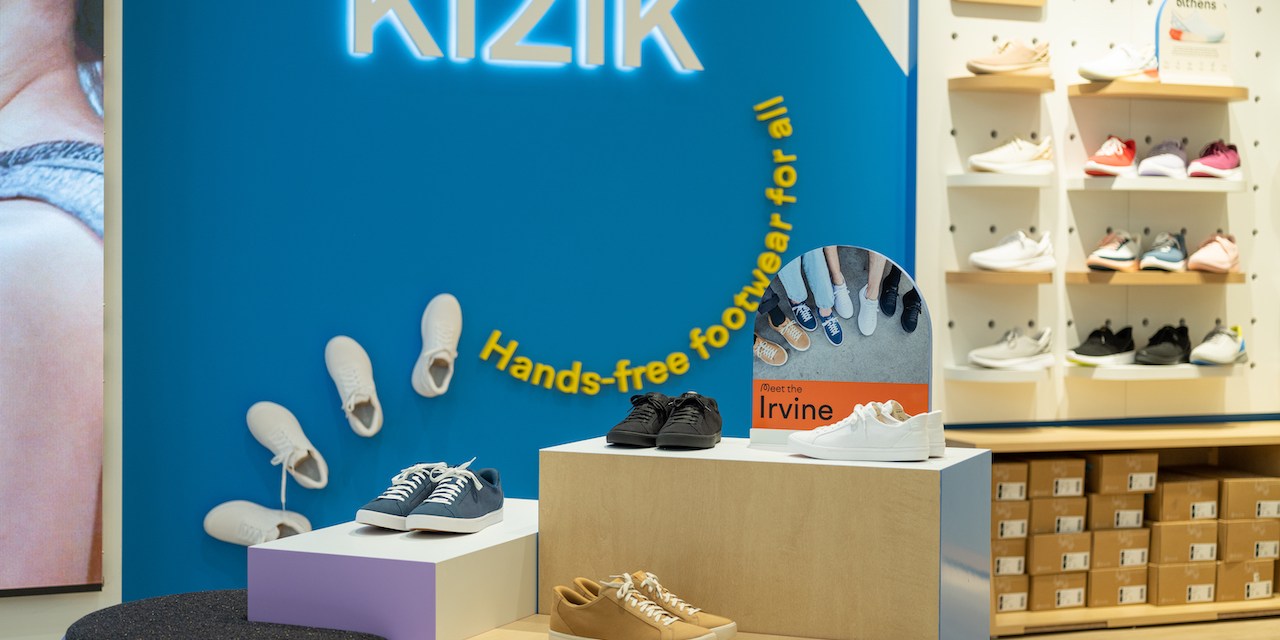 Kizik
DTC sneaker brand Kizik is one of a slew of shoe startups vying to become the category's next major success story.
The company's sales grew more than 250% between 2021 and 2022; So far this year, Kizik has grown by about 60% over last year, and is nearing $250 million in sales. 
With the momentum of online sales, now Kizik wants to gain greater market share by expanding into brick and mortar. Founded in 2017 by parent company HandsFree Labs as an online, direct-to-consumer business, Kizik's marquee items are step-in sneakers, which allow wearers to slide their foot into the shoe without sitting, bending or kneeling. The company raised a $20 million Series B round last year to support the launch of new product lines and store openings. Since then, the brand has been expanding its collections but until this year, but has been primarily sold online. Kizik debuted in Nordstrom in April, and a month later opened its first store in Salt Lake City, where the company is headquartered.
Now, the company is currently looking at leases to open four to five stores in major cities around the country by the end of 2024. Kizik CEO Monte Deere told Modern Retail that the company has also attracted investment and leadership that he believes says can help Kizik build a business on par with Hoka or On. And to that end, the company also brought on Gretchen Weimer as chief merchandising officer this year, who comes to Kizik after spending seven years as Hoka's global vice president of product. "She comes with optimism to build a brand at a similar rate to what Hoka was able to achieve," Deere said.
Deere said Kizik's patented technology acts as the basis of its design strategy. In 2019, HandsFree Labs received a minority stake investment from Nike as part of a deal to license HandsFree Labs' patented tech and launch its own hands-free shoe designs, such as the Go FlyEase.
And while Kizik has been able to grow quickly as an e-commerce business, the main challenge of selling strictly online has been figuring out how to relay the comfortable fit and convenience of the brand's  styles. "We've been mainly using video to carefully show the step-in process," Deere said, adding that he expects the added retail presence to increase conversion rates. 
"With our store, we're turning the shoe store experience on its head," Deere said. "The first thing we do is ask visitors if they've tried our shoes and help them get them on immediately, which usually creates a surprise moment." From there, customers then choose a color and style from the available inventory, which is displayed right on the sales floor. 
With the expanded retail presence, Deere says the company is trying to expand its target audience. "For some — like those with disabilities, expecting mothers or the aging — it's life changing," he said. "Our target is that the shoes are for everyone," he said.
While it's still early days, Deere says Kizik's brick-and-mortar conversion rate is promising. 
At Kizik's Salt Lake City store opening, the brand sold over 900 pairs of shoes on grand opening day, about triple the projected figure. Overall, the retail store conversion rate has been about 22%, surpassing Kizik's expectation of 13% to 15%. Deere added that of customers who experienced the step-in process at the store, 75% purchased the shoes.
The brand initially launched at Nordstrom's West Coast and Midwest locations, with more stores to be added this year. In the initial test with five Nordstrom stores and its website, Deere said Kizik's sell-through rate was 72% for men's shoes and 80% for women's shoes during the first three weeks. 
Brian Ehrig, partner in the consumer practice at Kearney, said that with an ever-crowded footwear market, "every specialty footwear brand needs to have a reason that differentiates them from the vast pool of competitors out there."
He pointed to successful examples such as Crocs' comfort during long standing periods, Hoka's maximalist cushioning and New Balance various width options. "The idea that a startup could make a successful business out of the ease of slipping into their shoes isn't so far-fetched, because it makes a lot of sense," Ehrig said. "Who really wants to tie their shoes?"
Ehrig added that despite these white spaces in the category, there are also examples of trend-driven, hyped shoe brands whose sales eventually underwhelmed, such as Allbirds.
Kizik is also looking into international expansion, especially in regions where people take their shoes off multiple times per day in accordance with cultural customs. New styles are also on the way, with the introduction of seven more by the end of 2023, and will include a mid top style and a snow boot to cater.
"We're trying to create a new category of convenience, so it's not about performance but a lifestyle shoe for all occasions," Deere said.