Having achieved profitability, Boll & Branch plots retail expansion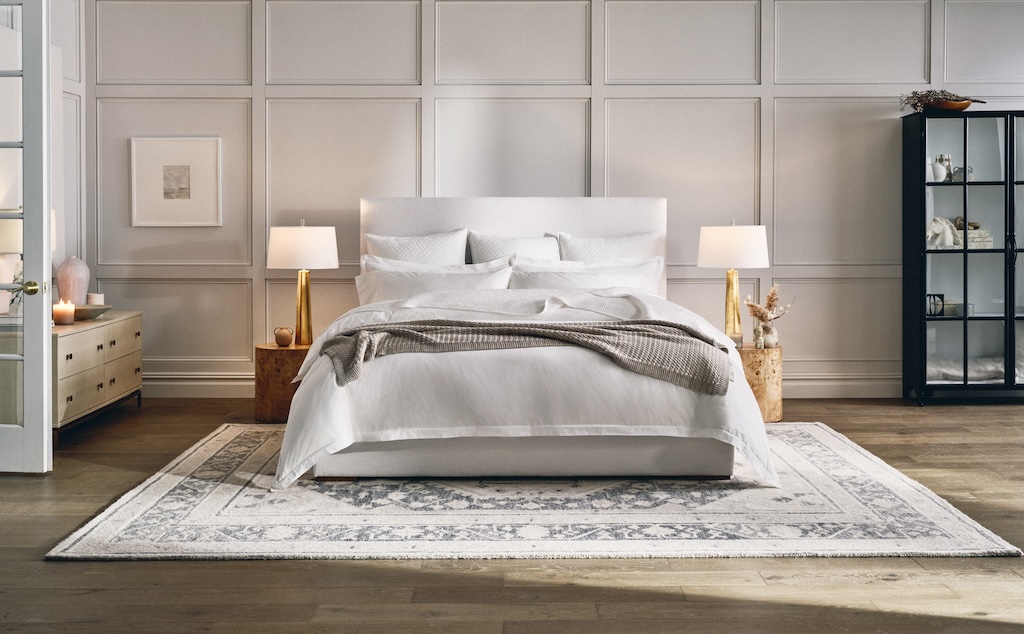 Boll & Branch
After operating primarily as an online direct-to-consumer brand, Boll & Branch is now ready to grow its physical presence. The company just opened its new Dallas flagship 3,300 square-feet, as part of Boll &. Branch's aggressive plan to expand its existing footprint in physical retail.
Launched in 2014, Boll & Branch became profitable in its second year and now generates an annual revenue of $200 million. The company's first major funding came in 2019, when it received a $100 million investment from LVMH-backed private equity firm L Catterton. Since then, Boll & Branch began testing physical retail by opening its own stores and striking store-within-store partnerships with Nordstrom and Bloomingdales. Now, there is an opportunity to cater to clusters of luxury-seeking customers. Boll & Branch had three stores going into this year, and opened three more in the last two months. Currently, the plan is to open eight more locations in 2024 and 10 in 2025.
Boll & Branch co-founder and CEO Scott Tannen told Modern Retail "we think about sustainability not just from an ecological standpoint but also in building a truly sustainable business that can stand on its own two feet."
Tannen said over the past few years Boll & Branch has been able to build a following by emphasizing in-house design and centering a transparent supply chain in its messaging. For example, there is an emphasis on textile traceability and sourcing 100% organic Fair Trade Certified cotton to produce over a million bedding sets a year.
Tannen said that while 10 store openings in a year sounds like an aggressive rollout, these plans have been in place for years — but were mostly delayed by the pandemic. "Over the last year or so, we've made a concerted effort to grow our business from an omnichannel perspective," Tannen said.
After years of acquiring customers online, Boll & Branch is scouting locations based on specific customer data and traffic patterns. "We send our own team to a potential location out with a clicker to sit on a bench and count traffic," Tannen said.
Boll & Branch opened its first store in 2017 in New Jersey's Short Hills Mall — close to where the company is headquartered. In that way, Boll & Branch bucked the playbook of many DTC brands, who flocked to major hubs like New York's Soho neighborhood for their first store openings.
Of the existing Boll & Branch stores, Tannen said, "every single one of them is profitable," which he credits to having "the right team and right location," Tannen said, adding that the brand wants 50% of revenue to eventually come from stores. 
"We look at each store as its own business, because it's meant to be a catalyst within its community," Tannen said. To build this strategy, Boll & Branch developed a services-oriented retail strategy, offering things like product customization at its stores. It also works with interior designers to host events for both customers and designers at its brick-and-mortar locations. The Dallas store recently hosted an event attended by about 500 people. And like many online-first brands, the brand's stores will allow customers to touch and feel its entire collection while assembling their bedding set.
Many of the upcoming stores will be located in high-income areas to reflect the brand's core customer. "We're looking for customers that are at a point in their lives where they're investing in their homes," Tannen said. For instance, Dallas had been on the brand's wish list for some time — but Tannen said Boll & Branch specifically wanted to open on Knox Street, near high-traffic retailers like Lululemon and Apple. This builds on existing Boll & Branch stores located in high-end locales like the Short Hills Mall and downtown Greenwich, Conn. 
Profitability has been a major focus for retail startups in the last couple of years. Though some companies like Boll & Branch have long been profitable, the hyper-focus on profitability has been fueled by the lack of venture capital coming in to extend hyper-growth. In turn, profitable companies like Boll & Branch are more likely to invest in initiatives right now like new stew openings.
Bullish managing partner Mike Duda said there is an advantage to being an established DTC company that's done chasing profitability. "At this point, if you're a brand born in the 2010 to 2015 era and still in business you're doing something right," he said. "The other examples are companies that didn't pan out, like Peloton and Casper." 
Duda added that commercial real estate has been struggling, "so there are some deals to be had" for stable companies looking to ramp up store count. And with Bed Bath & Beyond closing, Duda said there is white space for homeware companies to service customers who prefer to shop in person. "But if you're not doing anything unique or offering personalization, there is no point in opening a store." 
Tannen said that even as an already profitable startup, building a large fleet of stores also comes at a cost and requires ongoing investment. "Anyone who says retail is a form of out-of-home advertising is nuts, at this point you have to run these as true businesses," he said.