DTC Briefing: Very Great is growing its brand portfolio with Fountain Vitals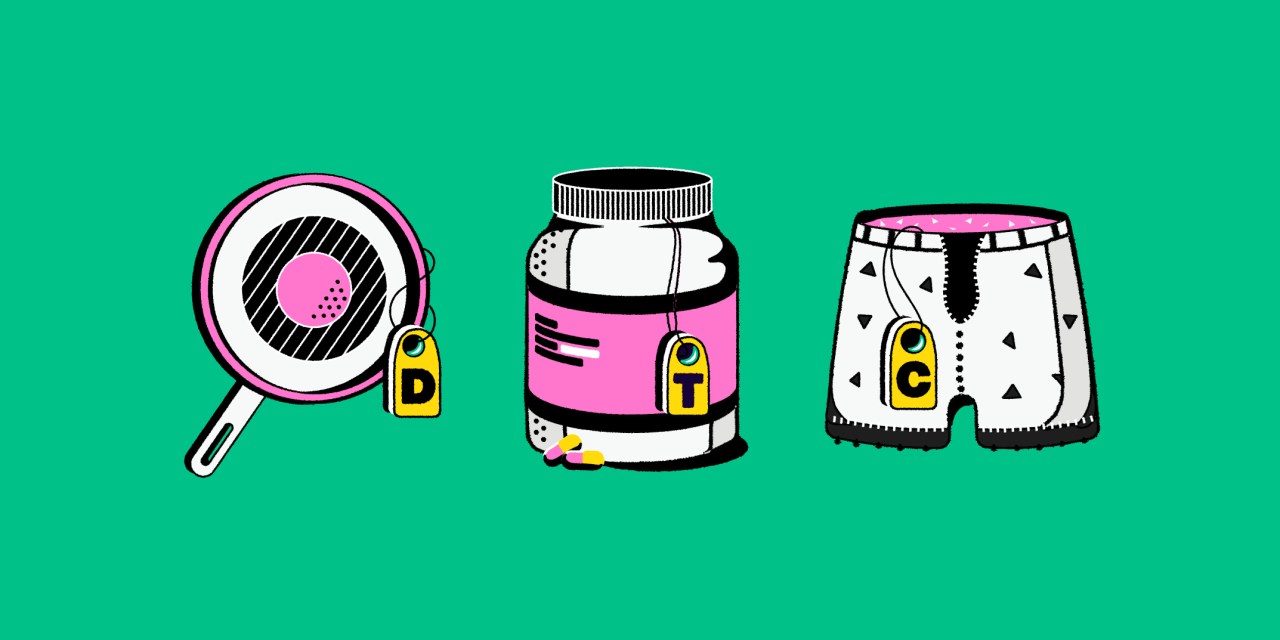 Illustration by Ivy Liu
This is the latest installment of the DTC Briefing, a weekly Modern Retail+ column about the biggest challenges and trends facing the volatile direct-to-consumer startup world. More from the series →
This is the latest installment of the DTC Briefing, a weekly Modern Retail column about the biggest challenges and trends facing the volatile direct-to-consumer startup world. To receive it in your inbox every week, sign up here.
This month, direct-to-consumer holding company Very Great is unveiling its latest brand.
Very Great was born out of co-founders Josh Williams and Eric Prum's first venture, housewares brand W&P. Williams and Prum launched W&P via a Kickstarter campaign in 2012. Years later, the duo expanded the business by creating Very Great, with the goal of launching other brands.  In 2018, Very Great also launched pet supply company Wild One, and Courant, a wireless charger and accessories brand. 
In the next few weeks, the holding company – which acts as a platform for these digitally-native brands – is launching a new direct-to-consumer brand. Fountain Vitals will be a multivitamin brand aimed at helping aging people complete their daily vitamins and minerals intake. Fountain Vitals' products aren't currently available for sale, but Very Great is encouraging people to submit their email address to be notified when the brand launches; it's also offering customers 20% off and a gift with purchase if they become a "founding subscriber." With a new category entry, Very Great has plans to grow Fountain Vitals into a household supplements name.
Fountain Vitals' formulations purport to target common aging concerns, such as memory, focus, joints, bones and blood pressure, among others. The startup is launching with two formulas, one for men and one for women. Each monthly order has a 30-day supply of Fountain Vitals' Daily Mind and Daily Body multivitamins, and costs $79. Fountain Vitals products are vegan, Non-GMO and cGMP certified.
Building a DTC brand with the support of a platform 
Last May, Fountain Vitals founder and CEO Jolene Abbott joined Very Great in preparation for the launch. The brand's idea stems from Abbott's personal experience with taking a slew of vitamins to supplement her vegetarian diet. 
Through Fountain Vitals, Abbott said the products cater to the growing number of aging millennials – with millions of digitally-savvy people due to hit middle age soon. "We wanted to change the sentiment around anti-aging, while also creating a community in addition to the products," she said. "We want to show that there is a way to age healthy and take the fear out of it." 
To develop the brand's concept, Abbott met with Very Great's co-founders to brainstorm and potentially collaborate on what would become Fountain Vitals. "I was first introduced to them through their brands," Abbott said, who's crossed paths with Very Great's brands through her work in digital marketing over the past few years. 
At the same time, Very Great has been wanting to grow into a new area, specifically the ultra-hot wellness category, which marks a new ground for the parent company. 
Very Great's Prum said that after researching new categories to add to the portfolio, Very Great found Abbott's proposed product idea to be a natural fit. "Typically, we like to research and validate an area through data," Prum explained. 
"We've set up brand criteria that include pillars like it meets consumer needs, has social impact, and is sustainable," Prum said. The first couple of brands that came out of this process were Wild One and Courant. "While Fountain is different from our other brands, it does check off those same boxes," Prum said.
Very Great did not disclose how big each of its portfolio brands are; last year, the company disclosed that Courant did $10 million in revenue in 2021, and was on track to grow sales by 100% in 2022.
Abbott, for her part said she thought the holding company model was "a very smart way to launch new brands." Abbott said that after years of working with DTC startups, she concluded that launching on a brand platform creates efficiency early on. "They have infrastructure in place for wholesale, HR, customer service and finance," Abbott said. "These are expensive for a young brand to invest in, and they're [Very Great] able to provide a lot of those resources."
The holding company model is one that's increasingly been adopted by a number of companies in the DTC space, including Harry's — which has launched a number of its own brands like Cat Person and Flamingo, in addition to acquiring natural deodorant startup Lume last year — Pattern Brands, and Win Brands Group. The thesis behind most holding companies is that they can run brands more efficiently by sharing some resources like marketing and supply chain teams.
However, "the drawback is if you get too diverse, sometimes the commonalities between the different categories start to get tougher to find," Keith Anderson, formerly the senior vice president of strategy and partnerships at Profitero, previously told Modern Retail.
Aside from financing, Prum said that Very Great's centralized platform team provides dedicated departments for B-to-B sales, web services and branding creatives. The parent company also helps facilitate retail partnerships when brands are ready to take that step. For example, Wild One debuted through its DTC website in 2018, and over the past couple of years has entered major retailers like Petco and Target.
Wholesale partnerships will come in due time for Fountain Vitals. Abbott said the goal is to sell the products where this audience likes to shop, so that can be everything from grocery chains to health and wellness centers. And given Fountain Vitals' higher-end pricing, Abbott said department stores are another potential distribution channel.
But for now, the first step is to establish the new brand in an increasingly crowded category. The company is hoping to build a robust subscription business during its first year in business, by offering first-time subscribers early access discounts and gifts. 
Abbott said that the Fountain Vitals marketing approach will be multi-hyphenated, and will consist of both organic and paid campaigns. Much of this entails creating a robust social media presence and a hub of educational content in the coming year.
Building an online community is one big pillar for setting up the company's foundation. "We're forging influencer relationships, getting products in hand, and we have paid media and social media," Abbott said. 
Another tactic to establish credibility will be by working with doctors and nutritionists, who can act as experts on the brand's efficacy. "There is so much noise in the wellness space, so we want to make sure we're reviewing and putting out accurate health information," she said. "We don't want to get caught up in trends." 
Finally, Abbott is also counting on grassroots support and word of mouth to help get the word out on Fountain Vitals during the first year. "I want to get to know the customer and have a two-way conversation," she said. "But I do believe in retail and wholesale, which will explore down the road."  
As for carving out a market within the saturated supplements space, Abbott said Fountain Vitals can stand out by targeting a niche market. "Our core customer is the older millennial, who 's starting to think about their age as they approach their 40s," Abbott said. "There is a big opportunity in catering to this cohort." 
What I'm reading
A year after being acquired, the future of

Birchbox

appears to be up in the air. In this report,

Retail Dive breaks down

the subscription box service's ongoing troubles – which includes a disabled website and talks of bankruptcy. 

Rent the Runway

plans to reach profitability by offering more value. CEO Jennifer Hyman

told Bloomberg

that the company is seeing success from offering inflation-conscious subscribers extra items for free.

According to a new The New York Times article, "premiumization" has become brands' favorite new buzzword. Even mass market companies like Krispy Kreme and Coca-Cola are touting premium products on earning calls. 
What we've covered 
Canada Goose's

president

spoke to Modern Retail

about the company's direct-to-consumer ambitions. In the interview, Carrie Baker said the goal is to generate 80% of the brand's revenue from DTC sales 2028.

DTC brand founders sound off on their 3PL troubles, as more founders take to social media to vent about challenges they have run into with VC-backed 3PLs like Shipbob and Shiphero.

Furniture brand

Burrow

is still banking on suburbanite homeowners to fuel sales. Despite slowdowns in the category, this month the company

is launching

its first line of outdoor furniture. 
Want to discuss this with our editors and members? Join here, or log in here if you're already a member.