Burrow's outdoor furniture line aims to score with suburban audiences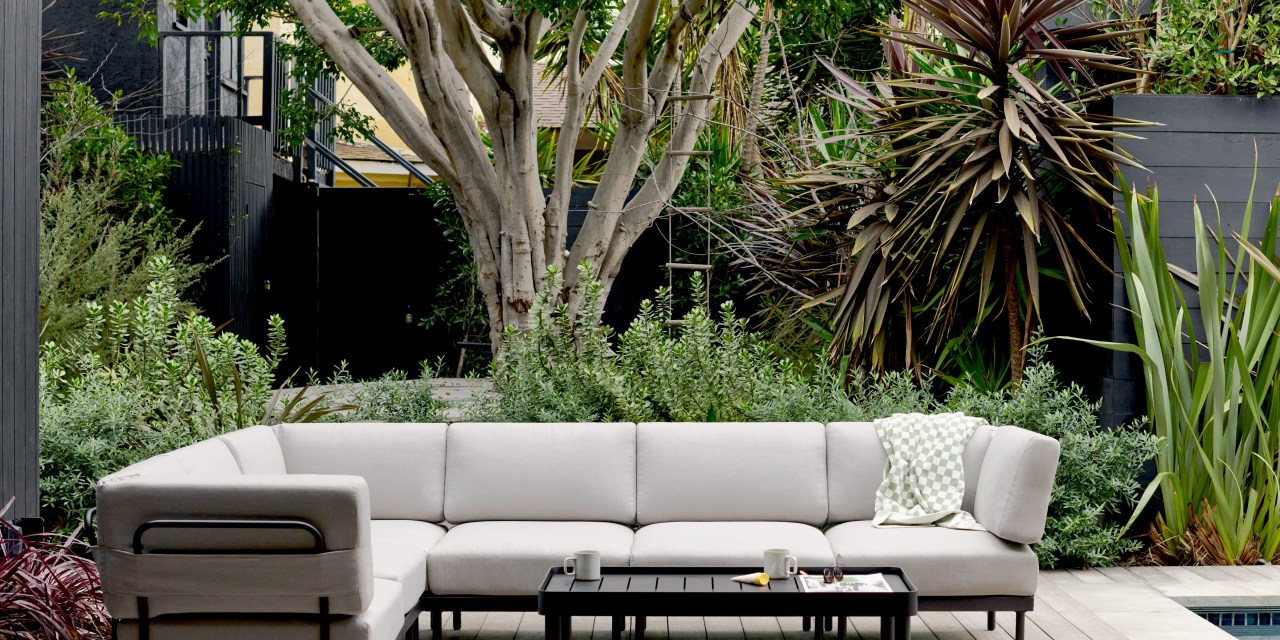 Burrow
DTC furniture company Burrow on Wednesday announced the launch of its first-ever outdoor line, a collection that aims to win over customers in a crowded market with functional pieces and durable fabrics.
The collection includes cushioned sofas and chairs, a lounge chair and an all-metal dining set, plus a coffee table. Pieces are designed to be easy to disassemble and store, with flat-laying cushions and frames — the table, for example, has legs that pop on and off, while the sofa frames can break down into flat pieces.
CEO and co-founder Stephen Kuhl told Modern Retail that the line aims to appeal to customers who want to invest in long-lasting pieces, especially after potentially buying pieces during the pandemic that have worn out.
"They want to know that they're getting the best thing for them. And that's where we really shine, because we can demonstrate and communicate to them all these value propositions that we've thought through," he said.
Burrow launched in April 2017 with a modular sofa that quickly garnered attention for its sleek and easy-to-assemble design. From there, it launched into a chaise sectional and ottoman; now the existing collection includes living room furniture, shelving and other storage like desks, bar carts and rugs. The brand has aimed to set itself apart from other e-commerce furniture suppliers with products that claim to be simple to put together.
Outdoor furniture, though, had a big moment during the lockdown era of the pandemic. People renovated patios and backyards in order to socialize outdoors and minimize the risk of getting sick.
But Kuhl isn't worried about any missed opportunities. He said about 60% of Burrow's customers are located outside of urban areas, indicating demand from those with single-family homes in suburban or exurban environments.
"This is a huge industry," he said. "We've designed this with a value proposition in mind that matters to our customers, and they're searching for stuff that's durable or  modular, what have you. We think that'll drive a lot of the awareness for it."
Zion Market Research found in a January 2023 report that the outdoor furniture market is anticipated to grow by a CAGR of 6.1% through 2028. Behaviors like entertaining and tourist-driven visits are anticipated to drive the growth, "with a focus on innovative designs and sustainable materials," the report said.
For Burrow's part, the outdoor collection is its largest category launch since its move into bedroom furniture last year. Its most recent fundraise, a series C that raised $25 million in 2021, aimed to propel product growth into more categories.
And while Kuhl said that indoor seating still makes up the bulk of Burrow sales, he said that the outdoor collection fits in with the brand's growth strategy of offering furniture for all parts of the home.
"We always foresaw becoming a brand that played in every room of the home," Kuhl said. "The gaps in the market exist in every single category, so we've even trying to manage this thoughtful rollout from room to room."
Outdoor furniture popularity
Though in-store shopping took a big hit during the early days of the pandemic, large e-commerce brands like Overstock and Wayfair saw big increases in patio sales. DTC brands like Article also made gains and saw patio furniture sales increase 460% year-over-year in March 2021.
Brad Jashinsky, director analyst with Gartner, said the boom in furniture sales was partly attributed to people not being able to travel or go out to eat; this allowed them to shift spend to consumer goods.
"In 2020, and 2021. If you were if you had furniture, and you had inventory, you were doing amazing," he said.
Overstock CEO Johnathan Johnson told Modern Retail that 2021 was "a killer year" for outdoor furniture, with demand persisting into midway through 2022. But some of that tapered off as the summer season came to a close, Johnson said.
"If you don't sell by the end of the season, it doesn't age well," he said.
Customer-informed strategy
In coming up with the outdoor line, Burrow conducted surveys with several thousand customers over the last two years to hear what elements were most important to them in outdoor furniture.
At the top of the wish list was durability, with customers wanting materials that hold up to the elements.
"Outdoor furniture is expensive," Kuhl said. "A lot of stuff that you buy in the market within a year doesn't look great. So our approach was, first and foremost, what is the most durable material possible?"
The metal frames on Burrow's seating is galvanized steel coated with a UV-resistance later. The seating cushions are based off the same material as Burrow's indoor furniture cushions but with a coating that resists UV light as well as soil and water, so "liquids just bead up on this thing." Customers should be able to hose off their furniture to clean it, Kuhl said.
The second priority was modular assembly, an element that squares with Burrow's original seating line that aims for easy set-up and movability. Kuhl said this is especially important in
"You should be able to take it apart and store it in the offseason really easily, and a lot of outdoor furniture is not able to be stored," he said.
Kuhl said that these factors are what Burrow hopes will set its line apart from other patio furniture on the market — especially with value-minded consumers who are researching the best possible product.
Items have mid-range pricing, with a $495 lounge chair, $995 dining table or $495 for a set of two dining chairs. Seating configurations range from $695 to $6,395, depending on the number of seats.
"They've just moved into their first home, or maybe their first really nice apartment, or it's a couple or a young family. And so they've got some disposable income to spend on a high-quality product," Kuhl said. "They do their research and they do their comparison shopping. And they want to know that they're getting the best thing for them."