DTC Briefing: How startups are trying to make their shipping and fulfillment operations more efficient ahead of the holidays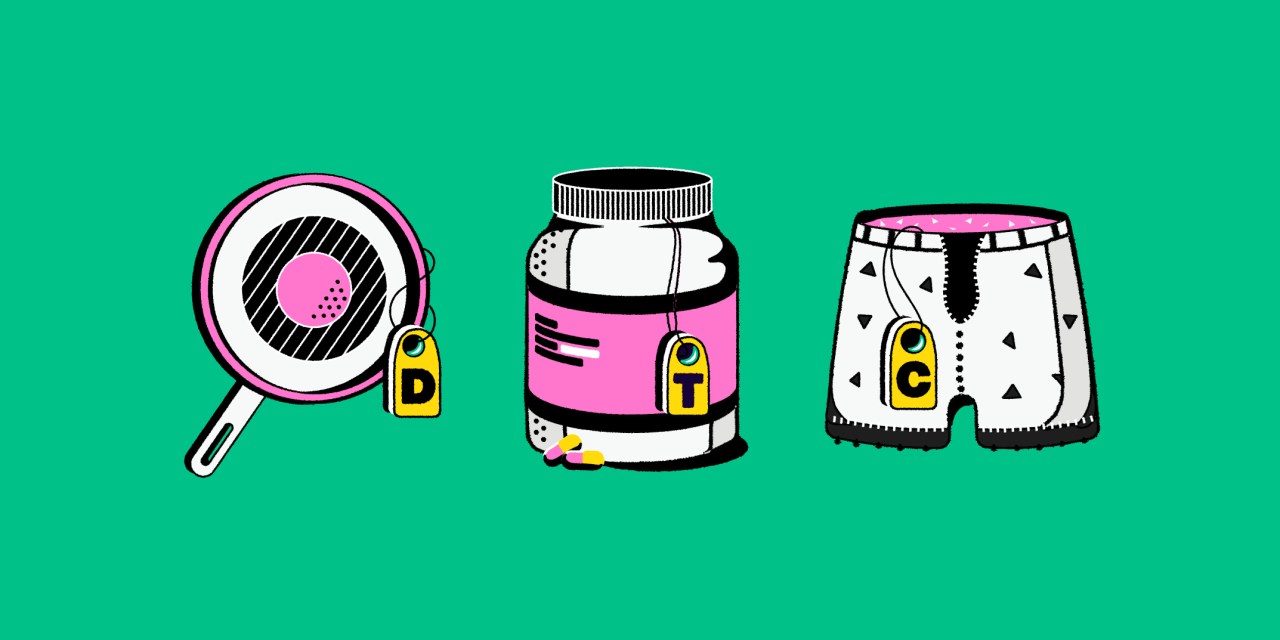 Illustration by Ivy Liu
This is the latest installment of the DTC Briefing, a weekly Modern Retail+ column about the biggest challenges and trends facing the volatile direct-to-consumer startup world. More from the series →
The holiday season is a litmus test for many areas of a young startup's business – especially shipping and fulfillment.
While many direct-to-consumer brands are at the mercy of their 3PLs to fulfill and deliver orders efficiently, some have opted to it themselves. And conversations with the select DTC brands who do all or some of their fulfillment in-house provides a glimpse into the big shipping challenges brands have been preparing for ahead of this holiday season.
Overall, executives at DTC brands said they expect fewer logistical challenges this holiday season. Freight prices have fallen, while carriers like UPS, FedEx and USPS have increased their capacity over the past few years after being caught flat-footed during the e-commerce surge of 2020. But, one ongoing challenge for brands is that 2023 marks another year of increased carrier fees. In turn, more startups are having to grapple with whether or not to raise the minimum order value required to get free shipping. Or, more likely than not, they have to find some operational efficiencies to keep shipping costs affordable, while figuring out how to most cost-effectively get all orders delivered on time.
In the retail industry, fast and free shipping is still the norm. But in response to inflation and increased carrier fees, more retailers are requiring their customers to spend more in order to get free shipping. According to July data from software provider Narvar, among a sample set of 48 retailers, the minimum order value required to receive free shipping jumped from $52 in 2019 to $64 this year.
But raising the minimum order threshold is often a last resort — especially for startups that find that making it as easy as possible for customers to get fast, free shipping is critical to getting more people to try out their products for the first time.
Chad Brinton, svp of operations at cookware brand Made In, said that last year, the company experimented with raising its free shipping threshold. The company offers free shipping for orders over $49. Very quickly, he said "the customer was telling us that that was not what they wanted."
"So we took a step back and said, alright, you know, what can we do internally, to cut costs?" he added.
Ultimately, Brinton said that Made In realized one way it could lower shipping costs was to "ship from a closer location, so that we can get it to them faster, and we can get it to them cheaper." So, the company decided to open its own fulfillment center in Central Texas. Even though doing so would require a significant upfront investment, Made In decided that was the best way to lower shipping costs in the long run. Before opening that fulfillment center, Made In had — and still does — work with a 3PL in Kentucky. But, the company wanted to open this fulfillment center to more easily ship to customers on the West Coast.
This is the first year that Made In is operating on the dual fulfillment center model, and Brinton said that the company is "eagerly awaiting" to see how it will perform this holiday season. Another big change the company made to lower shipping costs was to revamp its packaging.
"We set on a project to create a standard box that was common across as many products as possible," Brinton said. "And in doing so we were able to reduce our packaging assets from about 85 different boxes that were included in scope, down to three."
The changes Made In has made are indicative of the options brands have to lower shipping costs. There are a few things within a brand's control. "We can put [warehouse] locations closer to the customer, and we can, to some regard, shrink the dimensions of our product," Brinton said, although he joked sometimes that he wished he could remove the handle on Made In's cookware.
But what brands can't really control are the carrier prices. For the past two years, UPS and FedEx have raised their average prices by at least 5%. Brands can try to negotiate and price shop with the carriers, but Brinton said it's usually a "one-sided negotiation," especially for startups.
And then there's the peak holiday surcharges, which get more expensive every year and have recently been rebranded as "demand surcharges" to indicate the fact that these extra fees now often extend beyond the holiday season.
The demand surcharge for FedEx Ground Economy, which runs from October 30 through December 10, starts at $1.60 this year, compared to $1.50 in 2022, for example. How to account for all these price increases is a "hot topic" in the industry, Brinton said.
Laura Behrens Wu, founder and CEO of multi-carrier shipping software provider Shippo described the various demand surcharges this year as "pretty straightforward," and par for the course compared to other surcharges for the past few years. One exception is USPS, which said it will not institute a peak holiday surcharge in 2023, the first time it has done so since 2019.
One other change Behrens Wu is anticipating this holiday season is that customers will be more price sensitive due to inflation. "If the trade off is between shipping speed and cost, I think consumers prefer lower cost," she said.
One way to nudge customers toward a more efficient fulfillment or delivery method is to reward them for doing so. Apparel and accessories brand Francesca's, for example, plans to offer last-minute holiday shoppers a bigger discount this year if they shop in stores, versus opting for pricey overnight shipping.
Weezie, a startup that sells embroidered towels, bathrobes and other home goods, offers customers a no rush shipping option during busy sales period for the brand, which include Mother's Day, the holidays, and its anniversary sale, which is happening this week.
The no rush option isn't offered to all customers — only those with larger basket sizes of around $100 that contain custom embroidery. Customers that choose this option can have their shipping timelines extended by up to four weeks, but in exchange they get around $20 in store credit.
Lindsey Johnson, co-founder and CEO of Weezie, said that just under 20% of customers who are offered the no rush shipping option opt in. Johnson said that the no rush shipping option isn't so much a way for Weezie to save on shipping costs, but rather, to ease pressure on the company's embroidery and fulfillment teams. Weezie operates a 45,000-square-foot warehouse and embroidery center outside of Atlanta.
Johnson said that, so far, Weezie hasn't passed on increased shipping costs to its customer base. "But what we have done internally is, I would say, optimize when we're shipping certain packages."
For example, rather than shipping out orders based on which one was placed first, "if somebody's ordering a larger order that's going to the West Coast, and we're shipping from our East Coast fulfillment center, we might prioritize that order so that we can ship it on our slower shipping service," Johnson said.
Ultimately, all of these changes point to the fact that it is up for brands to juggle a variety of factors in order to get packages to customers as cheaply and efficiently as possible. While, of course, also making everything look seamless to the customer.
Or, as Made In's Brinton put it, "The customer doesn't need to care about us being a profitable business at the end of the day – that's for us to figure out."
What I'm reading
Meal kit startup Blue Apron, which has been publicly traded since 2017, is being acquired by a meal delivery startup led by Marc Lore. The deal would value Blue Apron at $103 million.
SoftBank-backed activewear brand Vuori is reportedly planning to go public as soon as mid-2024, Bloomberg reported.
Birdy Grey, which sells bridesmaid dresses direct-to-consumer, recently hired a new COO and CTO to build out its C-suite.
What we've covered
Dagne Dover, which started out in handbags, has entered the travel category with carry-on bags.
High-end furniture brand Maiden Home has opened its first retail location in New York City.
Food and beverage brands like Agent Nateur and Willa sounded off on what benefits they have seen from collaborating with trendy restaurants and grocery stores like Erewhon on co-branded menu items.