Maiden Home opens first retail store in NYC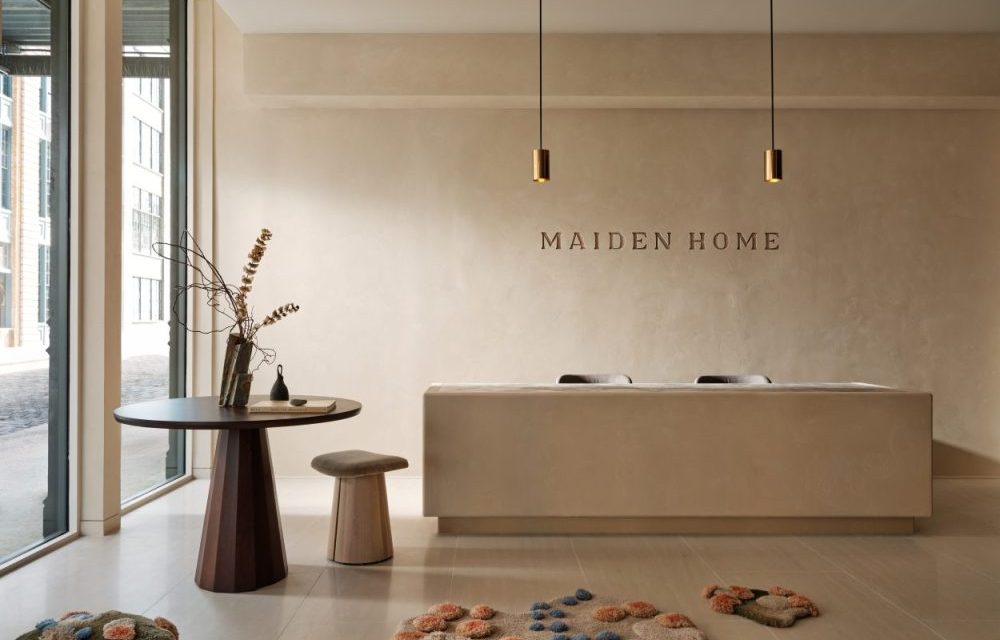 Maiden Home
Maiden Home has gained traction with interior designers and high-end homeowners as an online direct-to-consumer furniture brand since 2017. But now the company is showcasing its custom products via its first-ever flagship store as it attempts to grow its design services and drive brand awareness.
The 4,100-square-foot flagship store in Manhattan's Meatpacking District opened up on September 28. Founder and CEO Nidhi Kapur told Modern Retail that she envisioned having a brick-and-mortar presence since the brand's launch. But the company took more concrete steps to make that a reality following the lockdowns of the Covid-19 pandemic, buoyed by high sales and repeat customer traffic.
Maiden Home's custom pieces are handmade in North Carolina and offer an array of options for living, dining, bedroom and office. In addition to introducing new customers to the brand, Kapur said the store will have four interior designers on staff to meet with customers for consultations, like how to coordinate pieces, choose colors and map out their floorplan. Maiden Home already offers these complimentary consultations online, while the new store has a dedicated wall of swatches and seating area for consultations.
"Having that space as a place to house product and service, and spend time with those interior designers in a much deeper way than we ever could online, is really the power of how retail is going to work for us," Kapur said.
Maiden Home is the latest in a long line of DTC furniture startups to make the leap to physical retail. Burrow, founded in 2016, opened its first store in 2018 and now has four showrooms. Inside Weather launched in 2018 as an online custom furniture brand and now has two showrooms in Minnesota and D.C. Floyd put a showroom in Los Angeles last year. And Joss and Main, part of Wayfair's portfolio, opened its second store this summer in Chicago, joining a prior location in Boston.
Kapur said having a physical retail store helps position Maiden Home for long-term growth. While the brand continues to see triple-digit year over year growth from online sales, she said there's a "multi-billion dollar opportunity here for the taking" in the luxury furniture space.
The flagship follows a pop-up showroom Maiden Home hosted last year in New York. Under an appointment-only model, clients spent more than they did on online orders and were more likely to make repeat purchases over time, which helped Maiden Home make the case for a permanent space. But the permanent showroom will allow for a more unique and brand-specific environment – Kapur handpicked the decor for the space, which features moody earthtones, vintage art and soft lighting.
Kapur settled on New York for the flagship in part because that's the brand's strongest market and where many of Maiden Home's professional interior designer customers are. As much as 45% of Maiden Home's business comes from trade clients, who have a 50% repeat purchase rate. This group is a key part of the brand's growth strategy, Kapur said, given the likely wealthy clients they serve and their overall expertise.
"These are the power users of the home category," she said. "It's a huge proof point for who we are as a brand."
At its relatively high price point – sectional prices start at $3,100 and dining tables at $2,450, a brand like Maiden Home is slightly insulated from broader trends. While some consumers are shying away from large purchases due to economic constraints, Maiden Home sees over a third of all customers come back for a repeat purchase Kapur said, whether that's re-doing another room or furnishing a vacation home.
"It's such a misconception that the home category that people shop once and don't shop for years. That might be true for lower segments, but at the luxury end it's absolutely not true," Kapur said.
Brandon Ball, founding partner with Starch Creative, helps plot brick and mortar strategies for DTC brands. He said it's an especially important leap for furniture brands because it's such a high-ticket, considered purchase. And, he said including a customization area could convince more customers to buy, since they will be able to see colors and feel textures in person rather than through a screen.
"Confidence is key to getting people to make these types of decisions," he said.
Operationally, stores are a critical piece of a brand's expansion plans, Ball said. Online sales eventually reach a ceiling due to concerns customers might have about not being able to see the brand in person. There's also the built-in awareness of a brand in a high-income, trendy neighborhood, where the brand can be exposed to future customers who may purchase one day down the road.
"The more opportunities they have to see it in real life, the higher conversion rate you are going to have," Ball said.