Earnings
// November 8, 2023 ■ 4 min read
Delivery apps like Uber and DoorDash are seeing growth in new verticals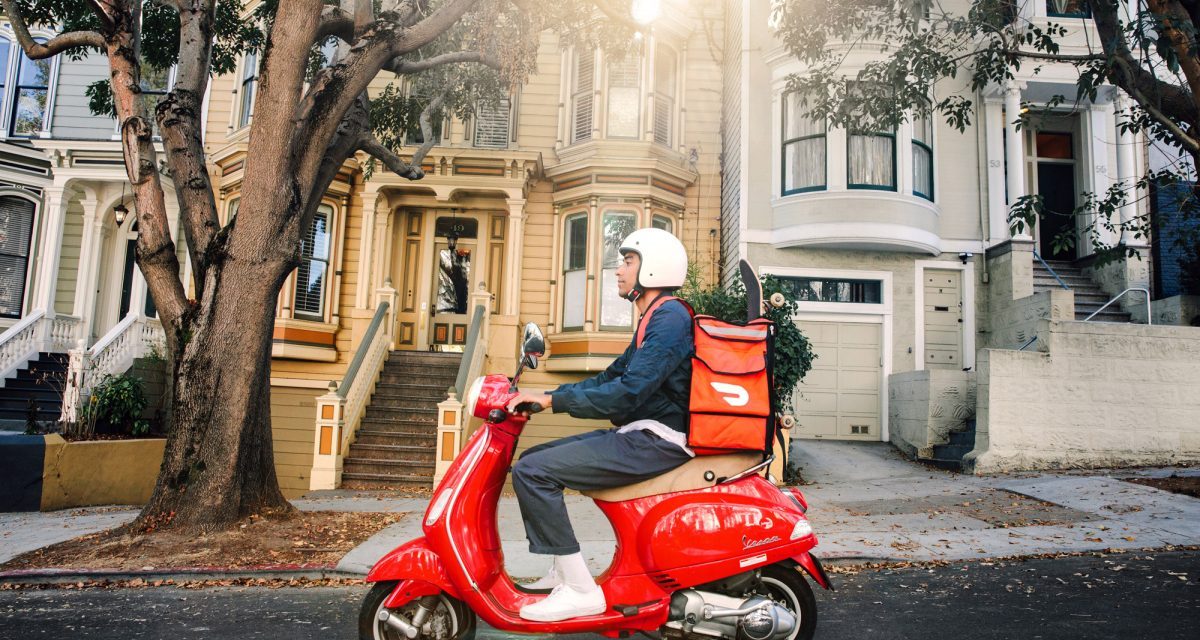 Discretionary spending may have dipped this year, but people don't seem to be cutting back on convenience.
In the third quarter, Uber and DoorDash have seen growth in new verticals like alcohol, convenience items and grocery. Gross booking for new verticals on Uber grew 46% year-over-year on a constant currency basis. DoorDash, on the other hand, said new verticals are growing faster than its restaurant business.
The threat of a recession, inflation or the pullback in consumer spending hasn't put a damper on Uber and DoorDash's growth. In fact, bookings or orders have significantly grown for the two delivery apps this quarter. Gross bookings for Uber's delivery segment climbed 18% year-over-year to $16.1 billion, while DoorDash's total orders were up 24% year-over-year to 543 million.
"They've really been immune to the scourge of retail this year, and that's been inflation," said Charles Lewis Sizemore, chief investment officer of Sizemore Capital. "One of the biggest fears with the delivery industry was that it was very convenient during the pandemic. But then as soon as life got back to normal sales, growth would taper off, and that great growth story would just fizzle out. And nothing could be further from the truth."
DoorDash started testing out non-restaurant deliveries in 2016 and began pitching its services to more retailers by 2019. Then, when the pandemic hit in 2020, the company was able to expand its non-restaurant delivery business by bringing on dozens of retailers to its platform. Uber, on the other hand, has been testing same-day deliveries for goods as far back as 2015.
DoorDash currently has a large ownership of the food delivery market. Data from Bloomberg Second Measure indicates that DoorDash and its subsidiary Caviar garnered 65% of observed U.S. meal delivery sales, Uber Eats has 23% and Postmates has 2%.
DoorDash's revenue for the quarter rose 27% year-over-year to $2.2 billion. Its net loss of $73 million this quarter improved from $296 million around the same time last year. Including its rideshare business, Uber's revenue was up 11% year-over-year to $9.3 billion with its delivery business making $2.9 billion this quarter. Uber also had a net income of $221 million for the quarter.
Delivery companies are growing and investing in new verticals despite the challenging macroeconomic backdrop. "During recessions, people pull back on major purchases: They buy fewer cars, they buy fewer pieces of furniture, they upgrade their houses less frequently," Sizemore said. However, he added that people will still spend money on less expensive things like alcohol and food, which delivery apps could capitalize on.
In recent months, delivery companies have been expanding their business beyond food. Just two months ago in September, DoorDash added eight new grocery partners — including Eataly, El Super and Fiesta Mart — to its platform. The gross order volume for DoorDash's grocery business alone doubled year-over-year. 
"When you look at every category of spend, food is one that everyone has to spend in," Doordash CEO Tony Xu said in the earnings call. "Sure, one may argue that you don't have to spend it on delivery but what we tend to see is that there is also the macro trend of convenience increasing in the direction of greater convenience."
Meanwhile, Uber expanded its grocery selection in the third quarter through partnerships with The Fresh Market, Hy-Vee, and Save Mart. The company said 14% of delivery users are now ordering new verticals after cross-promoting more effectively.
These delivery companies have also been building out their advertising businesses. Uber announced that it expanded post-checkout ads on Uber Eats to international markets such as Canada, Australia and France, among others. It also expanded in-car tablet advertising to new markets in the U.S.
"Our advertising business continues to scale profitably, as our advertiser base grew over 70% year-over-year to more than 445,000 businesses of all sizes," Uber CEO Dara Khosrowshahi, wrote in the company's prepared remarks. "In Q3, we expanded Post-Checkout Ads on Uber Eats, which let non-restaurant merchants advertise in the Eats app, to several key international markets."
Meanwhile, DoorDash has been ramping up its retail media presence since last year. In October, last year, it released a suite of advertising solutions to help its restaurant and brand partners reach more customers. Xu told CNBC in an interview earlier this month that its ad business had "grown tremendously quickly."
"It's a very profitable business, and it's monetizing all of the eyeballs that are already utilizing these apps and services," said Brad Jashinsky, director analyst at Gartner covering retail. "For DoorDash and Uber, there tends to be a lot of interaction with the app, so a lot of opportunities to advertise."
In the fourth quarter, Uber expects gross bookings to be between $36.5 billion and $37.5 billion. Meanwhile, DoorDash expects Marketplace GOV to be around $17 billion to $17.4 billion, which indicates a year-over-year growth 18% to 20%.