To compete with Instacart, DoorDash is building out its retail media presence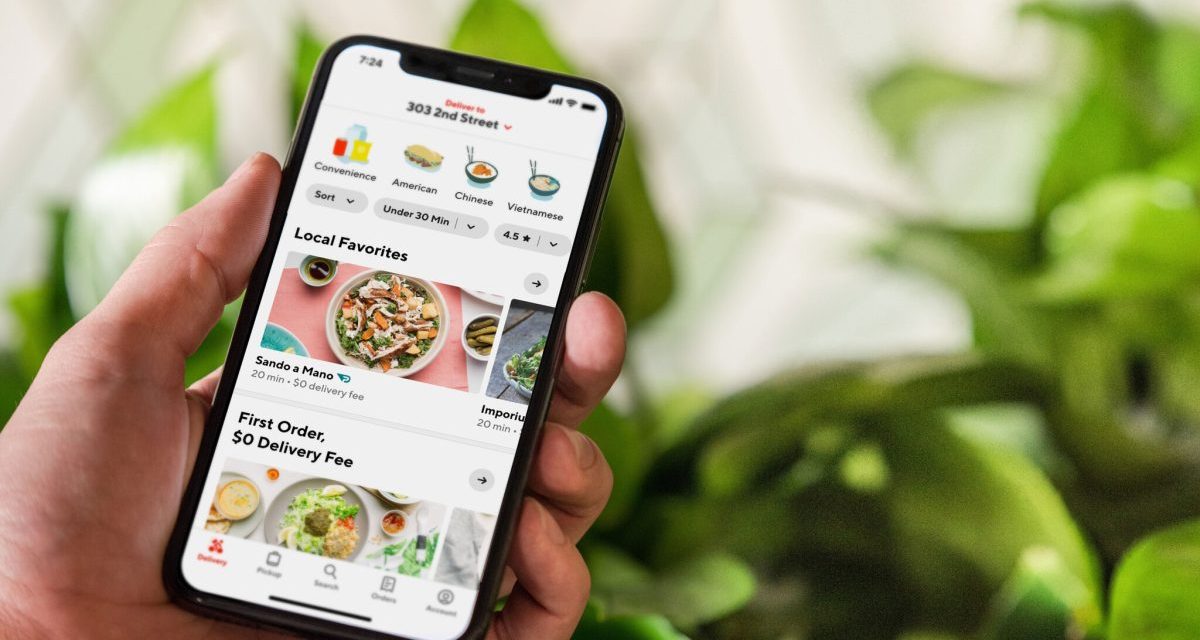 DoorDash
DoorDash has been ramping up its retail media presence over the past six months to stake its claim in what's become an increasingly popular revenue stream for marketplaces.
The delivery platform launched a suite of advertising solutions in October last year in the hopes of helping restaurants and other brands reach more customers and grow their business on the DoorDash marketplace. With this suite of advertising tools, DoorDash is pitching restaurants and CPG brands on the fact that they can reach the company's 20 million customers each month.
DoorDash's push into retail media comes as the delivery platform is increasingly keen on expanding into rival Instacart's verticals. While DoorDash started as a delivery service primarily for restaurants, it recently expanded into white-label delivery, convenience, alcohol delivery and grocery among other verticals. For example, in November, the company announced it was partnering with Sephora. Growing out a high-margin advertising business could also help push DoorDash into profitability — the company has never reported an annual profit since going public in 2021.
DoorDash declined to comment when reached by Modern Retail — it will post its first-quarter results on May 4.
A focus on new revenue streams
One of the tools at the crux of DoorDash's new strategy is self-serve Sponsored Listings — designed to help local restaurants increase their visibility, generate orders and find their next customer. Bay area pizza chain Pizza My Heart and Mexican food joint Uncle Julio's have been early testers of DoorDash's tool, the companies said in an October press statement. Soda brand Pepsi has also been testing promotions and banner ads on DoorDash for several months, the company said. It also launched a DoorDash Ads Manager for CPG brands to directly activate, manage and measure Sponsored Product ads on DoorDash.
"There's definitely been a greater focus [on retail media,]" a former DoorDash employee told Modern Retail who wished to remain anonymous. "DoorDash has said they are having a more focused effort to grow kind of the non-restaurant side of their marketplace — so things like grocery, convenience shopping and even non-retail."
"We're seeing quite a lot of additions, nonstop, candidly, both on the restaurant side, as well as on the non-restaurant front," DoorDash co-founder and CEO Tony Xu noted during the fourth quarter earnings call. The company has seen 17% of its monthly active users make purchases in the non-restaurant category in the fourth quarter of 2022.
The hope, according to this former employee, is that more DoorDash customers consider it for grocery shopping rather than just ordering takeout from DoorDash added the former DoorDash employee. Recent TV commercials by DoorDash have also focused on non-restaurant use cases of the app for things like grocery delivery and over-the-counter medicines.
DoorDash's ad platform is a cost-per-click biddable keyword search ad platform that CPG brands can use to reach relevant shoppers when they're on kind of the DoorDash marketplace.
For its most recent quarter, DoorDash reported revenue growth of nearly 40% to $1.8 billion from $1.3 billion at the end of the fourth quarter of 2021. Net loss for the same period narrowed to $155 million from $640 million.
Seeking out new advertisers
The challenge for DoorDash in building out a retail media network is in trying to convince CPG brands to spend money with them, rather than with all of the other retailers that are building out advertising platforms, ranging from Walmart to Kroger to Dollar General.
"[DoorDash] is building out a platform like everyone else," said Andrew Lipsman, principal analyst for retail and e-commerce at Insider Intelligence.
Lipsman said that DoorDash seems to be "actively courting CPG brands, they're building out the tools and capabilities to further monetize through advertising. My sense is that it's been successful with restaurants, which is the primary use case for DoorDash."
However, Lipsman noted that when CPG firms decide to spend money on media advertising, DoorDash has not historically been at the top of their minds. "The question is to what extent it's getting traction with CPG brands, which is a huge market of advertisers," Lipsman said.
In the eyes of Carly Sutherland, a brand and communications strategy consultant, right now DoorDash is heavily focused on transactional ad tools like discounts, promotions and incentive offers. For instance, DoorDash recently promoted a 20% discount at Aldi's on a purchase of $35 or more.
"There's a big brand-building opportunity for both DoorDash and CPG brands to partner on creative and contextual advertising based on human behavior and consumer insights," she told Modern Retail. Sutherland cited a hypothetical example of users ordering McDonald's late at night, and added that brands like Gatorade or Liquid IV could then advertise their products a potential add-on.
The CPG category that's most likely to benefit from DoorDash is alcohol, said Lipsman, noting that people are ordering for standalone alcohol delivery and it's adjacent to restaurant delivery in terms of an impulse purchase. "A big part of their value proposition to CPG brands is convenience, and impulse a lot of the time happens outside of normal business hours. Their argument — which is a very fair one — is that this is drives incremental purchases. So, in a thin margin businesses like consumer packaged goods, that incremental purchase that wouldn't have otherwise happened is really valuable," explained Lipsman.
In the end, according to Lipsman, DoorDash's ad platform may be more beneficial to CPG brands, but it must still generate enough additional sales. Otherwise, he said, "it will be vying for customers' attention with other channels like Amazon, Walmart, Kroger, Instacart, Target — and getting those dollars from major brands is incredibly difficult."