Zappos is growing its relationships with businesses like Delta and Chewy via a safety footwear program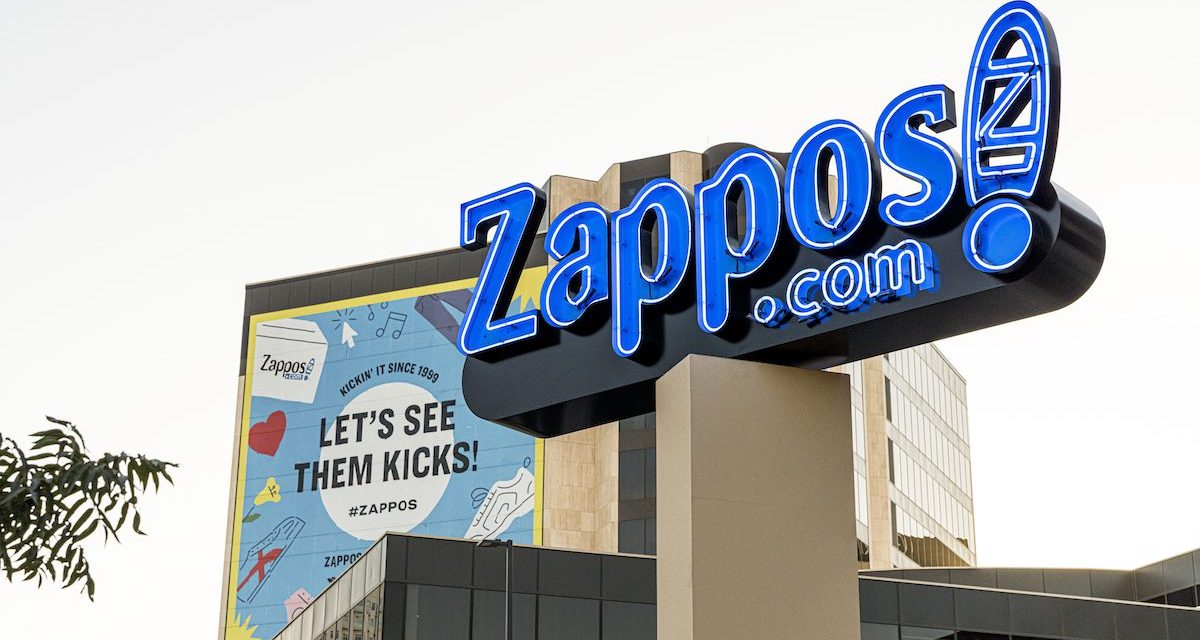 Zappos
For more than 20 years, online marketplace Zappos has sold customers everything from boots to Birkenstocks. Now, Zappos is expanding its B-to-B and B-to-B-to-C relationships, as well, via its growing Zappos at Work program.
The program, which Zappos started in 2018, gives businesses and their employees access to an online portal with a curated collection of safety footwear that meets the needs of their jobs. Workers can choose from hundreds of brands, including Carhartt, Skechers and Timberland Pro, as well as styles such as boots and slip-ons. Retailers can set up an account for free and get updates on their employees' purchases as they come in. All orders come with free shipping and free returns.
Zappos has formed relationships with dozens of companies since launching Zappos at Work. It started with one partner, Delta, and now has more than 100 partners, including Chewy, Blue Origin and Amazon. Zappos at Work has a compound annual growth rate of 135%, according to Zappos.
"Almost any organization has a set of employees that need protective footwear to do their job safely," Crysti Howser, director of business development at Zappos, told Modern Retail. "Whether you're running a Google all the way down to a small 'mom and pop,' there are employees within your organization that are doing certain manual jobs often or delivery jobs. Slips, trips and falls may come into play. So, providing them with the best footwear is needed."
Zappos does not sell or develop its own line of safety footwear. Rather, it works together with brands and program participants to find durable footwear. Each Zappos at Work participant will likely have different needs, depending on what their employees do, Howser pointed out. Over the past two years, Zappos has worked with brands to create Velcro shoes and adaptive safety footwear for those that work on equipment where laces could snag or become dangerous.
Each participant in Zappos at Work is given a personalized URL to a storefront with products that fit their requirements. Employees can then access the storefront and use a voucher to purchase shoes in their desired size. With the voucher, the participant fronts the cost for the shoes, rather than the employees. Zappos offers participants a discount of upwards of 10% off their orders.
In the five years since Zappos at Work launched, the industry has gone through "dramatic" changes in terms of workwear footwear, Howser said. For instance, for many decades, workers have laced up heavy steel-toe boots, the type of shoe that "most people, when they think of safety footwear, think of," Howser said. Now, though, more workwear brands are rolling out composite toe boots, which are still sturdy but use non-metal materials such as carbon fiber, plastic or fiberglass. These shoes are much more lightweight, and they will not set off metal detectors at job sites.
More safety footwear brands today are also borrowing elements of athletic shoes. Puma and Reebok are two of the most popular brands at Zappos at Work. Howser attributes this to a growing number of young people and graduates entering the workplace since Covid. "They don't want to wear a big heavy safety boot," she explained. "They want to wear what's light and what's cool and athletic."
This reflects a broader trend in footwear, Beth Goldstein, a footwear industry analyst at Circana, told Modern Retail. "What's become more important here, just as it has for other categories of footwear, is the comfort piece," she said. "So, more cushioning or more breathability… [You see] a lot of the same things we're seeing out in the regular footwear industry, like the blurring of the fashion and athletic, where you'll see the fashion uppers with the sneaker bottom."
Another major change — and the one with the biggest implications for the labor force — is that more brands have started creating safety footwear specifically for women, Howser pointed out. For decades, brands made women's shoes by taking existing molds of men's shoes, making the shoes smaller and adding a pop of color — a method known as "shrink and pink." Now, brands have molds specifically for women that are better proportioned to women's feet.
Zappos at Work has started getting more requests for women's workwear as more women join the construction and trades industries. Today, it has about 600 women's styles and 600 men's styles. "We make sure it's very equitable in that all of our partners have equal number of options for men's and women's available to show their employees," Howser said. "That used to be an impossible ask five years ago."
It's not just Zappos that's seeing more interest in safety footwear; compared to before the pandemic, women's safety footwear has grown "two times as fast" as men's, Goldstein said. Women make up just 11% of the construction workforce in the U.S., according to government data, although that number is edging higher. Some workwear brands, like Carhartt, have started grant programs to try to boost women's representation in the field.
An increasing number of smaller workwear brands are also carving out their share in the space by reaching workers in specific areas. For example, Figs, Jaanuu and Clove cater to medical professionals, Tilit and Hedley and Bennett outfit those in the culinary world, Brunt Workwear and Truewerk provide apparel for construction and trucking and Up In Smoke markets to welders. Many of these companies, like Tilit and Brunt, are founded by those who have worked in the actual professions they cater to.
Outside of Zappos, other companies are setting up workwear programs for corporate clients. Boot Barn, for instance, offers Boot Barn Work Commercial Accounts with a "user friendly custom B2B portal" and "competitive pricing," according to its website. Boot Barn, unlike Zappos, has physical stores where corporate clients can go to try on the footwear.
Overall, when it comes to safety footwear, "it's great to see that there's so much movement every year," Howser said. "So many new styles are being created nonstop… [Compared to the] traditionally slow-moving industry where the top sellers didn't change throughout the '90s onward… every quarter, there's multiple different players."