Gopuff adds non-endemic advertising capabilities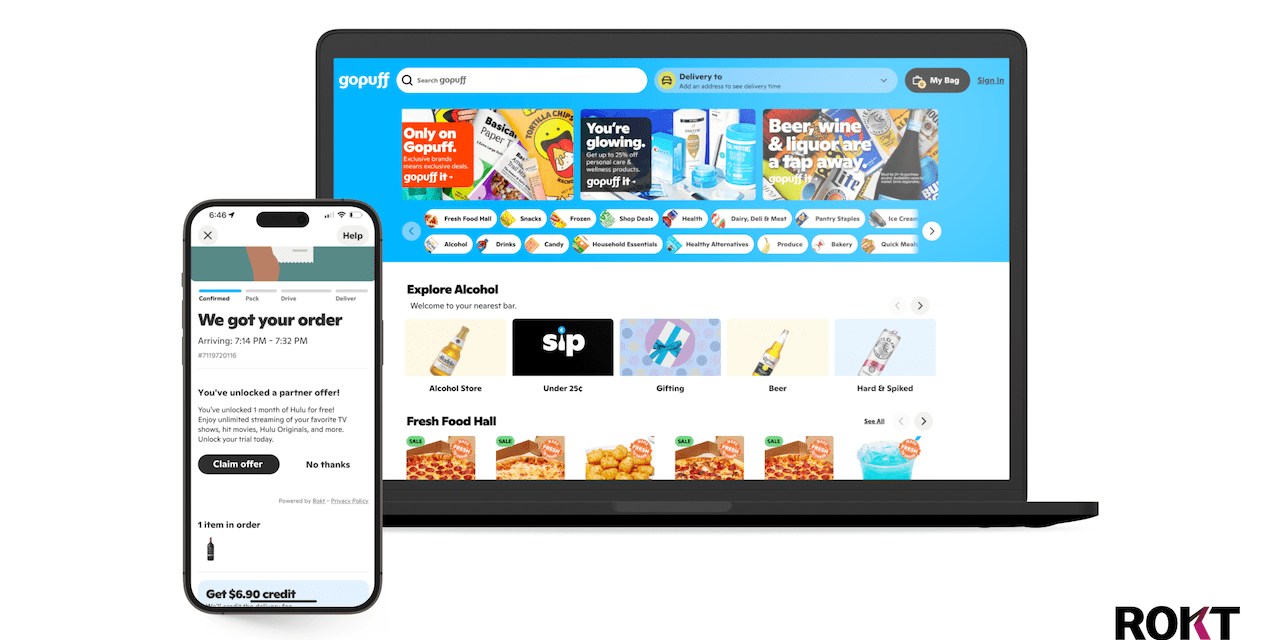 Gopuff
Gopuff will now allow brands that don't sell products through its delivery service to advertise on its app. 
Through a partnership with the e-commerce marketing platform Rokt, Gopuff will be driving additional ad revenue through at-checkout and in-bag promotions. Rokt's tech also powers other platforms' checkout-based ads, including Uber, Staples, Lands' End and HelloFresh.
Until now, Gopuff has mainly focused on CPG advertising — allowing brands that sell on its app to promote their products to Gopuff users. Now, the 10-year-old company is positioning its rapid delivery service and high-intent customers as an ideal combination for advertisers. According to Gopuff, the non-endemic option means that non-CPG brands from across multiple categories can now advertise to Gopuff audiences by demographic and location — with companies like Hulu, AdoreMe and Noom announced as some of the launch partners. According to Gopuff and Rokt, the non-endemic campaigns have resulted in an engagement rate of 5% during the first month of the partnership.
Daniel Folkman, Gopuff's svp of business, told Modern Retail that the delivery app's young user base and large product assortment "has enabled us to build effective advertising capabilities for our brand partners." 
"We own all the inventory, and now have hundreds of liquor licenses and over 5,000 SKUs," he said. Gopuff's current demographic is made up of people between the ages of 25 and 34. "A lot of our customers love to try new brands, with 80% of those surveyed [saying] they love discovering new products on Gopuff," Folkman said. 
There are two ways Gopuff advertisers can use Rokt's technology to create non-endemic campaigns: through at-checkout offers and in-bag physical products and promotional materials. 
"We've invested heavily in CPG advertising in the past couple of years, and now we can open up our promotion capabilities to more brands," Folkman said of Gopuff Ads' growth. 
As is the case with Gopuff's existing sampling program, non-endemic advertisers can opt to offer free or discounted in-bag products. One of Gopuff's early non-endemic ad tests was with streaming service Pluto TV. In a pilot program late last year, Gopuff partnered with Horizon Media to run an in-bag campaign to promote Pluto TV's "Popcorn Summer Movies." Gopuff sent select customers inserts highlighting PlutoTV's offerings, along with a free bag of popcorn. Folkman said that as a result, Pluto TV saw a more than 15% increase in both awareness and usage among sampled customers.
Retail media networks in general are gaining a bigger piece of the digital advertising pie. According to eMarketer, digital retail media ad spend will reach $61.15 billion by 2024, accounting for about 20% of all digital advertising in the U.S. 
Gopuff's announcement comes at a time when non-endemic advertising has gained traction among retail media networks. In late 2022, Amazon unveiled a new ad format called Sponsored Display, that would more easily allow non-endemic advertisers to spend money on Amazon. 
Andrew Lipsman, principal analyst for retail and e-commerce at Intelligence Insider, said "non-endemic advertising is a low hanging fruit, it's easy money." In particular, Lipsman said that Gopuff is unique in that it has the ability to distribute product samples and thus generate incremental purchases on behalf of advertising brands. 
"Not every retail media network has a strong enough value proposition to command significant non-endemic ad dollars," he said. For example, typically these networks would need strong enough first-party data — which major retailers like Amazon, Walmart, and Target can offer — or at least a unique enough offering that works especially well for a specific set of advertisers. "If you have a unique audience, there's value in non-endemic ads across specific categories," Lipsman said.
Folkman said that Gopuff is open to working with various types of brands, via Rokt, on these types of campaigns. But with Gopuff's roots as a delivery service geared at college students, Folkman said "the areas most interesting to us are entertainment, streaming, gaming and sports." 
"We're still continuing to invest a lot in the CPG sampling and ads," Folkman said. "But first and foremost, we want to offer a great customer experience."