Why CPG startups are vying for placement on fast delivery apps like Gopuff and Gorillas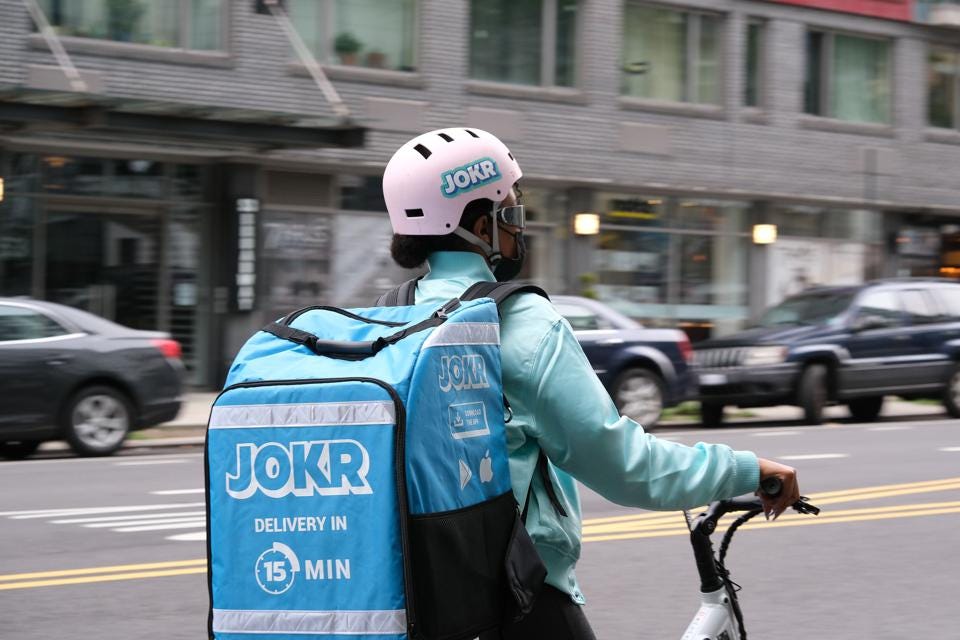 Jokr
2021 ushered in the rise of ultra-fast grocery delivery. Since then, a number of CPG startups are trying to get their products featured on those apps.
A number of platforms — including Gopuff, Jokr, Gorillas and Fridge No More — are filling their digital shelves with up-and-coming brands. Over the past few months, food and beverage brands like Recess, Swoon and Sweet Nothings struck up partnerships with these platforms. CPG brands say that as these ultra-fast delivery startups increasingly accumulate more venture capital, they are willing to invest in more marketing tactics, such as text notifications and sampling events, that can help these brands acquire new customers. 
Jake Kneller, co-founder and CEO of smoothie cup brand Sweet Nothings, said these delivery platforms are becoming more interested in alternative CPG brands as opposed to major conglomerates. "When I first reached out to Gopuff in Q1 of 2020, the offerings were mostly Flaming Hot Cheetos and Skittles," Kneller said, who pitched them on Sweet Nothings being a bridge to better-for-you snacks. "They weren't quite ready yet," Kneller said.
A year later, and things have changed. Sweet Nothings launched on Gopuff in mid-2021, and is now available on other 15-minute apps, like Jokr, Fridge No More and DoorDash's DashMart. Since launching on these delivery apps in the past six months, they now account for over 10% of the company's monthly revenue. 
"Being able to fill that need within 15 minutes has been huge for us," Kneller said. As a frozen, single-serve product, Kneller said that Sweet Nothings' pitch to fast-delivery platforms is that its product is especially ideal for customers looking for quick breakfasts and snacks. 
Beverage brand Swoon also began selling its line of canned drinks through Gopuff at the end of 2021. Co-founder Jennifer Ross told Modern Retail that "new customer acquisition is incredible with Gopuff."
"The customer who joins is an early adopter of technology, so we can assume they're open to trying new grocery products as well," Ross said.
"Since the majority of these rapid delivery services are startups, they're spending a lot of effort and dollars on advertising and top of the funnel acquisition," Ross added. Platforms like Gopuff, she said, are working closely with its CPG partners on marketing campaigns. These range from SMS campaigns, push notifications and community sampling, among other initiatives. In the coming months, Swoon will begin to test some of these programs in its home market of New York City, Ross said. 
"They [the delivery apps] are nimble in trying new things and getting new products and markets set up more quickly than traditional retailers," Ross said. "We get sales data so we can see how certain SKUs are performing in particular markets, which is hugely valuable," she added. 
Benjamin Witte, founder and CEO of CBD drink brand Recess, agreed. "Just being on there and getting eyeballs is a great form of marketing for us," Witte said. 
In 2021, Recess launched on Gopuff, Gorillas and 1520, which are "accelerating" among Recess' sales channels, Witte said. Gopuff was the first 15-minute delivery service to reach out to Recess, early on after launching in New York City last year. "We're now available in every major Gopuff market," Witte said. 
Witte said that, particularly with beverages, the goal is to make the brand available to buy everywhere. This includes late-night orders through delivery apps and at local grocery stores. He also touted the creative variety of selling formats that these marketplaces offer, such as themed product bundles and collaborations. For example, Recess was recently included in Gopuff's movie night snack packs.
Recess counts revenue from these delivery apps as part of its overall retail channel, which Witte said is currently 50% of overall company sales.
However, the ultra-fast delivery space is still young, and still only primarily covers urban areas like New York City and Los Angeles. The major players are continuing to raise major venture capital to expand, but profitability is a struggle. Most recently, last month Jokr closed a $260 million Series B round and hit a billion-dollar unicorn status.
Additionally, leaks of these companies' financials call into question the viability of the space long-term. As of last August, Jokr was losing $159 per order in an effort to acquire more customers in New York City, according to a report by The Information.
However, Swoon's Ross believes these apps offer young brands many benefits, including incremental sales boosts, as the competitive field shakes out. 
Ross noted the overall growth of digital grocery orders over the past two years, along with consumers now accustomed to the convenience of getting their favorite products with new ones within minutes. "Once you get used to having groceries delivered so quickly, it's tough to go back," Ross said. 
"I expect consolidation among these startups, with two or three emerging as winners," Recess's Witte said. "But right now, no CPG brand founder is turning down the chance to partner with them."