DTC Briefing: Startups report positive holiday sales, but prepare for a challenging 2023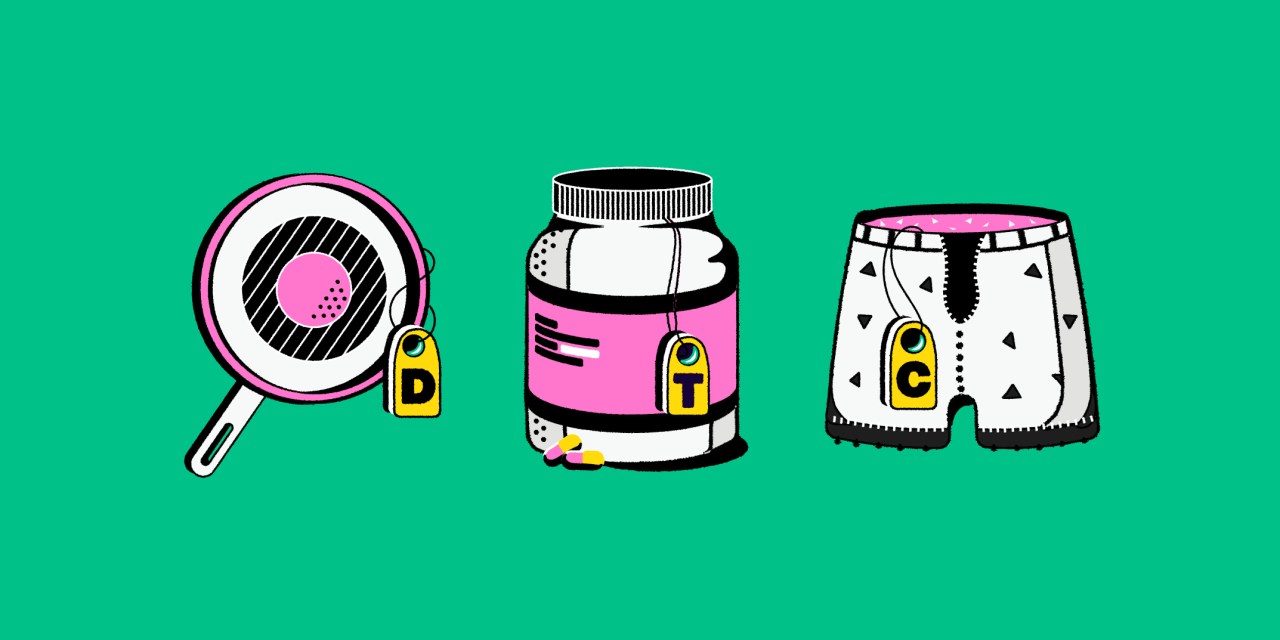 Illustration by Ivy Liu
This is the latest installment of the DTC Briefing, a weekly Modern Retail+ column about the biggest challenges and trends facing the volatile direct-to-consumer startup world. More from the series →
This is the latest installment of the DTC Briefing, a weekly Modern Retail column about the biggest challenges and trends facing the volatile direct-to-consumer startup world. To receive it in your inbox every week, sign up here.
The new year got off to a rocky start as a large swath of retailers, including Amazon and Stitch Fix announced widespread layoffs. But DTC startups for the most part are trying to maintain a positive outlook. 
Most of the layoff announcements came from publicly-traded retailers trying to get the bad news out before their next quarterly earnings call. There were a few venture-backed startups thrown into the mix; the Information reported that Everlane laid off 17% of corporate employees. 
One of the biggest concerns for retailers heading into the holiday season was how inflation might impact spending, and many of the retailers that did resort to layoffs last week have been reporting slowing revenue growth since the middle of last year. By contrast, many of the DTC startup executives I spoke with said that, for the most part, inflation did not lead their customers to cut back on holiday spending. 
However, there's little desire to stop and celebrate. Even brands that met their holiday sales goals are preparing for 2023 to be another challenging year, as they are still trying to get a handle on everything from how to prepare for a potential recession to how to keep their growing array of retail partners happy. The brands that grew successfully over the past year, are by and large, no longer pure DTC brands, but now depend on a number of different growth strategies to reach new customers. In turn, 2023 is expected to be no different, and executives will be tasked with figuring out what the right mix of tactics is to keep DTC brands growing through a more somber economic environment. 
"There's risks to every business," Béis president Adeela Hussain Johnson told me. All the same, she is "incredibly bullish" on her company's outlook. 
By most metrics, the luggage brand had a great holiday season. According to Hussain Johnson, Béis' revenue in November and December was up 200% compared to the same period last year. But all this explosive demand means Béis is still struggling with keeping enough product in stock. 
"We haven't quite figured out what a true baseline is, and that's amazing in terms of growth," Hussain Johnson said. "it's very difficult from a planning standpoint."
In turn, one of Béis biggest goals heading into 2023 is to get a better handle on demand forecasting to "grow the business in a way that can be supported," Hussain Johnson said. Over the past year, the company has been upping its production orders, giving manufacturing partners a forecast further in advance and adding more employees to its supply chain and demand teams in order to meet that.
Béis was founded in 2018 and, like most startups over the past five years, has experienced a whiplash in demand for certain products as travel ground to a halt and then came roaring back. But that's not the only way running a DTC business has gotten more difficult over the past few years. 
DTC startups have had to contend with rising logistics and raw material costs. They've also had to rethink how they reach new customers thanks to Apple's privacy updates, leading many to prioritize physical retail or growing their array of wholesale partners.
Take cookware startup Caraway. This year, Caraway launched a number of new products, ranging from tea kettles to food storage bins — and secured a wholesale deal with Target. In turn, Caraway founder Jordan Nathan said the company saw "huge demand for Caraway," over the holidays especially across its new products. And that, so far, the company is "seeing good sales at the start of January, pretty on point with our forecast." 
Still, the company's biggest challenge, according to Nathan is figuring out "new ways to reach customers, whether that's ad channels or retailers or different distribution avenues."
Part of what spurred Caraway's increased focus on retail, Nathan said, have been changes in the digital marketing landscape, including Apple's iOS4 update.
"The changes on privacy have impacted DTC in a major way — there's still great opportunity there, but [increased distribution] is definitely going to be a continued focus for for Caraway," Nathan said.
In turn, running a DTC business these days requires executives to keep an ever-growing array of plates spinning. Even after a successful holiday season, many executives are already thinking about how they can keep the momentum going next year. 
For example, Eric Satler, president of holding company Win Brands Group, said that across his company's portfolio brands sales were up anywhere from 15% to 25% compared to last holiday season. 
To get there required a number of different initiatives. Whenever Win Brands Group acquires a new company, such as it did with infrared sauna blanket MiHigh this year, it seeks to launch its products on major retail sites like Amazon if it hasn't already. 
A big focus for Win Brands Group in 2022, Satler said, was to capture more first-party customer data. Throughout the year, Win Brands Group has released more specialized lines across its brands, ranging from a Harry Potter-themed line of Homesick Candles, or a Lucky Charms collaboration with another one of the holding company's brands called Love Your Melon. Win Brands Group looks at that as an opportunity to capture more contact info for new customers that it can use in retargeting throughout the year, especially during the all important holiday season.
As a business, Win Brands Group's goal is to grow 20% per year. In turn, Satler said that what's on his mind heading into the new year is, "do we have the right product launches? Do we have the right spending plan in place [to achieve that 20% year-over-year revenue growth]?" 
"What I'm seeing is: our indicators are very strong that we're in a very good position," Satler added. "But any day now, if [consumer] spend were to shut off, or if Covid closed doors everywhere… that's always a scary moment for anyone that's operating in this environment."
What I'm reading
Thingtesting looks at

what to expect from DTC brands in 2023

, as an impending recession and increasing competition makes running an e-commerce business more challenging than ever before. 

DTC brands are zeroing in on

logistics and marketing

as two areas in which they are increasingly looking to cut costs, Business of Fashion reports. 

Reformation's

chief sustainability officer sat down with Retail Brew to talk about how the company did at meeting its

sustainability goals

in 2022, and what's in the pipeline for 2023. 
What we've covered 
What was behind retail's terrible, horrible, no good, very bad

start to the new year

. 

Meanwhile, the cost cutting is starting to impact B-to-B players in the e-commerce space; SMS marketer

Attentive

laid off

15% of its staff

on Friday. 

How alcohol conglomerates like

Tito's

,

Heineken

and

Budweiser

are increasingly embracing

Dry January

(at least in their marketing).