Even alcohol brands are investing in Dry January campaigns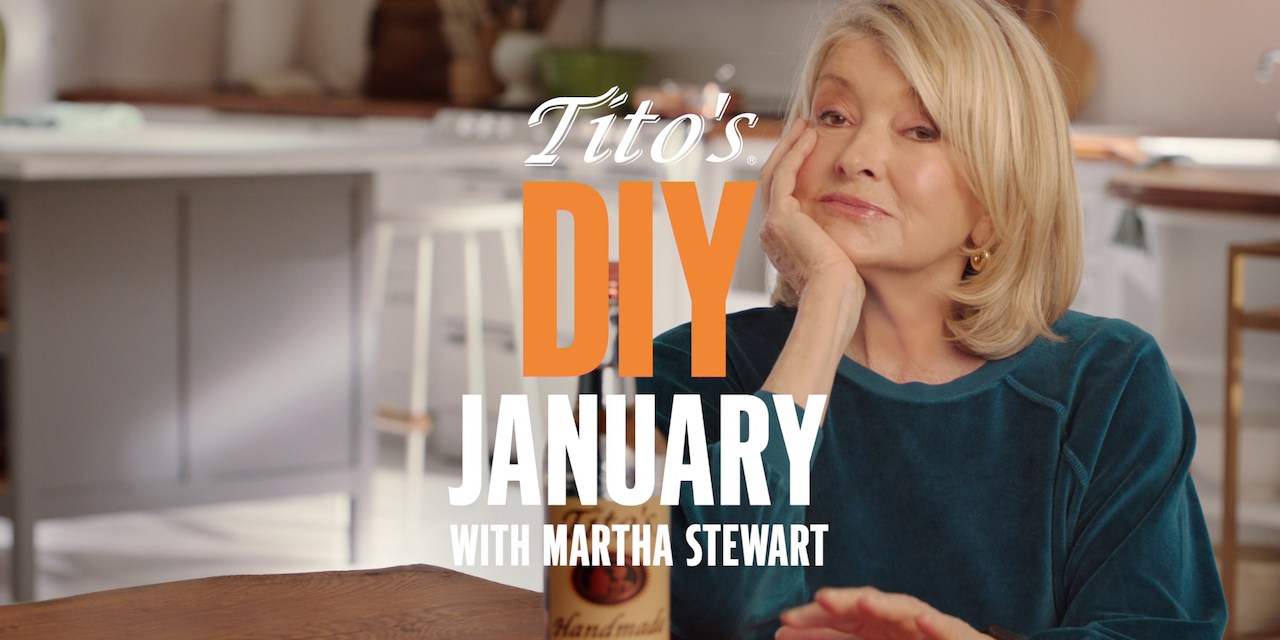 Tito's Handmade Vodka
Last week, vodka brand Tito's launched its tongue-in-cheek Dry January campaign starring DIY mogul Martha Stewart. The ad is in line with Tito's typical humorous campaigns, which most recently included selling empty hard seltzer cans. But it's also indicative of the influence sober-curious initiatives and NA brands are having on big booze.
The arrival of Dry January isn't stopping alcohol brands from seeking brand visibility. It's a tactic that major alcohol brands have adopted more recently, even throughout the holiday season.
Aside from brands like Tito's promoting alternative uses of its product, the Dry January window has also become an opportunity to promote newer, zero-proof products. Beer brands are perhaps the biggest segment taking Dry January head-on. From Budweiser to Heineken, major beer makers are promoting their latest zero-ABV brews as a buzz-free way to enjoy their products. Moreover, nonalcoholic beers like Heineken and O'Doul's have increased their retail footprint this month, compared to this time last year. 
The current trajectory signals a turning point for the non-alcoholic beverage movement. While this segment is still relatively small compared to alcohol sales, it's growing fast enough that major alcohol conglomerates want a piece of the pie. This is prominently displayed through investments and acquisitions, such as Diageo's stake in zero-proof spirits brands Seedlip and Ritual.
Others, like Heineken, have ambitions to grow their non-alcoholic segment at a pivotal time for its 0.0 beer, which has become the top-selling alcohol-free beer in the U.S. According to market research firm IRI, as of October 2022 Heineken 0.0 represented 27% of the U.S. nonalcoholic beer sales. In its latest earnings, Heineken reported that 0.0's retail sales — largely driven by the Americas and Europe — helped generate $68.7 million between September 2021 and September 2022, or a 7.9% year-over-year increase.
Adapting to new consumption habits
These latest marketing initiatives are a way for alcohol brands to not only continue to drive sales this month, but also stay visible when some people cut back on drinking.
For a brand like Tito's, which doesn't offer a nonalcoholic product, this is being done through a whimsical use case. 
The Tito's campaign follows the DIY mogul utilizing the vodka by spraying it on smelly boots, watering plants and spiking pasta sauce. The company also released a limited edition collection of bottle-topper attachments, with sales proceeds going to customers' choice of nonprofit.
According to the campaign release, this month Tito's is also releasing "an extended list of tips and tricks that illustrate the most practical and useful ways to utilize Tito's beyond making a tasty cocktail." These include the aforementioned trick to deodorizing shoes, cleaning windows and adding it to a vase of flowers — a DIY trick used for keeping flowers fresh longer. 
Tori Bertschy, author of the newly released recipe book Mocktail Queen, said the fact that big brands are acknowledging and participating in Dry January is reflective of changing drinking patterns.
"The big brands need to compete. They see this shift," she said. "And they want to earn the trust of their current customers to choose them as the zero-proof option when they're shopping for their fridge." 
An occasion to spotlight zero-proof products
Heineken is one of the most prominent examples of an alcohol brand leaning into Dry January. The beer maker is currently running a series of social media spots featuring Heineken 0.0, the alcohol free variation that was first introduced in 2017. Also this month, Budweiser is promoting its nonalcoholic beer with the tagline "Full flavor. Zero alcohol." 
International product launches are also on the rise to coincide with the booze-free initiative. 
This month, Japanese beer maker Asahi is rolling out Asahi Super Dry 0.0% in select markets in time for Dry January — starting with the U.K. and Ireland. Guinness's 0.0 beer, which boasts being under 75 calories per can, is arriving in U.S. bars and restaurants this year following a U.K. rollout.
Sean Ryan, partner of the CPG sector at Kearney, said this is a natural move by mainstream alcohol players as they try to compete with emerging nonalcoholic brands. "Beer companies in particular are responding to this trend in an effort to find ways to offset consumption decline in the beer category," said Ryan. Hence why brands like Guinness and Stella Artois have introduced non alcoholic variations in the past year or so. 
This trend is also being reflected by the increased availability of these products in more markets. As of 2022, Heineken 0.0 is available in more than 100 markets globally. 
Krish Thyagarajan, president and COO at retail data and pricing analytics firm DataWeave, said this month major beer conglomerates increased distribution of their non-alcoholic beverages across a wider number of retailers. Heineken 0.0 was among the top, with an 18% year-over-year volume increase across retail channels. Even well-established non-alcoholic beers, like Anheuser-Busch's O'Doul's, are expanding retail availability to accommodate demand. The brand, launched in 1990 has experienced a resurgence over the past couple of years. In turn, its distribution has increased by 15% year-over-year. Meanwhile, Germany's Clausthaler — founded in 1979 — increased its U.S. retail availability by 45% from January 2022 to January 2023.
Indeed, these brands are actively promoting the 0% alcohol category as a better-for-you alternative, Ryan said. He pointed to creative marketing solutions like the recent World Cup in Qatar, where official sponsor Budweiser scrambled to stock and promote Bud Zero on the premises following a last-minute alcohol policy change.
"[Beer brands] need to find a solution to the declining beer consumption challenge," Ryan said.