DTC Briefing: Startups are gearing up for Meta to prioritize traffic to Facebook and Instagram Shops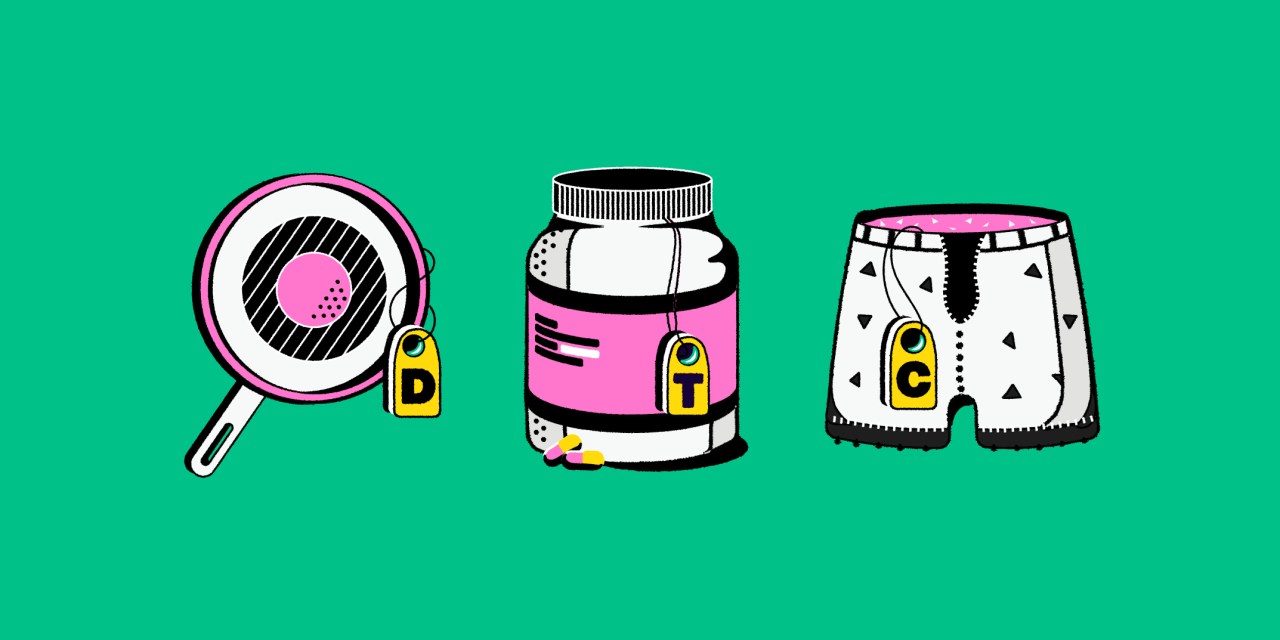 Illustration by Ivy Liu
This is the latest installment of the DTC Briefing, a weekly Modern Retail+ column about the biggest challenges and trends facing the volatile direct-to-consumer startup world. More from the series →
Meta is slowly taking steps to direct more traffic to its own in-app checkout services, in a move that's already having major ramifications for direct-to-consumer startups. 
Some of this was to be expected — last month, Meta announced that starting on June 5, brands must have Instagram and/or Facebook Checkout enabled in order to launch new Meta Shops (the company's term for storefronts that live within Facebook or Instagram apps). Existing Meta Shops can still link to an external website until April 24, 2024.
But what some media buyers and marketers didn't expect is that in the lead-up to the change, Meta appears to be directing more ad traffic to Meta Shops, rather than to a brand's owned Shopify site. David Herrmann, an independent media buyer, tweeted that Meta Shops made up 36.1% of total Meta ad revenue for his clients from May 1-10; in March, Meta Shops accounted for just 8.7% of total Meta revenue. Herrman told me in a follow up email that that number has continued to increase in recent days to around 50%.
Not every brand is experiencing this same reallocation of traffic, and marketers are unsure as to whether this is a test, or is a permanent change that is about to be ushered in. But every marketer I spoke with said they are gearing up for a world in which Meta prioritizes its own Shops. Some brands welcomed this change, as they believe it will give Meta access to more first-party data. Others say that Meta Shops offers potential new customers a worse experience than a brand's DTC site — and worry that too big of a push, too quickly to Meta Shops could result in poor performance. 
It's just the latest curveball DTC brands have had to contend with from Meta over the past couple years as the company tries to figure out its post iOS 14 playbook. Some new initiatives, like Meta's suite of AI-powered Advantage+ shopping, have gotten rave reviews. But others, like Meta Shops, have left brands with many unanswered questions and what they feel like is little guidance from Meta. 
Meta first launched Shops in 2020, during a simpler time when the company was known only as Facebook, and wanted to get more people to buy more products directly within Facebook and Instagram. A year earlier, the company had introduced in-app checkout to Instagram.
While more brands have enabled Shops, it hasn't been uniformly adopted. Brands have expressed reservations about Shops since its inception. Namely, losing out on valuable customer data, Meta started to take more of a partnership approach. In 2021, for example, it added support for Shop Pay to in-app checkout. 
Now, it appears to be gearing up to direct more ad traffic to its own Shops for one big reason: to get more access to data on how and when people are buying, something that it lost a lot of following the iOS 14 update.
Nate Lagos, director of marketing for watch brand Original Grain, said that in the past two to three weeks, traffic to Meta Shops was up over 50% compared to the same period at the end of April. 
That presented a problem for Original Grain, because, Lagos said, the revenue per session for Meta Shops is typically less than half of the revenue per session reported by the brand's Shopify site. The way Shops ads is currently structured is that it sends people to where Meta thinks they are most likely to convert — either a business' website or its own Facebook and Instagram Shop. But, some marketers like Lagos, say performance has decreased as Facebook has seemingly directed more users to Shops in the past couple weeks. 
Lagos adjusted by relaunching Original Grain's ad campaigns to exclude Meta Shops and only direct traffic to the brand's Shopify site. 
"I'm pissed — they've made so many changes lately that all seem to have a negative impact on performance," Lagos said. He chalks up the poor performance of Meta Shops to limited customization options. For example, brands can't promote as comprehensive of product bundles as they can on their own website. 
"It basically takes you to a page with the product that was in the one ad you clicked on, and maybe a couple others," he said. Herrman echoed that "Meta is focusing on first time customers on Shops and dynamically serving them the lowest AOV products to entice them." Meta, for its part, has said more changes are coming to Shops, including ratings and reviews, buyer email opt-in, and dynamic product pages.
Not every brand has experienced big changes to their ad campaigns yet. Katya Constantine, founder of agency Digishopgirl Media, said that her clients have not yet experienced a noticeable uptick in traffic to Meta Shops compared to their owned websites. 
However, she still has questions about the upcoming changes to Meta Shops. For example, while brands with existing Facebook and Instagram Shops don't technically have to adopt in-app checkout until April 24, in some markets brands will no longer be able to tag their products via the Content Publishing API starting on August 10. 
"Our clients who are not doing Checkout through the Meta Shops experience are now concerned that they are going to lose their product catalog tagging functionality," Constantine said. 
There are other issues yet to be addressed. Ashvin Melwani, chief marketing officer at supplement brand Obvi, thinks that on the whole, Meta directing more traffic to Facebook and Instagram Shops would be "an amazing push." He has actually heard from other brands that they have seen greater efficiency from Meta Shops.
"The biggest issue post-iOS 14 is this incoherent lack of feedback loop between the merchant and Facebook," he said. Getting more people to buy within its apps would allow Meta to improve that loop. 
There's just one problem. Obvi, which sells collagen, is currently barred from using Meta Shops as a supplement brand. While Obvi is able to advertise on Facebook and Instagram, according to Meta's Commerce Policies — which covers Shops and Facebook Marketplace — "listings may not promote the buying or selling of ingestible supplements." 
It's unclear when that might change, if ever. Melwani said he had a "FOMO" feeling of seeing so many other brands being able to use Meta Shops, while Obvi can't. 
The transition to Shops is also just one of many challenges DTC brands have to contend with in regards to Meta right now. Multiple people said that the reps they used to work with were let go in Meta's multiple rounds of layoffs over the past year, which makes escalating issues to the right person more difficult. 
Still, don't expect these latest challenges to result in more brands shifting ad spend away from Facebook and Instagram. Original Grains' Lagos worries about how performance could be further impacted if Meta makes Shops mandatory, but right now, there's no indication the company has plans to do that.
And ultimately, Meta has "still built the biggest and best ad platform that's ever existed in my opinion," Lagos said. 
He said that he "loves Advantage+ campaigns" — which now accounts for 100% of the brand's Facebook budget. "I wish they would stop messing around with everything else," he added.
Cabinet Health makes its first major retail launch in CVS 
Cabinet Health, a five-year-old DTC startup that aims to cut down on waste in the pharmaceutical industry, is launching in more than 700 CVS stores this month, marking its first major retail launch.
Cabinet Health sells common over-the-counter medications like cold and flu medicine, sleep aids and pain relievers in glass bottles, and then ships refills in a compostable pouch in order to cut down on plastic waste. It launched as a direct-to-consumer brand, and also sells its products through Grove Collaborative.
"While we know consumer behavior is changing, approximately 93% of Americans are still buying pharmaceuticals in stores, and they deserve offerings that don't perpetuate the plastic waste crisis," said Russel Gong, Cabinet Health co-founder and president. "CVS, which is the largest national pharmacy in the U.S., is the ideal partner in this next phase of growth." 
In order to promote the launch, Cabinet Health is doing a "mobile pharmacy" pop-up in local CVS parking lots in more than 10 cities. Here, people can bring in old medicine bottles that can't be recycled. Cabinet Health is partnering with other brands that have a sustainability focus, like Lomi, and will have the chance to get limited-edition products and prizes. 
This combined, with the CVS launch, will give Cabinet Health access to in-person feedback, which has been hard for the brand to get up until now as a digitally-native brand. Gong said Cabinet Health hopes to use the CVS launch to "learn from customers about what messages resonate, what products drive the most change," as well as how to engage with store managers and local communities. 
What I'm reading
Fast casual Mediterranean restaurant chain

Cava

has

filed to go public

. Cava is growing quickly, reporting revenue of $564.1 million last year (by comparison, Sweetgreen's revenue was $470.1 million during the same period). But, it also lost $59 million last year.

Venture capital

Forerunner

has released a new tool designed to measure what it is calling a

brand power score

; that is, how much a brand resonates with its target customers. Forerunner is making the tool free and available for all brands to use. 

Skims

opened a

pop-up shop

in New York City's Rockefeller center. 
What we've covered 
Little Words Project

has opened six new stores over the past year and a half, thanks to the success it saw with its first brick-and-mortar location. Here's more on Little Words Project's

retail strategy. 

How brands like

Studs

and

M.M.LaFleur

have evolved their

in-store events strategy

. 

Nuuly

is now carrying products from

Eloquii

, as the former looks to grow its

assortment of plus-size appare

l.