How brands like Studs and M.M.LaFleur use store events to reach different types of customers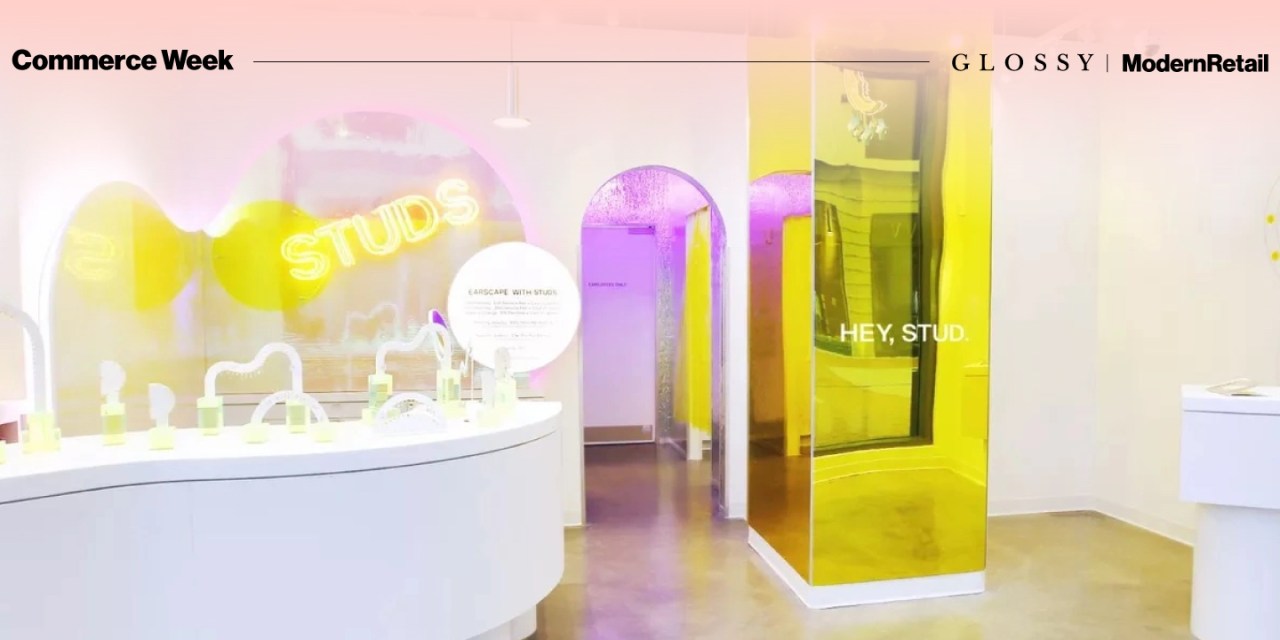 In 2021, Studs — a then-two-year-old jewelry startup — was trying to build buzz around its ear piercing studios. To do so, it hosted a splashy holiday party in partnership with the celebrity gossip account Deuxmoi, replete with influencers who could post about Studs to their millions of followers. 
According to Rachel Sacks-Hoppenfield, Studs' vice president of omnichannel marketing, the party got a lot of press mentions — but it's not the type of event Studs would host today. At the Modern Retail x Parachute Future of Commerce Panel on Tuesday, Sacks-Hoppenfield said Studs is more focused on "being really clear about what we're trying to get out of events." That is, trying to get customers to buy jewelry at Studs, or get a piercing at one of its 19 studios. 
As more direct-to-consumer startups open stores, events have become a popular way for brands to get the word out about their new locations. But, as startups like Studs have opened more locations, they have refined their events strategy. Rather than just looking for an excuse to host a party, brands are now trying to be more intentional about in-store events, and targeting different types of customers with different events. 
It's a sentiment that was echoed by other panelists at the Future of Commerce session, hosted at Parachute's new New York City flagship. Maria Costa, director of brand and integrated marketing at M.M.LaFleur, said that the women's workwear brand generally hosts three different types of events. 
The first type is corporate events. M.M.LaFleur works with networking groups and other corporate entities to host styling events for their members. "[They] reach out to us and say that, 'we are hearing that women in our organization just don't know how to dress for work anymore," Costa said. 
Costa said these types of events work well at M.M.LaFleur's showrooms in particular. M.M.LaFleur's store strategy has shifted over the years; Before Covid, M.M.LaFleur had eight stores — showrooms that operated on an appointment-only basis. Then, during the pandemic, M.M.Lafleur had to close all of these stores overnight. Today, M.M.LaFleur has two of these showrooms that it managed to hold onto during the pandemic. But, it also recently opened two ground-level retail stores in New York City that are open to walk-in shopping. 
Second, M.M.LaFleur also hosts what Costa considers to be "brand driving events," that aren't as heavily focused on sales. For example, this week M.M.LaFleur is taking a truck around various neighborhoods in New York City, serving beignets and New Orleans coffee, to promote its summer collection. M.M.LaFleur is then pairing that with live jazz concerts at its New York city stores.
There's still a concerted strategy around these types of events — Costa said that brand-driving events are often paired with a mix of guerilla and performance marketing. For example, ensuring a direct mail campaign goes out in New York around the same time as the event to get the maximum sales lift. Last year, before M.M.Lafleur opened some new stores, Costa said that the company saw sales in New York City as a percentage of revenue increase by 30% in the month after M.M.Lafleur did an activation there. 
Lastly, M.M.LaFleur also hosts events in partnership with other brands. 
Costa said that while events are an important driver of sales for M.M.LaFleur, they are also something that customers have expressly asked for. 
"We've actually asked our customers what they value. And actually, they really want to meet the other M.M.LaFleur women," Costa said.
Brent Vartan, managing partner at agency and venture capital firm Bullish, said that digitally-native brands with the most successful retail strategies are often ones who think about brick-and-mortar locations as a place to do "something that they couldn't do online." He cited Warby Parker as an example, which focuses on using its stores to offer in-person services such as eye exams, as well as to grow its contact lens business. 
But the trick is figuring out how to keep those stories feeling unique, especially as a startup adds more locations to its fleet. There are only so many happy hours a brand can advertise on Instagram before customers start tuning out. 
Sacks-Hoppenfeld said that driving more piercings is Studs' "first priority" when hosting in-store events. That's because people who get pierced at Studs have a higher lifetime value compared to people who just buy jewelry there. Sacks-Hoppenfield said 40% of Studs' piercing customers repeat buy within the first year. 
But, Studs is also limited by how many people it can pierce at a single event. So the startup also tries to use its website to test out different promotions, and then figure out a way to bring the best-performing campaigns to life at different stores.
During Cyber Week, Studs ran a campaign that advertised mystery earring bundles that Sacks-Hoppenfeld said performed well. To bring that experience offline, Studs brought a gumball machine to its Nolita store, where people insert a token to buy earrings, but don't know what they are getting until they open their capsule. 
Sacks-Hoppenfeld said it was "a huge success, it was great for walk-in traffic to actually convert." So this week, Studs added the gumball machine to seven additional studios. 
Ultimately, Vartan advised brands to think of stores as interactive advertising. "If you can do events that are share-worthy — that you can make content out of — then you can multiply your investment around that stuff," he said.