After its first store hit $1M-plus in sales, Little Words Project is growing its retail fleet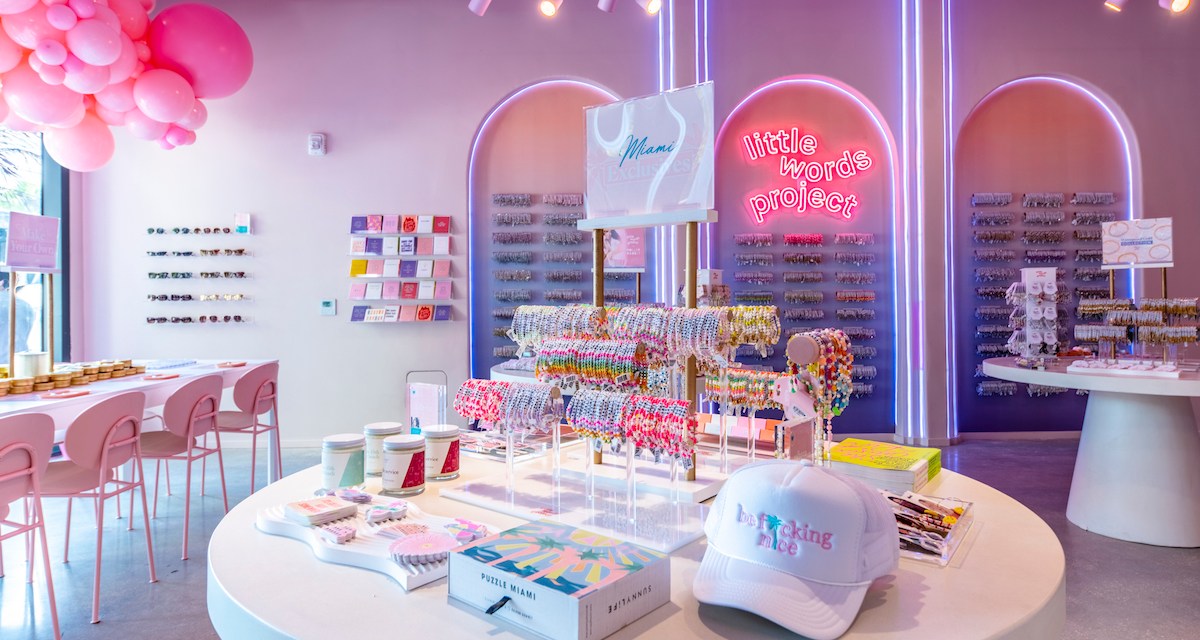 Little Words Project
After building its following mostly online for the past decade, jewelry startup Little Words Project is betting on brick-and-mortar stores to significantly ramp up sales. 
Little Words Project, founded in 2013, opened its first store on Bleecker Street in New York City in November 2021. Fast forward to today, and the store has done more than $1 million in sales, with a net operating income above 20%. That represented a significant addition to Little Words Project's business, which is profitable and has hit a $20 million-plus run rate in revenue. 
In turn, Little Words Project has been significantly expanding its retail business, adding six new locations over the past year and a half. This month, Little Words Project added a Miami location, and will open its eighth store in Tampa in June. Much of the focus on retail has been figuring out what experiences and elements to replicate across locations; a beading table where people can create their own bracelets has been a big draw, for example.
Bill Carrig, Little Words Project's president and chief operating officer, said that he still sees a lot of untapped opportunities in the company's retail business. 
"We haven't opened a store yet in a center that gets 10 million visitors," Bill Carrig said. "What I get excited about is I don't even think we've turned on the moneymakers in terms of the store P&L. It's been much more organic and experiential focused."
Little Words Project was founded by Carrig's wife, Adriana Carrig. The idea behind Little Words Project is to spread positivity through word bracelets, encouraging people to pass on their jewelry to someone who could benefit from that bracelet's particular message. 
The bracelets have a custom tag with a unique code, which people can use to register it with the Little Words Project website and track their bracelet as it gets passed onto other people. 
Bill Carrig said that about 5,000 to 6,000 bracelets are registered every month, and that number is growing.
In the early days, Adriana Carrig grew Little Words Project — which started direct-to-consumer ––largely organically, through her social media following. Then, she hit the trade show circuit, growing the wholesale business largely through boutiques, as well as a deal with Nordstrom.
But it wasn't until the coronavirus pandemic that the business started to grow exponentially. "2020 was the first year our DTC business really grew at a very fast clip, above 100%," Bill Carrig said. That led to more opportunities; the brand is now available nationwide in Target, and musician Lizzo featured Little Words Project in a campaign for her shapewear brand, Yitty. And in 2021, the company decided to open its first retail store. 
After the Bleecker street location exceeded expectations, Little Words Project went into a "huge sprint" at the end of 2022, as Bill Carrig described it, to open more locations. Working with Retail Union as its broker, Little Words Project has also opened locations in the Jersey Shore, Washington, D.C., Boston and San Francisco. 
With its retail stores, the company wanted to create spaces that encapsulated the positive, inclusive feeling that Little Words Project has become known for. The spaces are adorned with fixtures that emphasize its upbeat aesthetic — like a mirror that reads "love yourself" where customers can take selfies. 
"What we wanted to do is invite our customers in and have our sales associates kind of talk them through like… who are you buying for, and what is it that they are going through?" Bill Carrig said. 
The stores have also allowed Little Words Project to experiment with carrying products from other brands. Bill Carrig said the company likes to carry items in stores from other women-led brands like candles or beauty products, particularly tied to gifting occasions like Mother's Day 
But one of the big drivers of in-store sales is custom beading tables, where shoppers can build their own bracelets. Bill Carrig said that with subsequent stores, Little Words Project wants to think of these tables as more of community spaces, where people can say, host birthday parties or attend other events with friends. 
"What we're trying to accomplish is that idea that we can build these community outposts for new customers," Bill Carrig said, adding that 90% of Little Words Project's in-store customers are new to the brand. 
Melissa Gonzalez, principal at MG2 and founder of experiential retail studio The Lionesque Group, said that once startups like Little Words Project get beyond their first store they need to start developing more of a "retail playbook." 
"Store number one — you are more focused on, 'how am I telling my story?" Gonzalez? "How am I leaning into brand amplification and really testing and learning and getting media coverage?" 
But with subsequent locations, Gonzalez said, it is more about figuring out how to systematize and replicate things; not only how to create a similar aesthetic across locations, but also to figure out a shared technology system. 
Additionally, she said, startups often used the data collected through their DTC site to inform how they build their first retail location. But as they add more retail locations, they collect more data on a different type of customer.
"As you learn more about what is actually resonating, it might be different because the way in which your shopper interacts in person versus online is not the same," she said. 
As Little Words Project expands its retail fleet, Bill Carrig said the company has a few areas of focus. One, to add more experiential components, and going "above and beyond" simply having the custom beading tables. And second, to use the data Little Words Project collects through retail to inform its product assortment.
"We have a ton of feedback from our customers that they want higher end things," he said. The overarching thought process for Little Words Project as it considers adding more products is: "What are we delivering to our retail customers that maybe is unique from what they can get at a Target [and] from what they can get from our DTC business?"