DTC Briefing: How inflation is driving this year's holiday planning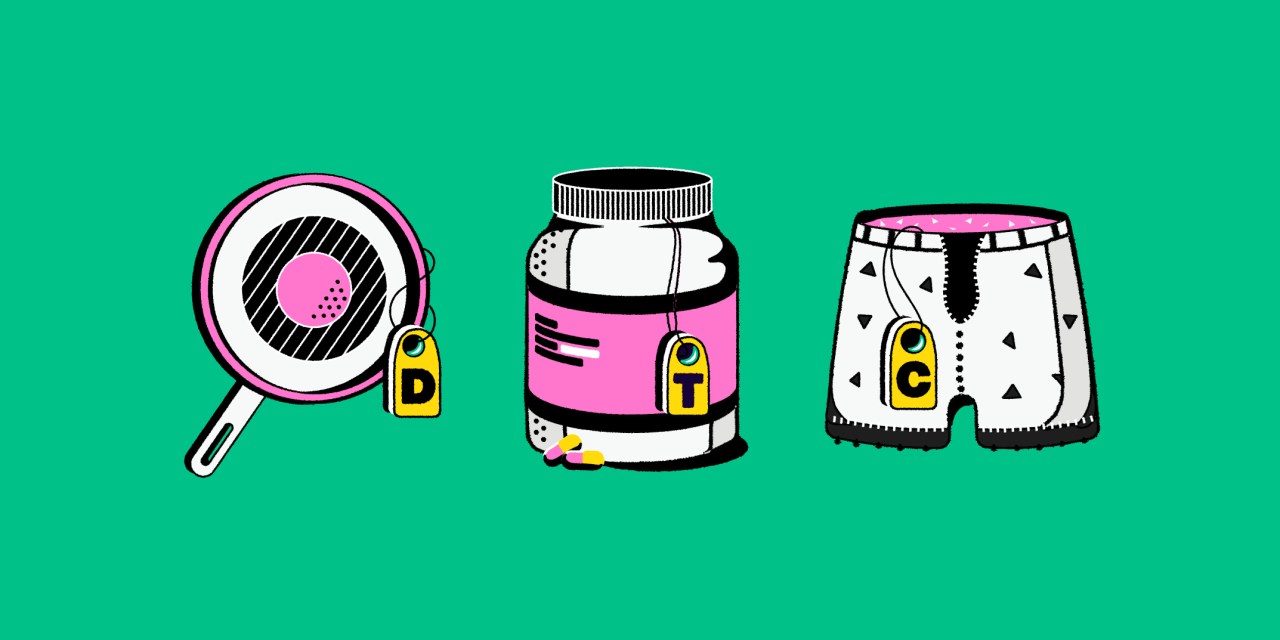 Illustration by Ivy Liu
This is the latest installment of the DTC Briefing, a weekly Modern Retail+ column about the biggest challenges and trends facing the volatile direct-to-consumer startup world. More from the series →
This is the latest installment of the DTC Briefing, a weekly Modern Retail column about the biggest challenges and trends facing the volatile direct-to-consumer startup world. To receive it in your inbox every week, sign up here.
Founders of direct-to-consumer startups were hoping for more normalcy this holiday season — but inflation threatens to throw a wrench in those plans.
The past two holiday seasons have been marked by Covid wreaking havoc on the supply chain. Now, the big story this holiday season is how everything — carrier surcharges, customer acquisition costs, raw materials — continues to get more expensive. 
Big-box retailers like Target and Walmart have spent the summer months discounting a wide variety of inventory, as they found themselves over-indexing in certain categories like home goods as customers tightened up their wallets. Executives expect that these discounts will continue well into the holiday season, and lead to even-earlier Cyber Week discounts.
The big question for DTC brands then is just how much discounting, if any, they want to offer. Different camps have formed, depending on who a brand's target customer is. Some brands see Cyber Week discounting as something they can't avoid, while others are cutting back on steep markdowns as they don't see as big of a payoff in acquiring new customers during big sales periods.
"You're going to see wild sales — and earlier sales — continue to get pulled forward just because people need to liquidate inventory," Chip Malt, co-founder of cookware brand Made In told me. 
"I think acquiring new customers during this holiday season will be really hard, so it's more about marketing to your existing base," Laura Burget, co-founder of natural skincare brand Three Ships Beauty told me. 
Most DTC brands — Three Ships Beauty included — already placed their production orders for holiday inventory at the end of last year or early this year. But, they will spend the next few months finalizing exactly what discounts they want to offer, as well as their marketing plans.
While many DTC brands like to say that they never offer discounts, in practice, many of them make an exception during Cyber Week. 
Burget said that Three Ships Beauty tries to avoid the temptation to discount by only offering two sales a year: one during the brand's birthday each year, and once during Cyber Week. 
Three Ships Beauty, like many brands, hasn't been immune to inflation this year, and has had to raise prices on four of its 18 products. Another big area of concern, Burget said, is the fact that holiday surcharges from carriers like FedEx and UPS continue to get more expensive.
The surcharges varry depending on the carrier and the volume of packages a business ships. Here's a breakdown of FedEx's pricing, for example, which has tacked on extra surcharges to companies that ship oversize or bulky packages this year. Even e-commerce giant Amazon is charging a holiday peak fulfillment fee for the first time this year. 
In turn, Three Ships Beauty is trying to maintain its margins this holiday season by pushing deals and products that will drive up average order values. 
The company is also releasing a few new products this holiday season, with the hope that it can drum up excitement by balancing both discounts with new products.
"Unfortunately I think [discounting] is something that a lot of customers have become accustomed to," Burget said. 
Malt, meanwhile said that while Made In is still finalizing what discount to offer Cyber Week, that it will likely be a lower discount than last year. That's because in its roughly five years in business, the company has found that customers it acquires during Cyber Week typically have a lower lifetime value than customers it acquires during other parts of the year. 
"We kind of see it's a more frugal customer who comes in during Black Friday…They're buying for the sale, not the brand," Malt said. "It's a little bit of a fake, a bump to some degree." 
Malt said Made In likely won't be making any adjustments to its marketing strategy in light of inflation. But, he said is worried about what will happen with energy prices in the winter, particularly in Europe, which could fuel inflation more.
Some brands meanwhile, are still holding out and say that they don't plan to offer discounts this year.
Sasha Koehn, the co-founder of basics clothing brand Buck Mason, says that the company doesn't run any sales during Cyber Week, instead opting to release an exclusive new product or two to drum up excitement during the holidays.
"Cyber Monday and Black Friday aren't like these make or break moments for us," Koehn said. 
But even Buck Mason isn't immune from the holiday creep. Koehn said that Buck Mason is planning to send out its holiday catalog in early November this year, in anticipation of people starting their holiday shopping even before Cyber Week kicks off. 
He said that while Buck Mason is hoping for a more "stable" holiday season this year, the biggest challenge he expects the company will be grappling this year is last-minute delays from carriers like UPS and FedEx. As a result, Koehn anticipates that Buck Mason will do a lot of promotion this year around encouraging customers to pick up last-minute gifts from one of its retail stores. 
Building out its retail presence has been a big focus for Buck Mason this year, and the company now has 22 stores. 
The other big question mark that companies will have to figure out is where to best allocate their marketing dollars, given the disruption Apple's iOS14 update has caused to the digital advertising landscape. Buret said that Three Ships Beauty is "likely going to be spending a bit less on paid than what we have historically, just depending on where the CPMs end up, over the course of holiday."
While the holidays are still a critical time for DTC brands, most founders said they are not trying to think of it as a make-or-break moment.
"We're trying to ignore the noise and to do what we think is best for the business, both economically and for the brand," Malt said. 
What I'm reading
One-click checkout startup

Bolt

announced on Friday that it was

calling off

its deal to buy crypto payments company

Wyre

for $1.5 billion. 

Alo Yoga

held its first

New York Fashion Week show

this weekend, and also released an NFT component tied to the ready-to-wear collection. 

Following its acquisition of

Imperfect Foods

,

Misfits Market's

CEO spoke with Insider about

what's next

as the two grocery delivery startups join forces. 
What we've covered
Rent the Runway announced during its second-quarter earnings on Monday that it was laying off nearly a quarter of employees.

Why brands aren't surprised by reports that

Instagram

is getting rid of its existing

Shop tab

. 

The resiliency of pumpkin spice: Brands including

Three Wishes

and

RXBar

say that products featuring the viral fall flavor have consistently been

best sellers

for them.