Why brands aren't surprised about Instagram's commerce about-face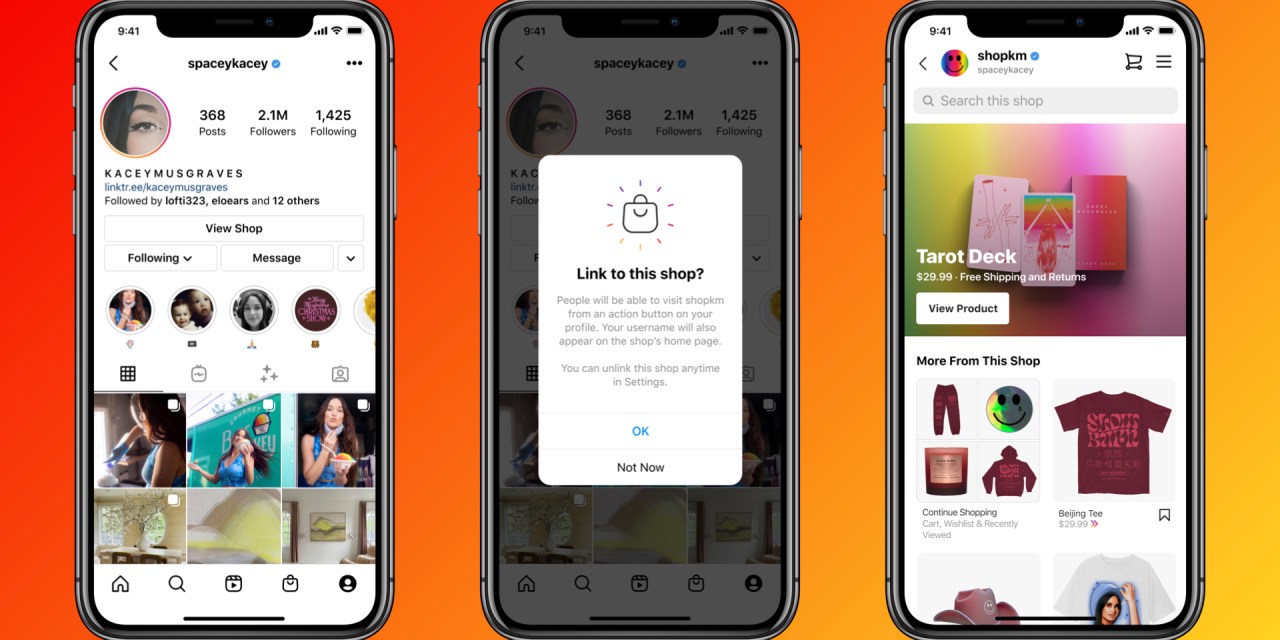 Earlier this week, news surfaced that Instagram was reportedly scaling back its shopping features. Despite the app's deep investments in commerce, some brands were not shocked by the walk back.
Instagram has tested out various shopping initiatives over the years. In 2016, it started simply giving brands the ability to tag products in their post. In 2019, the app unveiled Instagram Checkout, which allowed people to buy products without ever leaving the Instagram app. Then, a new version of Instagram Shops, a location to shop from inside Instagram Explore, was unveiled by the platform in 2020. But now, according to tech news website The Information, Instagram is scaling back its shopping efforts. It will test "Tab Lite," a less customized and less complicated version of the shopping tab, over the coming months.
Of all the social media apps testing out commerce, Instagram was one of the most popular among brands. According to recent research from Modern Retail, Instagram's shopping features were most widely used by the brands studied. Still, two companies that spoke with Modern Retail said that despite the commerce investments, they rarely relied on it as a sales driver.
An Instagram spokesperson downplayed the changes to the Information, stating that, "we are testing a few changes to the main navigation bar at the bottom of the app with a small number of people." The spokesperson added: "we remain committed to the goal of making Instagram the best place for people to discover and buy products from brands and creators they love."
The decision to move away from online shopping comes at a challenging moment for parent firm Meta, which reported a revenue decline in the second quarter.
For handbag brand Dagne Dover, Instagram accounted for low- to mid-single-digits of its overall sales. The company started selling its products through Instagram Checkout in September 2020.
"Instagram Shopping has never really picked up for us, so I'm actually not surprised that they are scaling it back," founder and chief operating officer Deepa Gandhi told Modern Retail. "The times where we saw the biggest impact on our revenue, which still was relatively small compared to other revenue channels of ours, was when they would run their promotional campaigns.
In a bid to attract new customers, Instagram has in the past run promotional offers giving users $20 off their order if they made a purchase using Instagram Shops. "During those periods we would see an uptick in sales, but at no point did I ever sit and say this is a meaningful revenue channel for us," added Gandhi.
Direct-to-consumer eyewear company Eyebuydirect also said that Instagram sales were not a significant fraction of overall sales. "While our Instagram sales do not make up a huge portion of overall sales, it does help with brand awareness. We have seen how Instagram has increased the exposure of shops, products and promotions for brands on the platform," said Jim Merk, brand director at Eyebuydirect in an emailed response to Modern Retail.
Merk said that Eyebuydirect's Instagram shop pushes people to its website, but those extra clicks don't necessarily translate into sales conversions. "However, we know a large portion of our customers enjoy the many new collections we publish and how people are using eyewear to express their individuality," added Merk.
The biggest question around Instagram's commerce ambitions was about whether people actually wanted to buy items in the app. "Instagram is a lot less about fulfilling a need you know you already have, and more about discovering the product you didn't know you needed," Jason Goldberg, Chief Commerce Officer at Publicis, told Modern Retail in 2020 when the company first unveiled its dedicated Shopping tab.
Indeed, according to Gandhi, the move highlights that most people use Instagram to discover a brand or product, not necessarily to transact. In her experience, they prefer to go directly to a retailer's website be it to further explore the brand and potentially make that purchase.
Still, Dagne Dover continues to rely on social channels even if it means constantly changing it up and testing newer ways to engage with users. "The way you leverage social platforms is evolving especially in light of privacy laws but they still are a very relevant part of our overall marketing mix. It's a great way for us to show our brand and connect with customers," said Gandhi.
"We're doing a lot of testing to see how we lean into certain platforms and potentially lean out of others. We have really pulled back if not zeroed out our Facebook spend versus Instagram in early 2022 because we decided to focus on new platforms like TikTok," added Gandhi. The big focus for Dagne Dover will be on "upper funnel brand reach" and ways to partner with "influencers, other brands and notable creators to really expose ourselves to new potential customers."
Merk from Eyebuydirect echoed Gandhi's sentiment.
"There is no question of social media's positive impact on our success. We constantly add channels, like TikTok, in order to be part of the social fabric. It is core to our brand strategy," he said.