Atoms launches its first kids' shoe line — and tests out a new subscription model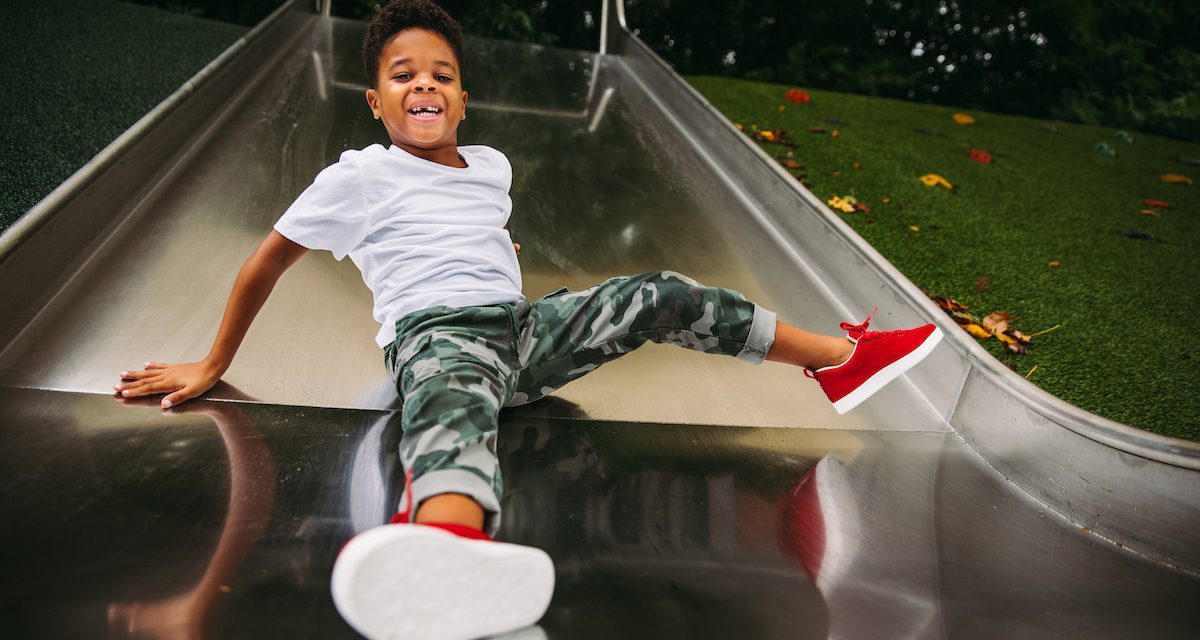 Atoms/Sam Maller
This week marks two firsts for the sneaker startup Atoms: its first foray into kids' shoes and its first time using a subscription service.
The new line of sneakers, dubbed the Model 123, launches Tuesday on Atoms' website. Alongside it, Atoms is testing a subscription model to keep up with kids' constant need to change sizes often. Each pair retails for $65 each, but customers can opt into a service that delivers shoes every three, four or six months to their home for 10% off the total. There is no additional subscription fee, CEO and co-founder Sidra Qasim told Modern Retail.
Atoms, which launched in 2019, has had an up-and-down past few years. Atoms' sales spiked after Qasim was featured on "Humans of New York" in 2021, but supply chain delays made it difficult to replenish inventory. During the fourth quarter of 2022, Atoms had less than six months of runway left after spending too much on air freight, and its fulfillment partner was having trouble filling orders on time. After eliminating paid advertising for much of 2022 and onboarding a new fulfillment partner in 2023, Atoms became profitable in the second quarter of this year.
Now, "we are in a position where we can invest more money in launching new product," Qasim said.
Atoms will have a limited run for its first kids' shoe because "we are very mindful about how we introduce certain product in terms of not launching too many," Qasim said. Initially, there will be 200 or so pairs in each color option: red/white, purple/white and neon. The name of the shoe is based on early interactions between parents and children around counting "1-2-3."
Atoms began exploring kids' shoes about two years ago after many of its employees (Qasim included) became parents and began shopping for their kids. When going to the shoe store, Qasim found current options lacking. She felt they placed too much emphasis on collaborations or pop culture characters. "The shoes were not designed for how kids move their feet throughout the day," she said. "Sometimes they put the Velcro and shoelaces very tight. It's not easy for kids to put them on and off."
Qasim wanted Atoms to fill what she saw as a gap in the market. The company already had existing materials and fabrics for adults' shoes, "but we quickly realized that we couldn't use the same technology, because kids' shoes have to grow," Qasim said. "So, that forced us to work on a new outsole technology." The new outsole is flexible and is made with recycled materials. The shoe also includes a heel loop for easy slip-on, a wide toe box and a stretch lace system. Atoms tested the new shoe with about 15 existing customers, who gave feedback on sizing and patterns.
The idea that kids' feet constantly grow and change led Atoms to venture into subscriptions for the first time. Qasim realized that she was changing her daughter's wardrobe every two and a half months, so she wanted to do something that would be "easy for parents," she explained. With Atoms' new kids' line, parents or caretakers can subscribe to receive two pairs, three pairs or four pairs of shoes a year. When it's time for new shoes to be delivered, they will receive an email reminder, and they can select the next size up. "The idea is, you don't need to worry about or forget that it's time to change the wardrobe or it's time to change the shoe," Qasim said.
Other footwear companies have experimented with kids' subscription services to mixed success. Nike launched a program called Nike Adventure Club in 2019 that delivered anywhere from four to a dozen pairs of shoes per year. Nike quietly shut down the offering a year later after doing "very little to market the club, generate insights or hone its value proposition," Schieber Research wrote in a note. Stitch Fix — which includes kids' shoes from brands such as Adidas, Toms and Vans in its kids' boxes — saw "gross ads were down year over year" for kids and women's, then-interim CEO Dan Jedda said in March.
Still, kids' shoes remain a popular avenue for expansion. Over the past year, athletic brands such as On Holding and Kane Footwear have branched out into children's shoes after repeated requests from customers. Just a few months in, On was already seeing "stellar reception" to its kids' business, its chairman of the board of directors remarked in a second-quarter earnings call. In fall 2021, Sam Edelman launched a kids' collection of ballet flats, riding boots, sneakers, combat boots and loafers.
Beth Goldstein, footwear industry analyst at Circana, told Modern Retail that "it's not surprising" that Atoms wants to expand into kids' shoes, even though many shoppers have been pulling back on discretionary items. Even in challenging economic times, she said, households have prioritized spending on kids' footwear over adults' footwear. "When kids need new shoes because of size, wear-and-tear or need for a particular sport or activity, it's hard to put that off, while adults that have a closet full of footwear can likely make do for a while if needed," Goldstein said.
With that context, "and because there are so many brands out there to choose from and loyalty is hard to come by, the idea of a subscription program makes sense," Goldstein said. "However, the value proposition has to be very attractive in order to entice parents to make the commitment up front, especially given kids' quickly-changing needs and preferences."
To promote the new shoe, Atoms is launching a marketing campaign with the tagline "Go Wonder." It is trying a different strategy compared to previous campaigns; in photos and videos, "we've always focused on a simple, minimal type of look and feel," Qasim said. "But this time, we're actually focused on showing kids in action." Imagery thus shows children running in their shoes, sliding down a slide and playing on the jungle gym.
Ultimately, "this launch is very personal for us as a team," Qasim said. "It's very emotional. When you think about your kids, you think about designing the best of the best experience for them. And that's what the spirit of the whole team was."