Gender-neutral shoes continue to gain traction in the footwear industry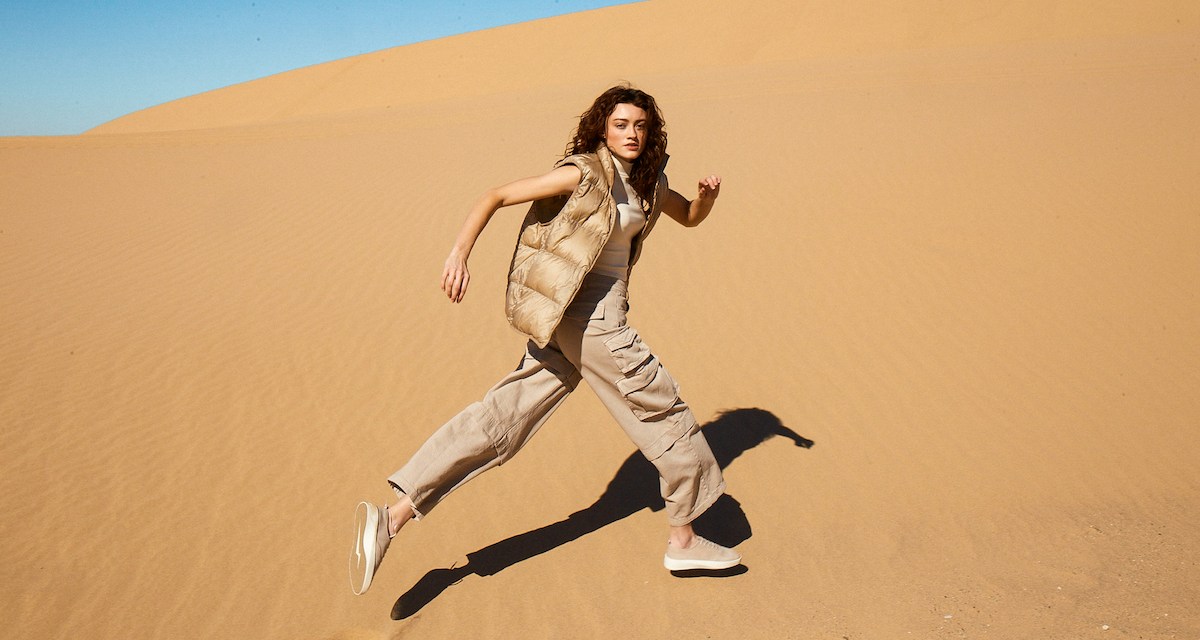 Wolf & Shepherd
As the conversation grows around inclusivity in fashion, more footwear brands are rolling out genderless or gender-neutral shoe collections.
Earlier this month, Adidas and Stella McCartney worked together to launch a gender-neutral athletic shoe in black and orange. Nike has teamed up with WNBA star Sabrina Ionescu to develop a gender-neutral sneaker, the Sabrina 1, out later this summer. Wolf & Shepherd, a footwear brand that straddles the line between sportswear and luxury shoes, debuted its first genderless collection, Cruise, at the beginning of March.
In the same vein as gender-neutral apparel, gender-neutral footwear is starting to gain traction in mainstream and high-end fashion. Traditionally, footwear has been labeled as men's or women's, but more brands are creating shoes they say appeal to all people. Some, like Jimmy Choo, have rolled out shoes in extended sizes to fit those with larger feet. Others, like Puma, are offering many shoes in traditionally-gendered colors like pink, coral and lavender. Some brands, like NiK Kacy, build shoes from one last (the mechanical form shaped like a foot) and offer one set of numerical sizes.
In terms of the market, what has been called "unisex footwear" has been around for many years, Beth Goldstein, footwear industry analyst at Circana, told Modern Retail. Crocs, Converse, Birkinstock and many other brands have made the same shoes in the same colors for their customers. However, those shoes are often categorized as men's or women's, which still feeds into the gender binary. Today, in fashion, there's a larger focus on the terms "genderless" or "gender-neutral," especially because "the younger consumer today doesn't view gender in the same way," Goldstein said.
A once-overlooked market
NiK Kacy started their eponymous shoe company, which they define as gender-equal and gender-free, back in 2013. "As someone who's trans and gender non-binary, I spent my life trying to find shoes that fit not only my feet, but my gender expression," they told Modern Retail. The key to their process, they said, "is really designing from the perspective of what have I always wished I could wear?"
Kacy, who was new to the footwear business, used their savings to develop their own shoe. Other people started asking where they could get a pair, and Kacy began to concentrate on building their own brand. For months, Kacy traveled back and forth to Europe to do research and make prototypes. However, it was difficult for them to find a factory to make their shoes. When meeting with manufacturers, they received a lot of resistance. "The industry itself is very archaic, cis, male, hetero, white," Kacy said. "And so the response that I got a lot of [was], 'Yeah, we know there's an issue, but it's not worth it.' Or… 'You want to make a man's shoe for a woman?'"
Finally, Kacy found a manufacturer who, although doubtful about the shoes, agreed to make them. "I think he grew and he learned… that actually, his perspective had to change… because in the end, I ended up proving him wrong," Kacy said.
Fast-forward to the pandemic, and things began to slow down. The business had "no growth at all" as people stayed at home and shopper patterns shifted, Kacy said. However, the last couple years, growth has bounced back. "The demand is absolutely there," Kacy said. "People are always reaching out asking for sizes." The challenge now, Kacy said, is raising enough capital to meet that demand. "I'm definitely looking to see how I can scale and grow my business right now."
'Anything can be genderless'
Wolf & Shepherd was initially founded as a men's footwear brand in 2015. However, as more women started wearing the brand, Wolf & Shepherd's co-founders, Justin and Hope Schneider, set out to build a genderless shoe. The result, Cruise, came out in early March in three different styles: the Lace-Up, the Mule and the Tre. Like all of Wolf & Shepherd's other shoes, the Cruise collection comes with replaceable footbeds in three sizes that customers can swap out for a better fit. The three models currently retail for $189 to $229, depending on color.
With Cruise, Wolf & Shepherd wanted to put something on the market that was well-designed, high-quality and stood out in the genderless footwear space. "There's a lot of casual sneakers that are genderless," Hope Schneider told Modern Retail. "We felt like in the premium space, in the luxury space, there isn't a product that's built that way."
It took Wolf & Shepherd two years to develop Cruise, with Justin Schneider acknowledging, "most large brands don't have the luxury of iterating at the rate and with the time that we had." The company used a rapid prototyping process to develop the shoes, conducted stress testing on the shoes and adjusted internal and external parts of the shoes "probably a couple dozen times to bring this to market," he said. Roughly 2,000 customers ordered pairs in the first two weeks alone. Nordstrom also came knocking and plans to carry Cruise in several department stores nationwide this summer.
Wolf & Shepherd has more products, including dressier styles, in the pipeline. "In our mind, at this point, really, anything can be genderless," Hope Schneider said. "It was a really fun exploration, and we think kind of more futuristic, to design products for all people. And so that's kind of the mandate for any product that we're briefing going forward."
Circana's Goldstein told Modern Retail she expects to see more gender-neutral footwear on the market to cater to demand. With that also comes opportunities for retailers to rethink how they classify their products, she explained. Most retailers still divide up stores into a men's section and a women's section. "But how does that evolve in the future to represent more of this sort of genderless shopping?" she asked.
There will always be footwear brands that focus more on men's shoes or women's shoes or distinctly both, but it could be interesting for retailers to think about "how they might merchandise this in a more compelling way," Goldstein pointed out. For instance, "instead of separating the two spaces, bringing together one sort of big presentation and then letting the consumer decide," she said.