ThredUp appears to have quietly launched an affordable apparel resale online store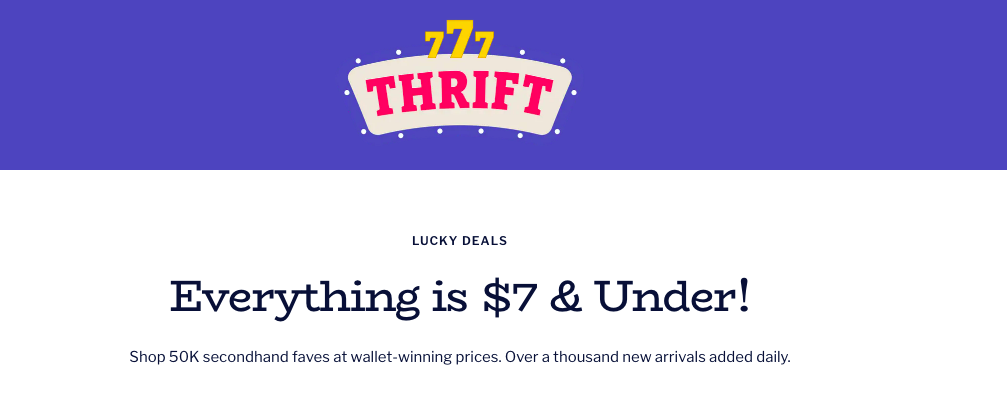 Screenshot via 777thrift.com
A new ThredUp-powered storefront has quietly hit the online resale landscape, offering thousands of used clothing items and accessories for no more than $7 an item. 777thrift advertises brands like Zara, Loft and Old Navy, and lets shoppers sort by price point as well as apparel category. It is powered by ThredUp's resale-as-a-service offering.
"Everything is up to 90% off estimated retail price with a thousand new arrivals added to the site daily," the FAQ says,
A spokesperson for ThredUp declined to comment on the shop or provide an interview to Modern Retail about the store. And the launch appears to still be under wraps: ThredUp hasn't posted about it on any official channels. But a sponsored Facebook ad on February 2 was shared at least 80 times within two weeks, and had several comments from the official ThredUp account answering questions about the site. At least one thrift-conscious TikToker has posted about it.
Given the lack of promotion, 777thrift may be in a soft launch or trial period. But the site appears to cater to the demand for low-priced items among resale shoppers. And for ThredUp, among the largest online thrift stores that operates by getting shoppers to send in used clothing in exchange for payouts, it also may be a move to keep its inventory moving.
On ThredUp's third-quarter earnings call in late November, co-founder and CEO James Reinhart acknowledged that the company faced "a challenging consumer environment" — not just because of price considerations but because inventory-laden companies could lower prices
This highly promotional landscape means "consumers are becoming accustomed to buying apparel at extremely low prices," Reinhart said. 
"When retailers sell through their excess inventory prices normalize we believe there is a significant opportunity for resale to take share," Reinhart said. "For a customer that's been conditioned to expect 60% to 80% of retail for this still feeling the effects of inflation, resale is going to be a go-to for value."
In discussing the company's growth strategy, Reinhart also said the company would lean into the marketplace model, "and the variety of levers we can pull around prices, payout, recommendations and mix position the business to navigate a dynamic environment."
Such comments indicate the storefront could be a new way for ThredUp to capture sales from value-driven shoppers. ThredUp says 63% of shoppers choose secondhand over new items in order to score a better deal, according to its 2022 Resale Report.
Already, 777Thrift is trying out promotions, advertising that shoppers chosen at random will receive full refunds after purchase. And a navigation center on the homepage urges customers to "hit the jackpot prices," and sort for items for under $4 or $5.
But 777thrift could also provide a dual benefit to ThredUp by helping to empty its warehouse and give a second life to used items. As of 2021, the company had processed more than 137 million items in 10 years of operating. But the company told Modern Retail earlier this year that it often has a glut of fast-fashion items sent in that are unlikely to recoup the cost of processing.
777thrift's inventory appears to focus on the value side of apparel. As of early February, inventory on the site included women and kids clothing as well as accessories from mall brands like American Eagle and Hollister, plus fast fashion like Shein and Forever21.
Similar to the original ThredUp site, inventory is searchable by category, color and condition. At least 400 items listed in early February were new-with-tags. 777thrift's FAQs say all items have passed 12-point inspection.
"All items are processed and inspected according to strict quality standards to ensure they are "re-sellable," meaning no signs of wear (pilling, shrinkage, fading), no damage (missing parts, rips, stains, odors), and no alterations," the FAQs say.