Instacart adds new Shopify integration, but CPG brands aren't jumping to test it out just yet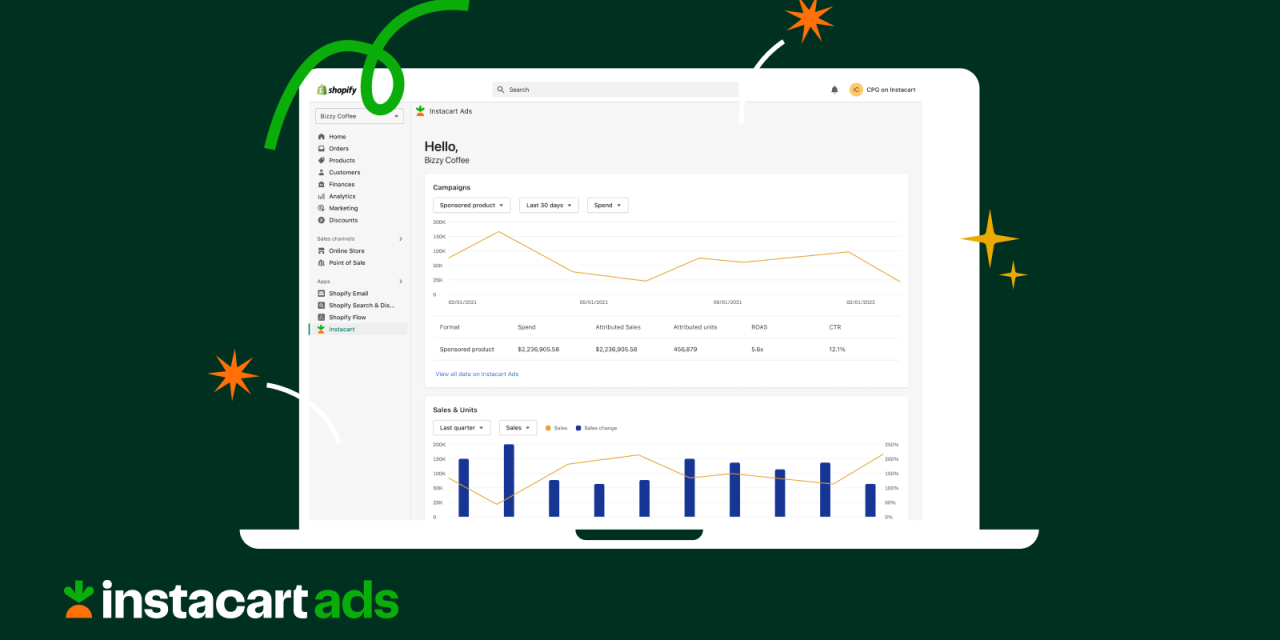 Instacart
Some CPG brands that sell on Shopify are trying to make sense of its recent ad integration with grocery delivery platform Instacart.
Instacart introduced a new 'Instacart for Shopify' app last week to let CPG startups with Shopify storefronts advertise their products on Instacart Ads. At a high level, the partnership is primarily directed at allowing Shopify merchants to easily leverage Instacart ads for in-store retail purchases via retailers available on the Instacart Marketplace. "With the Instacart for Shopify app, brands can learn about the sales they're already driving on Instacart, and immediately take action by setting up Instacart Ads to supercharge discovery and sales," wrote Ali Miller, vice president of product management at Instacart in a company press release.
Two CPG startups that use Shopify said they appreciated the ease to track their sales data, advertising opportunities and performance on Instacart's marketplace and many said they were beginning to think about Instacart Ads in a way that they hadn't before. But that was the extent of it. Some sellers felt the partnership was too sharply focused on in-store sales and may not be a suitable fit for startups that have not reached that scale in terms of presence in enough retail doors.
At its core, one challenge with the Instacart integration is that Shopify is an e-commerce platform that works mainly with smaller brands that haven't yet expanded largely into retail. As such, for startups that haven't yet expanded heavily into retail beyond just a few small grocery chains, the integration doesn't add much.
The new partnership comes a week after Instacart announced plans to go public in an S-1 filing. At a high level Instacart is trying to strike as many deals as possible to grow its ad business ahead of its IPO. And that means striking deals with a player like Shopify, that has reach and access to promising startups, even when many of Shopify's core customers might not be in a position yet to buy Instacart ads.
"One of the things that jumps out to me about the announcement is it shows how much momentum and focus there is for brands to move to an omnichannel model, because this partnership is not on its face intuitive for an e-commerce business," said Cason Crane, founder of coffee company Explorer Cold Brew.
Explorer Cold Brew was founded three years ago during the pandemic as an e-commerce only business. Crane said that was largely because of the lower barriers to entry compared to traditional retail focused CPG businesses. "It was also the pandemic, so online commerce was booming and more practical than in-person," he wrote in an emailed response.
Crane said Explorer Cold Brew, which sells both in retail and on its Shopify site (with retail being a much smaller portion of its revenue), said the ad partnership may not be a good fit for his business at this time. Explorer Cold Brew sells in more than 100 independent stores across the U.S. including Dom's Kitchen and Market in Chicago, Good Earth Markets in Utah, and Down to Earth Organic & Natural in Hawaii. "I'm excited to leverage it down the line, but not until we get more scale in grocery," he said.
Jana Zaibak, founder and CEO of the Canadian wellness brand Nomz was more bullish of this integration and excited to test it out. "It allows emerging businesses to manage several aspects of their business, creating a more centralized system where they can track their analytics, sales, and ads," said Zaibak. "This will provide efficiencies for Shopify merchants, spending less time on the backend and more time in front of customers," added Zaibak.
Nomz launched in late 2013 beginning with physical retail. And then launched on Shopify in 2015. Zaibak says the brand has a "large repeat customer base online," which is driven by its retail presence.
"It seems like most of our online customers find out about us in-store, and then they transition to shopping online with us, usually on a subscription," she said.
Nomz's organic bites, made with just nuts, dates, cocoa and sea salt, are listed with several Instacart retailers, like Loblaws, Pusateri's, The Big Carrot, McEwan and Eataly. So, Zaibak said, this integration could help her brand drive awareness and sales through the Instacart Marketplace.
Zaibak said, "we've been relying on organic reach through social media, but it would be great to be able to try Instacart and see if they can help us reach more customers."
"The tracking and analytics feature is helpful in understanding who the ads are reaching, and I especially like the A/B testing feature to figure out what is most impactful to engage a wider audience," she added.
As its growth from grocery delivery has slowed, Instacart has been taking more steps to increase its ad revenue. Last month, Instacart made it easier for retailers to launch shoppable campaigns for holidays or other special occasions. In June, the platfrom announced a more robust retail media ad partnership with Northeast Grocery, the parent company that operates Tops Friendly Markets, Price Chopper and Market 32.
Separately, Shopify is also opening itself up to other e-commerce partners, with its newly brokered deal with Amazon's Buy With Prime.
Overall, Crane said he was surprised that Shopify was investing in this alliance because the company's primary focus is e-commerce not omnichannel retail. "I don't think it's a bad partnership, I just don't see the sort of intuitive or innate value of it yet. And that could be my lack of understanding. But I do think if there is value, they're not doing an amazing job communicating it to an e-commerce merchant," he said.
"It's possible that Shopify is trying to longer term invest in complementary brick-and-mortar offerings and services and views this as an initial step in that or is hoping to incrementally move in that direction," added Crane.