Instacart's dependency on advertising and key retail partners signals a bumpy road ahead for its IPO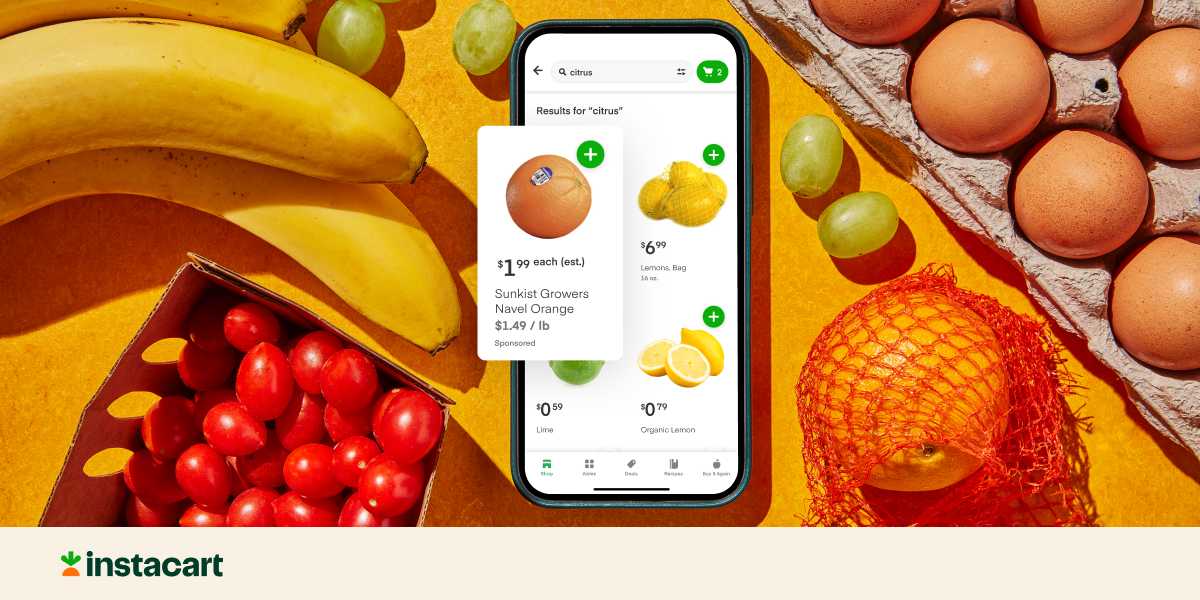 Instacart
As grocery delivery platform Instacart gets ready to go public, some analysts and grocery experts point to cracks in the platform's long-term viability.
Founded in 2012, Instacart has built its reputation over the years by creating a formidable user experience for selling groceries online in the U.S. The platform works with more than 1,400 retail banners across more than 80,000 stores that represent more than 85% of the U.S. grocery industry, the company said in its S-1 filing. But the company has seen growth in its core grocery business slowdown after the pandemic and has made a concerted push into building its advertising business ever since. It has also expanded its product line to include non-grocery items including prescription deliveries and cosmetics.
However, concerns from a potential merger between Kroger and Albertsons, increasing competition from other supermarkets looking to develop their own in-store pickup models and the growth of other retail media networks indicate that the Instacart business model may face bumps on the public market.
The way Neil Saunders, managing director for retail at consulting firm GlobalData, sees it, Instacart is essentially doing something that most grocers should really be doing themselves: fulfilling online grocery orders.
"The danger is that, over time, more retailers will want to take more of that fulfillment in-house because it gives them greater control. I think they'll find ways to do it more efficiently. And it gives them another growth factor. And I think that potentially over the longer term leaves Instacart out in the cold," said Saunders.
Bryan Gildenberg, founder of commerce consultancy Confluence Commerce agreed that Instacart's biggest competitors are grocers themselves.
"And eventually to incentivize shoppers to move towards a model in which the in-store associates pick the groceries, then the shopper picks them up, because that's a way cheaper solution for a grocer than the home delivery model," Gildenberg said.
Instacart has listed the same concern in its risk factors. The company said its overall growth is dependent upon its ability to "attract new customers, retailers, brands, and shoppers, including through effective pricing of our offerings, and sustain and expand our relationships with existing customers, retailers, brands, and shoppers."
Then, there's also the fact that Instacart's advertising business — the key driver of its growth right now — is still relatively new. Instacart's advertising business grew 24% in the first six months of 2023 to $406 million.
Andrew Lipsman, principal analyst for retail and e-commerce at Insider Intelligence, said that Instacart faces a similar risk as Facebook did shortly before going public. Right before going public, GM's chief marketing officer said he was pulling out all ads from Facebook because Facebook ads didn't work. Facebook, of course, managed to rebound from that criticism and has managed to build a juggernaut of an advertising business.
"But that risk I see out there for Instacart in the same way. Imagine if a major retailer got to the moment where they said we are dissolving our partnership with Instacart — it will create a very negative headline that could feed into a negative narrative for the company," said Lipsman.
Ultimately, Facebook saw a turnaround in its ad revenue because it had a high volume of advertisers, including small as well as large advertises so that "that it was resilient to losing any individual large advertisers."
Overtime, Instacart has made it easier for brands to launch new deals, promotions and incentives on their Instacart ad campaigns with self-service access and related capabilities. In November 2022, the company introduced shoppable ads and has been expanding that into different formats including, shoppable display, shoppable video and brand pages.
Another area of concern is that Instacart's gross transaction volume has grown more slowly than revenue since 2020, if the advertising business is excluded. Instacart's GTV grew 20% to $24.9 billion at the end of 2021. The GTV growth slowed to 15.7% at the end of 2022 hitting $28.8 billion.
Gildenberg said the merger between Albertsons and Kroger could also hurt Instacart, because Albertsons is a very large part of Instacart's current business. "And Kroger's attitude to Instacart is very different from Albertsons. Kroger has an infrastructure that is able to do some of the stuff that Instacart does and a preference for trying to solve this problem internally than go for a third-party."
Instacart also noted in its filing that consolidation amongst major retail partners, such as the pending merger between Albertsons and Kroger, could impact "contractual negotiations with such retail partners, result in lower utilization of our products, or lead ultimately to termination of existing retailer engagements."
Meanwhile, Kroger also is trying to grow its retail media business even more. In the first quarter, its retail media division Kroger Precision Marketing reported a 13% rise in engagement from digital shoppers.
Saunders expressed concern that Instacart's grocery delivery business may not be in the right place and its over-reliance on advertising is what's making the business profitable. "The profit compared to the revenue is very thin. And I suspect a lot of it is not driven by grocery. A lot of it is just the advertising and other things. I think the core grocery delivery business probably isn't profitable," said Saunders.
Ultimately, Saunders said, the whole issue with Instacart is that it is not in control of its own destiny in the way that a Walmart or a Kroger is. "They are very dependent upon a small number of retailers to keep giving them patronage, which is not guaranteed by any stretch of the imagination."