Amazon Briefing: The Climate Friendly Pledge label has become a coveted, but murky, marketing tool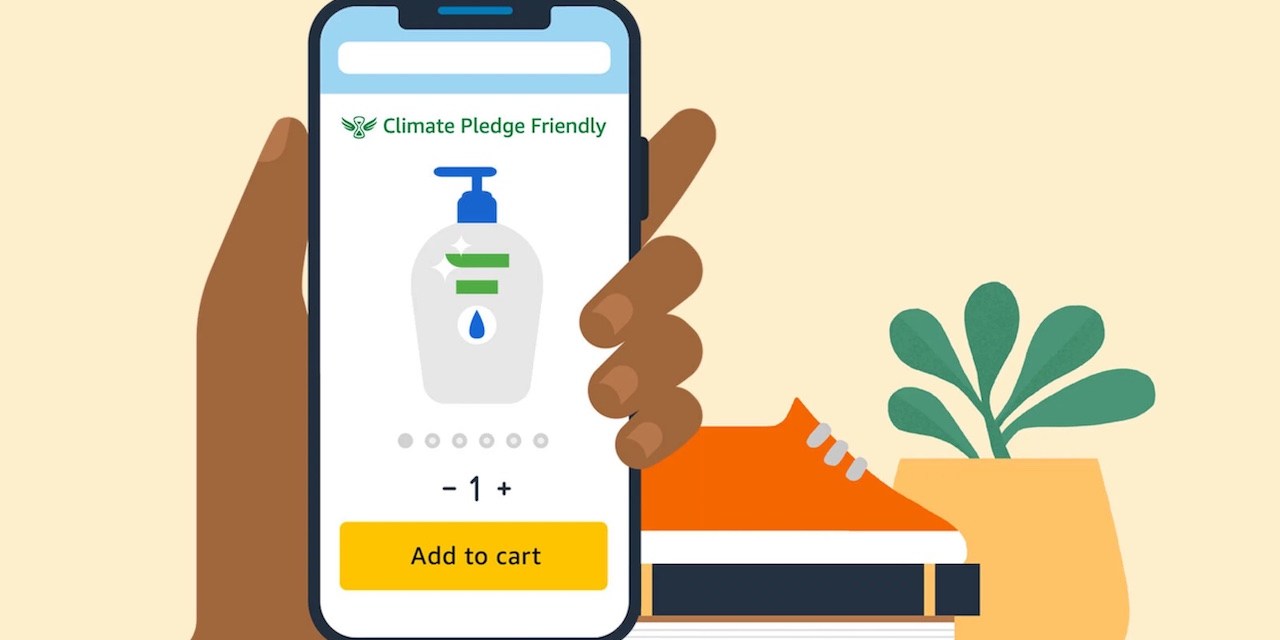 Amazon
This is the latest installment of the Amazon Briefing, a weekly Modern Retail+ column about the ever-changing Amazon ecosystem. More from the series →
Nearly three years after launching Amazon launched its Climate Pledge Friendly label, sellers say it successfully boosted the visibility of sustainably-made products. But others are struggling to figure out how it gets applied to certain products. 
The badge is part of Amazon's Climate Pledge initiative, which it co-founded in 2019 with advisory organization Global Optimism. Overall, the pledge's goal is to reduce Amazon's carbon emissions by 2040. The goal of the Climate Pledge Friendly badge is to allow shoppers to discover and shop sustainable products on Amazon. 
To date, the Climate Friendly Pledge label has been applied to over 500,000 product listings. Sellers say that part of the reason why the label has become so coveted is because it gives brands a crucial edge when trying to stand out on search results. "It's one of the few places on Amazon where you can still appear without paid ads," Jake Zaratsian, owner of Amazon seller Natural Events, told Modern Retail.
According to Amazon, the addition of the label provides an average 10% lift in page views on product listings. The Climate Pledge Friendly badge appears in Amazon search results right underneath the product listings, alongside other store designations such as "small business."
But the challenge for sellers is that they say some of their products that meet other sustainability criteria don't get the Climate Pledge Friendly label if they don't meet one of the designated certifications that fall into the program. What's more, other sellers say that they have had the label appear on their products overnight, without seemingly any explanation. The program has also been dogged by claims of greenwashing, with the Climate Pledge initiative having been criticized by climate activists and sustainability experts for its lack of immediate actions to make Amazon fulfillment more sustainable. 
Put together, sellers say the Climate Pledge Friendly label has become a coveted — if murky — certification.
A one-size-fits-all approach
According to Amazon, a brand's product only has to meet one of 45 certifications in order to get the general Climate Pledge Friendly label. Some designations, like USDA and Fair Trade Certified, are well known. Others, like the Leather Working Group — which promotes responsible leather production — are more niche. Two of the certifications — Compact by Design and Pre-owned Certified — were created by Amazon.
Natural Events, a brand that sells a disposable palm leaf plates, launched on Amazon a year ago, and has not yet received the Climate Pledge Friendly Badge.
"If you want the badge you have to go through Amazon's application process and approved agency partners," Zaratsian said. He added that when calculating the average cost at the end, it came out to about $1,000 to $2,000 to get one product certified. If his brand were to apply for one, it would for Cradle to Cradle certification, which helps ensure a products is safe, circular and responsibly made. "In my opinion, it creates a disadvantage when competing with the big CPG conglomerates that have the money to spend," Zaratsian said. 
According to Amazon, joining the Climate Pledge Friendly program itself is free, along with the application processing. Amazon's own two badges are also free for sellers to obtain. However, a spokesperson confirmed that some of the third-party certifications do have fees to obtain.
Zaratsian also said that having a governmental agency seal that Amazon doesn't work with isn't accepted — for example, his products are already USDA Biobased Certified. "That should be enough proof to get the badge," he said. 
Zaratsian said it's difficult to quantify how much business his store is losing from the lack of inclusion in the eco-friendly filter. "I have a lot of B-to-B buyers that may not see our items when searching for eco-friendly party supplies," he said. 
Even for brands that get the label, the designation awarding process has been somewhat confusing, with some sellers saying they've logged in and seen the label assigned to one of their products. Puracy, a household cleaning company that launched on Amazon in 2013, and does 90% of its business through the e-commerce giant, is one such seller.
Puracy co-founder and CEO Sean Busch said that he noticed one day that his company had suddenly received a Compact by Design label on its liquid laundry detergent refill, which is given to products that have are more efficient to ship. "We didn't apply for it," Busch said. "There doesn't seem to be a rhyme or reason." 
According to Amazon, there is an internal system that automatically detects these qualifications. The company says it assigns the Compact by Design label to products that qualify based on meeting a "unit efficiency" equation, that is calculated as cubed volume per unit multiplied by weight per unit. The product's dimensions also get vetted by an Amazon fulfillment center.
What frustrates Busch though, is that Puracy has arguably more sustainably-made SKUs that have trouble meeting Amazon's qualifications. 
To improve visibility for sustainably-made products, Busch suggests that Amazon update listing designs to allow brands to better do storytelling around their missions. "It would be great to have the graphics and video display they put behind the Kindle and Echo," he said.
A coveted tag to reach eco-conscious shoppers
Not everyone has had a difficult experience though trying to get the Climate Pledge Friendly label.
"The process was rightfully thorough in order to prevent any 'greenwashing' or false claims, giving the badge strong signaling power to consumers." Ryan Fritsch, co-founder of bamboo toilet paper brand Cloud Paper told Modern Retail. "We were able to join the program by verifying our FSC (Forest Stewardship Council) status with Amazon," Fritsch said, confirming that the process was free from start to finish.
"As long as you have the appropriate certification documents, the process is smooth," said Richa Anand, director of brand marketing at Lemon Perfect. The beverage brand received Climate Pledge certification at the end of 2021, through the submission of its USDA organic certification.
Anand said one of the biggest benefits of having the label is that Lemon Perfect shows up on Amazon's Climate Pledge Friendly storefront. The company can then also push deals specifically for its Climate Pledge Friendly products.
Still, Anand said there could be some improvements. "Currently, deals specific to Climate Pledge Friendly products are by invite only," she explained. "I'd love to see a future where there are additional opportunities to leverage these resources, so emerging brands like Lemon Perfect have more chances to get in front of like-minded shoppers."
Lauren Beitelspacher, associate professor in the marketing division at Babson College, said she's not surprised that the Climate Pledge Friendly designation has been a point of contention for brands. 
"First off, Amazon's business model is wildly unsustainable, but they're trying," Beitelspacher said. "It's a marketing ploy, but that's okay because we have to celebrate incremental progress." 
Still, Beitelspacher said that the badge likely helps people feel less guilty about shopping on Amazon. "As consumers we want to shop sustainably, but we don't want it to cost more money or time," she said. "A designation like Climate Friendly Pledge makes us feel good about these purchases."
Ultimately, most sellers still view the symbol as a nice to have. "Overall, we don't hold the [label] in high regard," Puracy's Busch said. But he said that in relation to the products that don't have the Climate Pledge Friendly badge, "we do get questions from customers about why we don't have it." 
Amazon news to know
Amazon layoffs are continuing. The most recent wave hit the company's cloud services department.
It's not just tech companies using AI like ChatGPT. It turns out some Amazon reviews are being written by the software as well.
Andy Jassy chose Eric Rimling, who has worked in Amazon's fulfillment arm for over a decade, to be his new technical adviser, The Information reports.
What we've covered
Want to discuss this with our editors and members? Join here, or log in here if you're already a member.