Some brands pull back on Pinterest ad spend because of weak performance metrics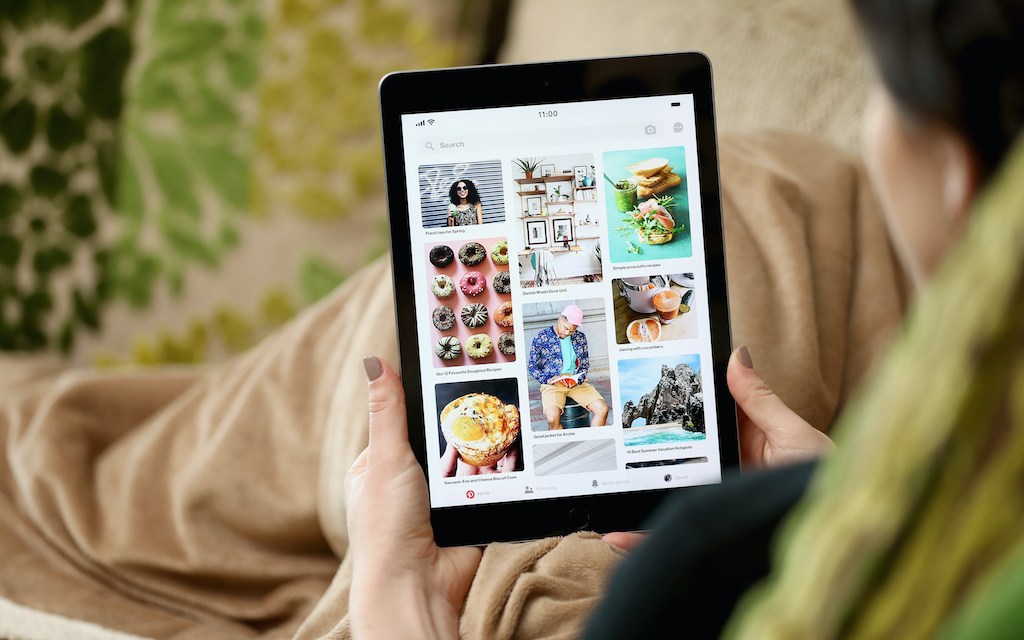 Image via Pinterest
As budgets tighten, some brands are taking a second look at their Pinterest spend.
One agency head who did not wish to be named told Modern Retail that 10 clients, or around 25% of the agency's overall portfolio pulled out of running paid ads on Pinterest this year. The founder of e-commerce agency Commerce Canal also told Modern Retail that Pinterest spending has dropped significantly this year, and that its clients are spending 32.4% less on the platform versus the same time last year. As a result of the economy's perceived weakness, agency heads said that brands have started to focus more on the bottom of the funnel marketing channels. Because of that, Pinterest — a channel that brands have long struggled to attribute sales to — is no longer making the cut for some companies.
These pullbacks from brands are hurting the social media platform at a time when it is developing new features to drive more shopping on the platform. Last year, Pinterest appointed senior Google executive Bill Ready as chief executive officer to lead a new phase of growth for the company by encouraging more shopping on Pinterest. This year, to further build its shopping intent Pinterest said it is encouraging merchants to upload their catalogs on the website, and helping advertisers test new formats like Premiere Spotlight.
Pinterest declined to comment. The company previously projected that it will report revenue growth in the low single digits for the first quarter, which is set to be reported on April 27.
"Pinterest actually has a really exciting roadmap for 2023 for different enhancements and ad features that they are rolling out in their ad suite," said the head of a marketing agency, who did not wish to be named.
This person, whose firm works with roughly 40 direct-to-consumer brands, said that during this same time last year, about 25% of the firm's clients were advertising on Pinterest. "Then, in the beginning of H2 when budgets started to tighten up, about half of our population pulled out and by the end of the year, everybody pulled out."
"It's unfortunate because we sat down with Pinterest in the beginning of the year and kind of talked to them about what's coming down the pike. They have a really strong roadmap of advertising enhancements and features that they're rolling out. And I think it's great, but right now, our clients are not taking advantage of it because they have such a high bar of what performance needs to look like," this person added.
For the most recent quarter, Pinterest reported fourth quarter revenue growth of just 4% compared to 20% for the same period a year ago. Pinterest clocked $877 million in revenue at the end of December 31, 2022.
Among his clients, Pinterest spend has decreased dramatically this month compared to the same time last year, said Commerce Canal founder Ryan Craver. "What I've definitely seen over the course of the last several months is, as people have pulled back, they have pulled back on platforms that have shown weak attribution. And the attribution and the return on Pinterest is definitely much much lower relative to the more concrete numbers coming from Meta, Google and Bing," Craver said. Without sharing names, Craver said the clients that have reduced spending on Pinterest range from brands selling bedsheets to footwear to clothing, categories that tend to do well on Pinterest.
Users of Pinterest often come to the platform as they are just starting their product research, which has historically been one of the biggest challenges for Pinterest. As a result, Pinterest has long struggled to attribute sales to its platform, but they have tried to release some tools to address brands concerns in that regard. For instance, Pinterest added a new 'API for Conversions' tool last year to give brands a comprehensive view of campaign performance to measure the actions those audiences took on an advertiser's site. In 2019, Pinterest also made efforts to address the issue of attribution by creating a dedicated sales team to work directly with DTC companies to assist them in setting up proper attribution windows.
Pinterest is also currently beta testing Pinterest Premiere Spotlight, a new takeover tool that places a brand front and center on search results. This gives retailers and brands the opportunity to be discovered as they help users go from discovery to decision to purchase.
While Craver said Pinterest's efforts to build its ad suite "will likely see an increased average revenue per user," he also flagged that "they aren't growing their user base fast enough." Although its global user base increased by 4% year-over-year during the fourth quarter, the number of Pinterest users in the U.S. and Canada remained flat. Pinterest said it has 450 million global monthly active users. These numbers pale in comparison to TikTok, which hit 150 million U.S. monthly users in March, and has over one billion users worldwide, while Meta's Instagram has over 2 billion active users worldwide.
Historically, Craver said that Pinterest is more about driving awareness about a brand, as opposed to more bottom-of-the-funnel platforms like Meta and Google.
Still, some smaller brands see merit in investing in Pinterest, because it allows them the flexibility to work with smaller budgets. Shannon Davenport, founder of Esker Beauty told Modern Retail that Pinterest "is nice to have, it's not a must have. But I also think that right now, nobody really has any answers. You know, there's not one platform that's super reliable."
Davenport, who spends roughly $10,000 a month on Pinterest, said that "we definitely think of [Pinterest] more as top-of-funnel. We don't expect to really have a super strong ROAS, I mean we don't go into a negative ROAS, but it's not like we're seeing like two or three [times] ROAS on it."

Still, she added that Pinterest is good for top of the funnel awareness.
Avi Ben-Zvi, vice president of paid social at Tinuiti, said if brands treat Pinterest as "another performance marketing channel" and assess it the same way as rivals Google or Amazon or Meta, "you're automatically setting yourself up for failure." He said his agency has not experienced any pull back on Pinterest, and in fact, investment numbers have actually gone up.
Ben-Zvi said that in order to properly measure the effectiveness of Pinterest, brands should consider investing in things like incrementality testing, halo analysis, marketing mix modeling, and multi-touch attribution solutions.
"Pinterest has immense value in the discovery phase of the consumer journey, but suffers from the same measurement/attribution issues that most of the other non-Meta platforms are facing," Ben-Zvi said. That being said, "Pinterest is adding a ton of new products that we have been testing, allowing us to find smarter ways to measure impact of campaigns."