Recapping and unpacking a year full of emerging trends for retailers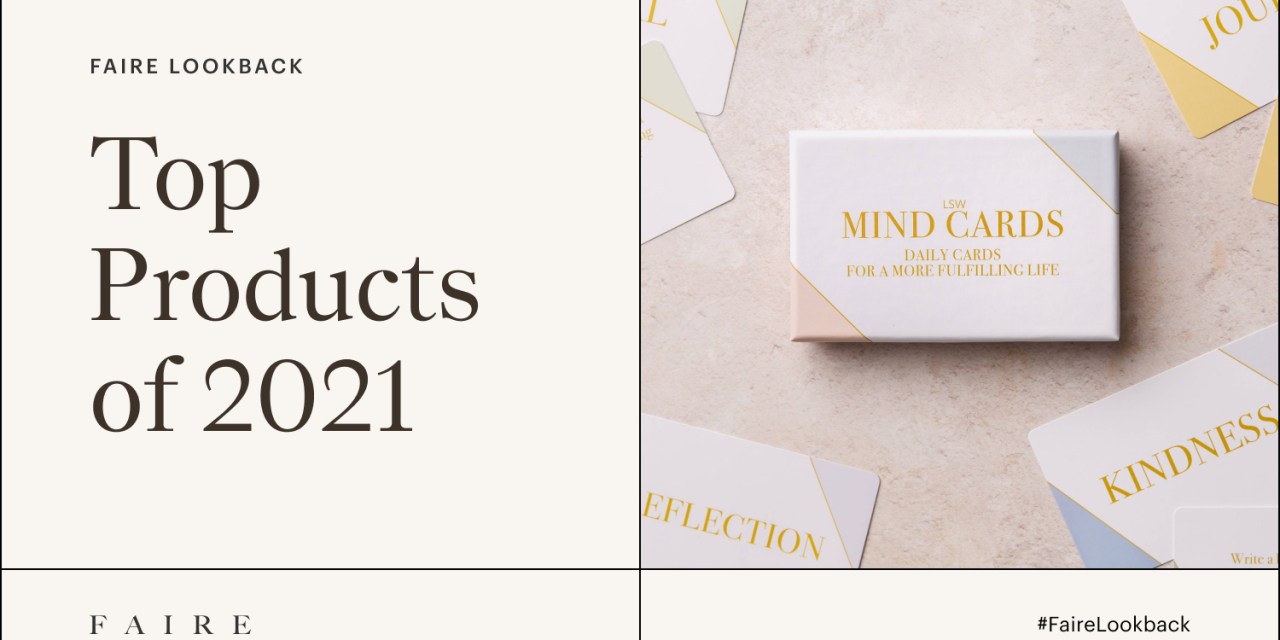 Jennifer Burke, head of sales and account management, Faire
At the start of a new year, looking back, 2021 was an eventful year for independent retail — from holiday supply chain disruptions to ever-changing consumer behavior through the ongoing pandemic. Despite it all, independent retail once again proved its resilience.
Drawing on a growing global sample set of over 300,000 retailers — including new independent shops from France, Germany, the United Kingdom and beyond — Faire analyzed its global marketplace data to identify and unpack the most significant trends from another year full of the unexpected.
Bestsellers list: Unexpected trends from candy to wellness beverages
The marketplace data revealed some surprising trends from the global retail community. From candy and soothing satin pillowcases to beard oil and card games, here are some of 2021's most popular products.
The U.S. indulged its sweet tooth this year. The word "candy" was one of the top five most searched terms in the U.S. Additionally, the best-selling products of the month in the U.S. for 10 out of 12 months were sugary snacks and sweet drinks, with items such as gummy bears, cupcake bites and ready-made cocktail jars topping the list.
Plants and comfort ruled in Canada while games and self-care dominated across Europe
Canadian consumers favored all things comfort in 2021, from soft, luxurious pillowcases to healthy beverage blends. They also spent many months tending to their plants, with products like vitamins and propagation kits ruling the bestsellers list from February through May.
Finally, merchandise inspired by a favorite Canadian sitcom landed among the bestsellers this year.
Meanwhile, the U.K. devoured fruity chocolate and card games this year, and these game-night ingredients ruled the bestsellers list in February, March, April and June. Consumers in France favored all things personal grooming this year, with products like natural shaving gel, nail polish and bamboo toothbrushes proving popular. Four out of five best-selling products in Germany were from wellness drink brand Jamu GmBH.
Global online search trends in 2021
As consumers spent significant time at home, retailers searched for items like candles to help customers create soothing environments. In fact, "candles" placed first or second in every market for the most searched term of the year. That dovetailed with other comfort-oriented products, particularly in the bath and beauty categories.
In the U.K., people sought out sanctuary and relaxation by the masses, with "bath bombs" and "crystals" landing in the top five most searched terms of the year. Canada followed suit in the search for "crystals" and pushed further into trending health and wellness products, with searches for "tea" ranking the fifth most popular term of the year.
Retailers also prepared for a busy holiday shopping season, with "Christmas" coming in as the most searched term of the year in the U.S., Canada, the U.K. and Germany. In the U.S., Canada and the U.K., retailers began searching for Christmas items in July, while retailers in France and Germany began their searches in September.
How shoppers upgraded their wardrobes
Throughout the year, consumers around the world cautiously resumed their day-to-day lives. Rescheduled weddings ruled the summer calendar, canceled flights and vacations were re-booked for the second (or sometimes third) time, and as a result, wardrobes received a post-quarantine upgrade.
Jean sales increased by 50% globally between 2020 and 2021. However, Zoom attire still reigned supreme, with "shirts and blouses" ranking first for the most popular category and "dangle and hoop earrings" coming in fifth. Wedding-related searches also increased globally by 7% between 2020 and 2021.
Increased consumer focus on brand values
This year, the retailers across the Faire community continued diversifying their brand portfolio and shopping by trending consumer values, with zero-waste gifts, women-owned brands and Black-owned businesses ranking among the top collections on the marketplace.
Retailers also supported locally made products with "Made in the USA" and "Made in Canada" coming in as popular brand filters for the year.
Pop culture and social channels continued to influence retail trends
The power of pop culture and social media continued to be prevalent in 2021, with trends emerging from viral celebrity moments and products featured on TikTok. Even the breakthrough hit "Squid Game" made its way into the top of the list, with almost 5,000 searches for "Squid Game" surfacing after the show's debut.
"Nailfluencers" emerged during the pandemic, marked by quarantine closures. Thus, the influencer category led to the rise in popularity of press-on nails, garnering nearly 4,500 searches this year.
Smiley face adorned apparel and accessories marked another trend that exploded due to circulation on social media, including Instagram and TikTok. As a result, the term "smiley face" was searched over 37,000 times in 2021.
Finally, following Britney Spears's July 2021 conservatorship hearing, retailers began searching for merchandise to support the "Free Britney" movement. In July alone, searches for "Free Britney" products increased by almost 1,500, up 105% from June and 744% from May.
In all, the world weathered another 12 months of uncertainty, and people turned to retailers in their communities for comfort, entertainment, and relaxation. As we look forward to another year ahead of recovery, independent retailers will continue to represent the curators and trendsetters of their communities, stocking their stores with top of mind products for global consumers.
Sponsored By: Faire