With Marc Lore, Walmart went from a nascent to aggressive e-commerce player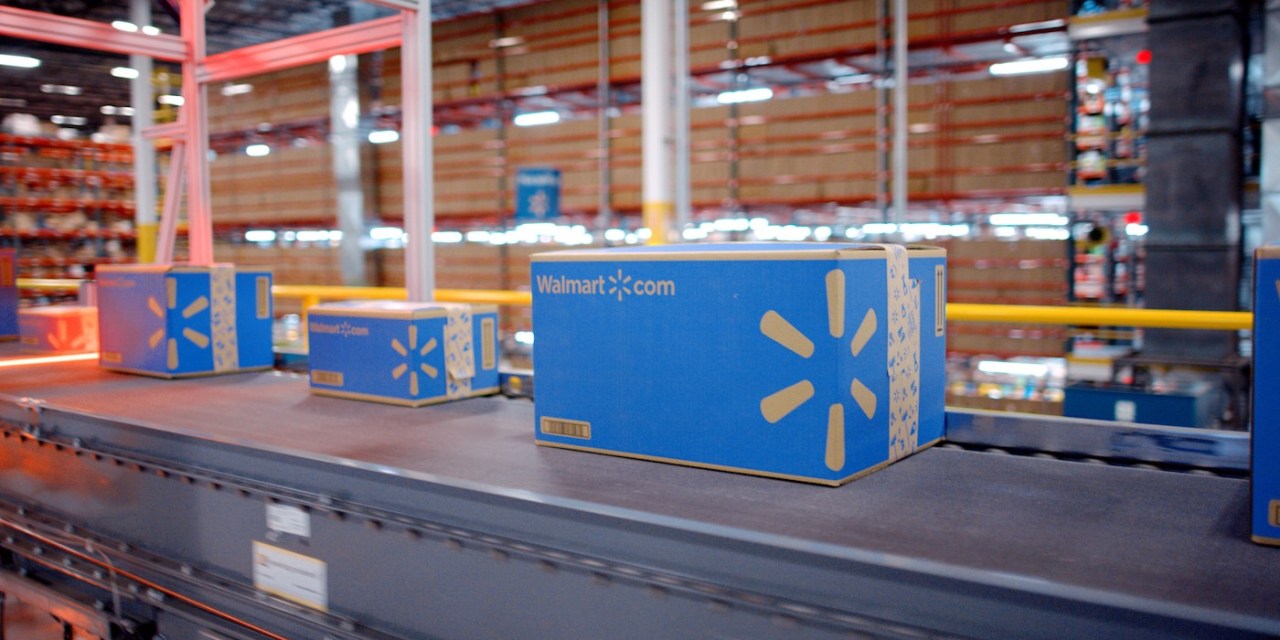 Image via Walmart
Walmart is starting off 2021 by losing one of its key e-commerce executives.
Marc Lore, who has led Walmart's e-commerce strategy since the big-box retailer acquired his startup Jet.com for $3.3 billion, announced he was leaving Walmart after nearly five years. The timing of Lore's departure doesn't come entirely as a surprise — Recode had reported that Lore had a deal in place to stay at Walmart through the fall of 2021. "Since the Jet acquisition, we've seen our eCommerce growth accelerate," Walmart CEO Doug McMillion said in an email to employees announcing Lore's departure. "Marc's leadership helped ensure we were positioned to respond to the demand driven by the pandemic this year."
Lore's departure does leave Walmart without the person who has previously been championed as the architect of its e-commerce strategy, during a year in which e-commerce is likely to once again experience tremendous growth, as the coronavirus pandemic drags on. When Lore first joined Walmart, e-commerce was an afterthought, and siphoned off from the rest of the company. By the time Lore left, it has become one of the leading players in online shopping in the U.S. Walmart now has the second-greatest share of U.S. e-commerce sales, behind Amazon, according to May data from eMarketer.
Under Lore's tenure, Walmart started spending aggressively to try and better match Amazon on both product selection and fulfillment speed, rolling out free next-day delivery for the first time last year. Several years ago, the company also determined that it would differentiate itself from Amazon by investing heavily in grocery pickup and delivery. The Lore era of Walmart e-commerce was also known for Walmart's willingness to experiment, by buying a handful of digitally-native startups, and incubating new ones.
When Walmart brought on Lore, the company was facing a looming threat in Amazon. The e-commerce giant's sales had grown to $107 billion — not yet enough to eclipse's Walmart's then $482 billion in revenue, but enough to present a significant threat. Walmart's online sales in the quarter before acquiring Jet.com were only growing 7% year-over-year; The company needed to figure out a way to compete with Amazon, and fast.
"Walmart loses a visionary who is possibly only second to Jeff Bezos in the e-commerce space," said Monish Datta, who was previously director of marketing for the fashion vertical on Walmart's e-commerce team.
Bryan Gildenberg, senior vp of commerce at the Omnicom retail group, said that Lore's work helped create a narrative around Walmart "as a business that is prepared for and ready to embrace the future to some degree."
A Silicon Valley-esque e-commerce strategy
When Walmart first acquired Jet.com in 2016, it quickly became clear that the company's purpose was not to acquire a new delivery service, but to build an entirely new online strategy. Jet was a young, but aggressive player in the e-commerce space. It had only publicly launched in 2015, after raising hundreds of millions of dollars in venture capital financing. At launch, Jet pledged to help customers find the lowest prices online. That made Jet an ideal partner in helping Walmart taking on Amazon.
After the Jet acquisition, Walmart started going after a different type of customer than its typical shoppers in the South and the Midwest who value low prices. First, Walmart followed up the Jet.com acquisition by buying upscale menswear brand Bonobos for $310 million. The following year, Walmart rolled out Jetblack, a personal shopping service that cost $50 a month; it was only available in New York City and customers had to order everything by text message. Walmart also launched a new online-only luxury mattress brand called Allswell.
Walmart's strategy wasn't suddenly to become the biggest retailer in New York City, but to use these various services to gather more data points on what types of items customers wanted to buy online, how much they were willing to pay, and what it would take to get them to come back.
While Walmart's various acquisitions and startup launches garnered the most press attention, behind the scenes Walmart was making less flashy investments that ended up being more crucial to accelerating the e-commerce growth directly on its website. The company added nearly 40 million new items for sale on its website the year after Lore joined the company; it built out new dedicated warehouses for e-commerce; Walmart also rolled out grocery pickup at nearly three-quarters of its U.S. stores; and launching its own third-party marketplace.
High profile losses 
As Walmart's e-commerce ambitions grew, so did its losses. Walmart e-commerce was projected to lose $1 billion in 2019, while the store division brought in $7 billion in profits that year. According to Recode, the mounting losses within Walmart's e-commerce divisions created tension amongst Lore and Walmart's other executives.
Walmart sold off Modcloth in 2019, just two years after acquiring it, one of the first signal that not all of Walmart's e-commerce efforts were going according to plan. Walmart started shuttering or selling off Lore's most unprofitable experiments. Jetblack shut down in February 2020 — one report claimed it was losing $15,000 per member annually at the time. And then in May, it finally shut down Jet.com, four years after the acquisition kicked off Walmart's current e-commerce strategy.
Some of Lore's experiments didn't end up bearing as much fruit as they could — given that Jet.com, Jetblack and Bonobos were all targeting urban shoppers, Walmart hasn't made as much inroad with these customers given the outsized focus on them initially. Many of these startups had more press pieces than they did months in business.
But, analysts say that the e-commerce losses haven't hurt Walmart all that much. Recent numbers signal out that $3.3 billion was a small price to pay in the long run. Walmart's market cap is more than 10 times what it was when it acquired Jet.com. In its most recent quarter, e-commerce sales grew 79% year-over-year — though, Walmart's e-commerce growth has been particularly outsized this year due to more people shopping online because of the coronavirus pandemic.
"It's impossible to imagine a Walmart reacting to Covid as well as it had in 2020, without the work it did in 2017, 2018 and 2019 to improve it's e-commerce capabilities," said Gildenberg.
Still, Walmart's growth is less impressive when compared against that of Amazon. Despite the gains Walmart has made in e-commerce over the past four years, Amazon in many ways has also extended its lead over Walmart within the past several years. In May, Walmart had the second-greatest share of U.S. e-commerce sales; but its share was 5.8%, while Amazon's was 38%, according to eMarketer.
Despite the company's best efforts to make its own e-commerce offerings unique, Lore's tenure was still defined by Walmart trying to play catch-up to Amazon. Every new offering from the company, most recently with its new Walmart+ service, is still compared to Amazon's offerings from the get go. Now, as Lore exits, it remains to be seen whether or not the next chapter of Walmart's e-commerce strategy will continue to be defined in part by Amazon.