How Walmart is building its online grocery business to stave off Amazon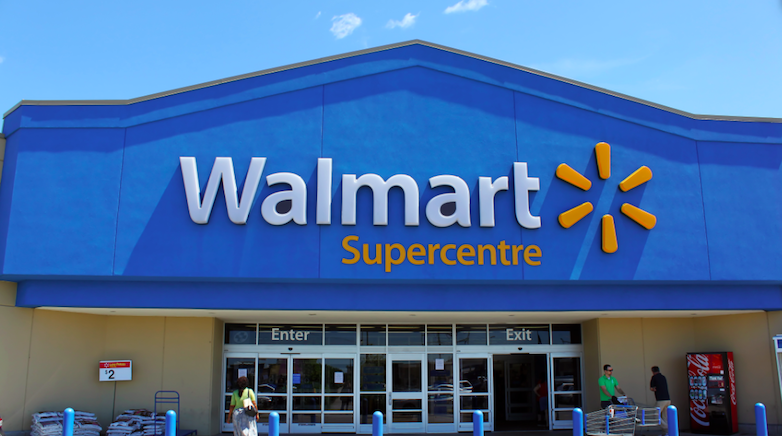 Walmart is bulking up its online strategy for groceries to stay competitive against Amazon.
Yesterday, the retailer announced that it is partnering with Google Assistant to allow customers to place grocery orders through voice commands. Customers will say "Hey Google, talk to Walmart," to start adding items to their Walmart grocery cart. If the customer doesn't specify exactly what type of product they want — e.g., "add milk to my cart," Google Assistant will fulfill that request based upon what type of milk the customer buys regularly. Over time, Walmart said that it hopes to enable grocery fulfillment across more types of voice assistants.
It's indicative of the next frontier Walmart will have to conquer in grocery, which is perfect e-commerce ordering and connecting those to physical stores. Walmart has already built out a significant grocery pickup operation using thousands of its brick-and-mortar stores, which it hopes will solidify customer loyalty when one of its biggest competitors, Amazon, makes a bigger push into grocery. Now, Walmart wants to take on Amazon on its own turf, by testing how it can use next-generation technologies like voice commands, visual search and autonomous delivery vehicles to more quickly fulfill customer orders.
More than 2,000 Walmart stores in the U.S. now have the ability to fulfill grocery orders that customers order online and want to pick up in store, up from zero five years ago. The company also plans to double the number of stores that offer grocery delivery, from 800 to 1,600 stores last year.
Today, about 11-13% of Walmart customers use its grocery pickup service, according to an analysis released this week from Cowen and Company. During the company's most recent earnings call, Walmart CEO Doug McMillon said that grocery comp sales were the best in nine years, on a two-year stack basis, coinciding with the investments in pickup. Walmart's next biggest priority is looking at how it can use technology to make it easier for customers to place a recurring grocery order, CFO Brent Biggs said at the Evercore ISI retail summit last week.
"We're going to get more and more involved in that customer's life to where they don't even have to think about shopping with Walmart," Biggs said.
Walmart has made click-and-collect the cornerstone of its online grocery strategy, as it's cheaper for the company to get Walmart customers to come to existing brick-and-mortar stores than for Walmart to deliver a grocery order to them, and makes them more likely to place other orders while they're at the store. In order to do so, Walmart has had to hire more pickers to fulfill these orders in store. It also added more than 2,000 employees to its tech-division last year, many of whom were being hired to help figure out how to help Walmart fulfill online grocery orders more quickly, Walmart's then-CTO Jeremy King said in an interview last summer.
"Compared to competitors, Walmart's investments in this space have been more effective and wide-reaching," Freedonia Group grocery analyst Cara Brosius said, citing the fact that Walmart's stores can reach more of the U.S. compared to competitors like Kroger and Giant Eagle. The 2,100 Walmart stores that have grocery pickup can reach 70% of the U.S. population. The company is also conducting pilots with a handful of delivery partners in order to figure out what's the most cost-effective way for it to complete last-mile deliveries. Last year, it announced grocery delivery tests with Udelv, Spark Delivery, as well as with Ford, to test delivering groceries via autonomous vehicles.
Now that Walmart is offering customers multiple ways to shop, order and receive their groceries, it's building on its competitive strategy for the category. Its new test in voice ordering could help customers to quickly refill grocery orders.
Yet very few Americans buy products through voice assistants. A survey conducted by eMarketer in February found that just 5% of households surveyed use voice assistants for grocery shopping, an even smaller percentage than those who used voice assistants to buy other products. But Andrew Lipsman, an analyst for eMarketer, said that voice assistants can be a good channel for customers to make one-off requests — to place an order for olive oil when they're cooking dinner and realize they're out of it, for example.
Because Americans aren't regularly shopping through voice assistants yet, Walmart also seems to be ready to look at how it can use other types of technology to help customers refill orders more quickly. At Sam's Club, for example, Walmart's testing using artificial intelligence to help customers auto-populate a shopping list, using their past purchase history. Walmart is also testing visual search to facilitate online shopping.
"Because adoption of voice-activated grocery shopping overall is still low, Walmart's launch may not have as much immediate impact on its e-commerce grocery business as the bigger moves it is making in expanding coverage of its delivery and store-pickup services," said John Owen, the associate director of food and retail at research firm Mintel. "However, it puts Walmart in a better position to shape what online grocery shopping looks like in the future, which could have an even bigger impact in the long run."
—
Sign up for the Modern Retail Briefing to get retail news, analysis and insight delivered to your inbox every morning.