With Loop and Happy Returns teaming up, returns become big e-commerce business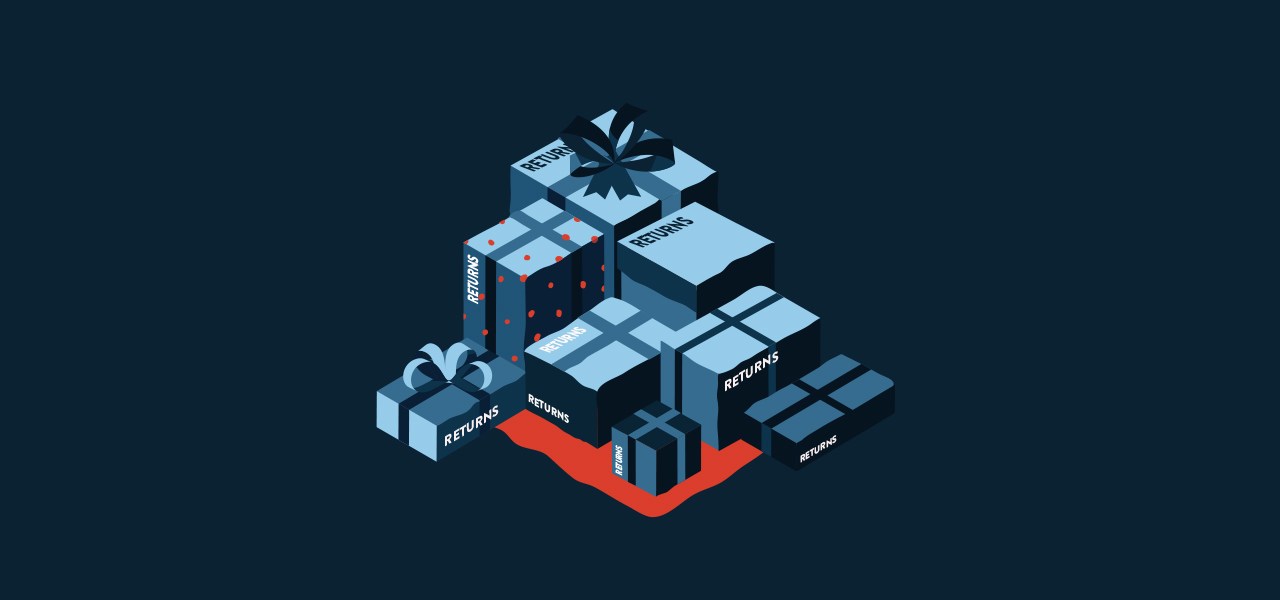 Competition in the e-commerce returns space is heating up, leading some companies to join forces.
Last week, Shopify returns provider Loop and PayPal's Happy Returns announced a partnership that allows Loop users to offer box and label-free returns at Happy Returns' 5,000 service locations. Last year, 16.6% of products were returned, up from 10.6% in 2020, according to the NRF. As consumer returns heat up, competing returns players are partnering up — and offering brands more ways to save in the returns process.
Loop, founded in 2017, primarily handles plug-and-play site integrations of return features like automatic exchanges without talking to associates. Happy Returns, founded in 2015 and acquired by PayPal in 2021 for an undisclosed amount, focuses primarily on box-free, label-free returns. Happy Returns partners with other brick-and-mortar retailers like Paper Source and Staples to allow customers of brands like Levi's and Rothy's to drop off returns at their stores.
Loop, which powers returns for 1,200-plus Shopify brands like Allbirds or Princess Polly, wanted to give sellers offline return capacities. Loop has historically focused on building online features that help e-commerce brands simplify or cut down on returns — such as by serving shoppers prompts to exchange, rather than return prodcuts. Happy Returns, meanwhile, will get greater access to more Shopify merchants. Loop's president Aaron Schwartz said that while Happy Returns and Loop may have been seen as competitors, the new partnership will allow each provider to focus on their expertise areas: offline drop-off return logistics and online return software, respectively.
Loop users are now able to accept a wider variety of returns through PayPal's service. Essentially, shoppers can drop off unwanted products at various Happy Return locations and be immediately refunded. These shoppers don't even have to package or ship the products themselves, merely hand them off to Happy Return associates.
"Happy Returns is awesome at logistics," said Schwartz. "Until I'd say Q4 2022, we were [provider] agnostic… what we've finally realized is that a lot of our brands — especially in the Shopify ecosystem — are looking for guidance or partnership on 'what is the way to for me to optimize my reverse logistics stack and my operations?'"
Happy Returns isn't Loop's only return option. Through partners like Ship Hero, FedEx and Klaviyo, Loop offers home pickup, item donation and item consolidation. Happy Returns will expand Loops' brand and customer options to drop off as well.
"You're moving from single parcels going back to the facility to… an aggregation point, to bigger aggregation points, and then back to the facility," said Schwartz. "There are always trade-offs on that it takes a little bit longer for the inventory to get back… but there's a big cost savings for a lot of brands."
Loops has long operated in what Schwartz calls the "pixels" rather than "parcels" business. Traditionally Loop has focused on building out the online part of the returns process in-house — offering plug-and-play brand site integrations to make the return process online easier — and relying on partners for package shipping logistics.
Through Loop's technology, for example, a shopper at apparel brand MadHappy could return a t-shirt without any need to chat with a brand associate. Loop would prompt that customer to instead exchange that t-shirt for a different size or color (rather than return) and ask users why they are returning or exchanging. Brands can also opt in to use Loop's prompts to give consumers extra store credit for exchanges over returns or to give certain shoppers personalized return offers.
While Loop's team discussed building out more "parcel"-driven products like pickup and drop-off logistics in-house, the company instead decided to focused on the digital experience instead.
"We want to build partnerships with the best parcels people," said Schwartz.
Happy Returns, meanwhile, will simply be expanding its reach with greater access to Loop's numerous e-commerce brand customers. Happy Returns offers some of the same software integrations as Loop, but its largest differentiator as a return provider are its numerous in-person return bars. Loop's differentiators, meanwhile, are iterations on digital prompts and software and its close partnership with Shopify vendors.
"Making returns beautiful has always been our mission — whether that experience begins in our portal, a partner's portal, or the merchant's own portal," said David Sobie, Happy Returns' co-founder and vice president in a press release about the partnership. "Our work with Loop is a natural extension of our Return Bar offering, since we both put shoppers at the forefront of e-commerce exchanges and returns.
Online shoppers return offline
The Loop and Happy Return partnership signals a larger shift towards brands and retailers integrating their online and offline returns process.
In 2019, for example, Kohl's partnered with Amazon to offer Amazon product return at all Kohl's stores. Just this week, Zara introduced charges for online returns to encourage returns to store.
Neil Saunders, managing director of GlobalData, explained over email that these sorts of integrations make sense amid inflation in shipping and delivery prices.
"One of the central reasons for this is it is often more cost-effective for returns to be made in person as products can be processed and shipped back to returns centers in one go rather than having returns coming in individually — the shipping cost of which is often borne by retailers," said Saunders.
Saunders added that these sorts of integrations can also help with cross-branded footfall. An Amazon returner, for example, might check out Kohl's products if already on site.
Schwartz said that he believes the consumer is also driving these online and offline return integrations. "70% — in that ballpark — of people will look at a return policy before making a purchase," said Schwartz.
While returns may traditionally be anathema to brands, Schwartz said brands should reconceptualize the returns process. The Happy Returns partnership will allow Loop brands to group returns more cheaply and other Loop features like exchange prompts can limit the amount of product that needs to be returned.
"Post-purchase has always been thought of as a cost center but the smartest brands are realizing it's a revenue driver," said Schwartz. "The people who return a lot are definitionally bad customers but that might be people who really love your brand. They're experimenting with your brand to find the thing that they love, so that they can buy more."