Why sneaker brand P448 is designing its stores as social content hubs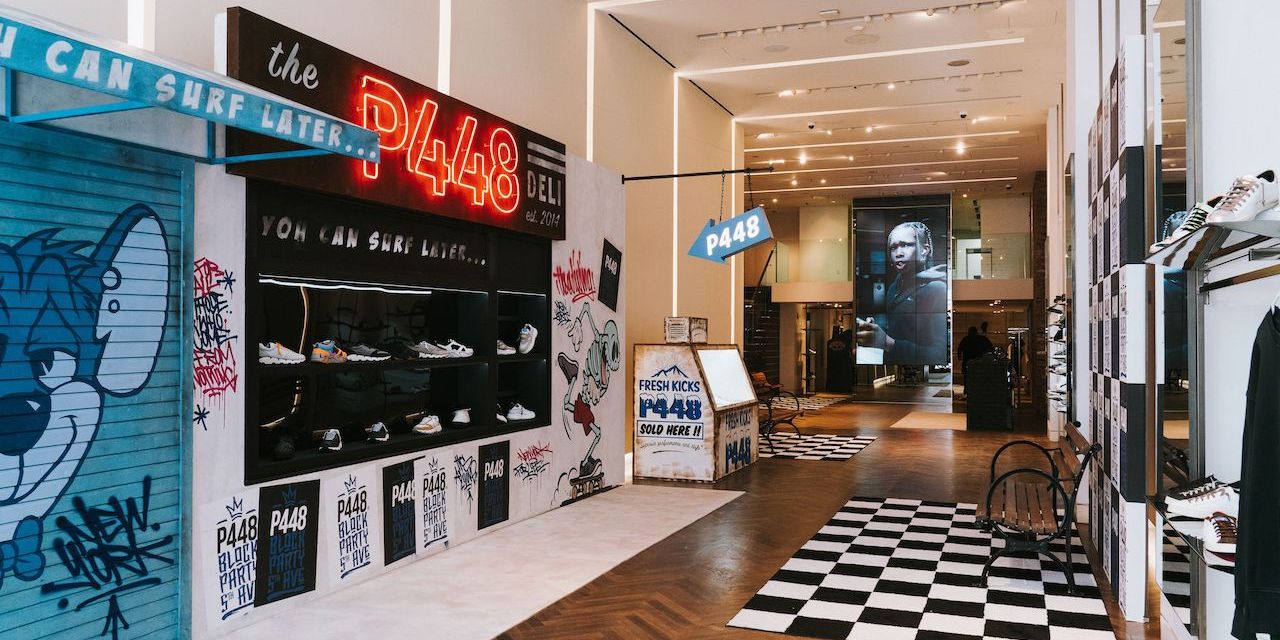 Image via P448
Sneaker brand P448's new flagship store in New York City aims to become a social media hotspot.
The seven-year-old brand opened the new location this week — and CEO Wayne Kulkin told Modern Retail that he hopes to make it more experiential and less transactional. The idea, he explained, is to keep customers hanging out in the space and hopefully posting content onto their social feeds. The brand is installing several social activities, ranging from an in-store runway to a bar, to encourage its young customers to post about the store. While many brands focus on having influencers do this, Kulkin said "we want everyone to come in and feel inspired enough to upload their experience on social media."
P448 was founded in 2014 in Bologna, Italy, where its shoes are still made. Over the past few years, the brand became known for its celebrity following, which include Taylor Swift, Bradley Cooper and Sophie Turner. An early fan of the brand, current CEO Kulkin met co-founders Marco Samore and Andrea Curti and struck up an international distribution deal in 2018. In 2020, Kulkin's footwear company StreetTrend bought out the P448 brand added it to its own portfolio, with plans to expand the brand internationally. 
Part of the international expansion strategy is partnering with retailers and marketplaces for wholesale distribution, Kulkin said, which began in 2020. Prior to that, the P448 brand was primarily sold through specialty retailers and its own stores in Europe and Asia. This past fall, the company struck a deal with Nordstrom to sell its sneakers throughout North America and currently has 3,000 points of distribution globally. About half of the company's business comes from North America, with P448 experiencing triple-digit growth year-over-year in 2021. Meanwhile, the brand's wholesale business was up 49% year-over-year during that period.
In addition to the international wholesale partners, the brand also wanted to grow its own direct-to-consumer presence. P448 launched its U.S. website last year, as well as opened a pop-up shop in Midtown Manhattan last August. "There is appeal to only go digital in new markets, but we wanted to make a splash alongside our new DTC channel," said Kulkin. The temporary store was so successful that the brand decided to open an official flagship one block away, near Rockefeller Center.
Content creation is a pillar of the brand's store strategy. Kulkin said the Manhattan shop's design is meant to act as a literal billboard to set it apart from other stores on the street — with live social content being constantly projected. When the company chose the new Midtown Manhattan location, it also received access to a digital billboard overlooking the store as part of the lease, Kulkin explained. "So we wanted to make use of it by featuring guests' content creations for potential virality." In addition, the company built a shoe runway inside the store, where customers can model and film TikTok posts of their potential purchases. P448's staff will curate and project their favorite customer posts on the Fifth Avenue-facing billboard outside, as well as across the brand's social channels.
"When we started mixing content and commerce, we saw people stayed longer," Kulkin said. The pop-up, for instance, featured arcade and pinball machines for customers to use. And while it's hard to predict how store traffic will pan out in the long run, Kulkin said the strategy is to "allow user generated content to take center stage." 
The store also features transparent shelving to emphasize P448's colorful shoe bottoms, alongside a custom shoelace bar featuring over 200 types of laces. In addition, the brand is also hosting a speakeasy bar in partnership with McConnell's Whiskey, which will be open to customers in the coming months. "We plan to do tastings with spirit brands and chefs to draw people in," said Kulkin. Upcoming events this year will include a series of happy hours and music sets by guest DJs.
The opening is the latest in a series of new stores for the brand — all of which have their own unique elements aimed at garnering customer engagement. In December, P448 also opened a Miami location in South Beach, after testing a pop-up at Showfields' Miami store. The new P448 store features graffiti and murals by local artists such as Gone Studio, Spraying Bricks and muralist Tatiana Suarez. Store visitors can use paint markers to store's Wall of Fame mural. Upcoming events include faux tattoo sessions and street art exhibits.
In recent weeks, P448 also unveiled its Paris store on the busy shopping street Rue du Faubourg Saint-Honoré. The Paris location features a skate pipe design to reflect the brand's streetwear origins, as well as a secret garden — where the brand is opening a bar.
Right now, retailers in big hubs like New York and Paris are still trying to get people excited about going back to stores. So much so that brands are testing "Instagrammable concepts" to attract visitors, said retail consultant Rebekah Kondrat. She pointed to other recent examples, like beauty brand Winky Lux, which turned its New York pop-up into a maze museum. "With tourism returning to big cities like New York, if a brand can get the tourist recipe right by offering exclusive viral settings, it can pay off in the long run," Kondrat said. 
Still, the formula for making a store go viral has yet to be cracked. "We're still in the trial phase of user-generated content potential," Kondrat said.
For P448, Kulkin said stores are strictly used to make consumers aware of the brand and products in a fun way. And so the company wants to continue the strategic designs as it grows internationally. 
"Short-term leases are important for us so we can test what works," said Kulkin. He said that the company prefers to stick to one to two-year-long real estate contracts as it establishes P448's physical footprint. "Oftentime, you hear brands talk about utilizing stores as organic marketing," Kulkin said. "But you have to give customers a reason to visit in the first place."