Why Meta is opening its first brick-and-mortar store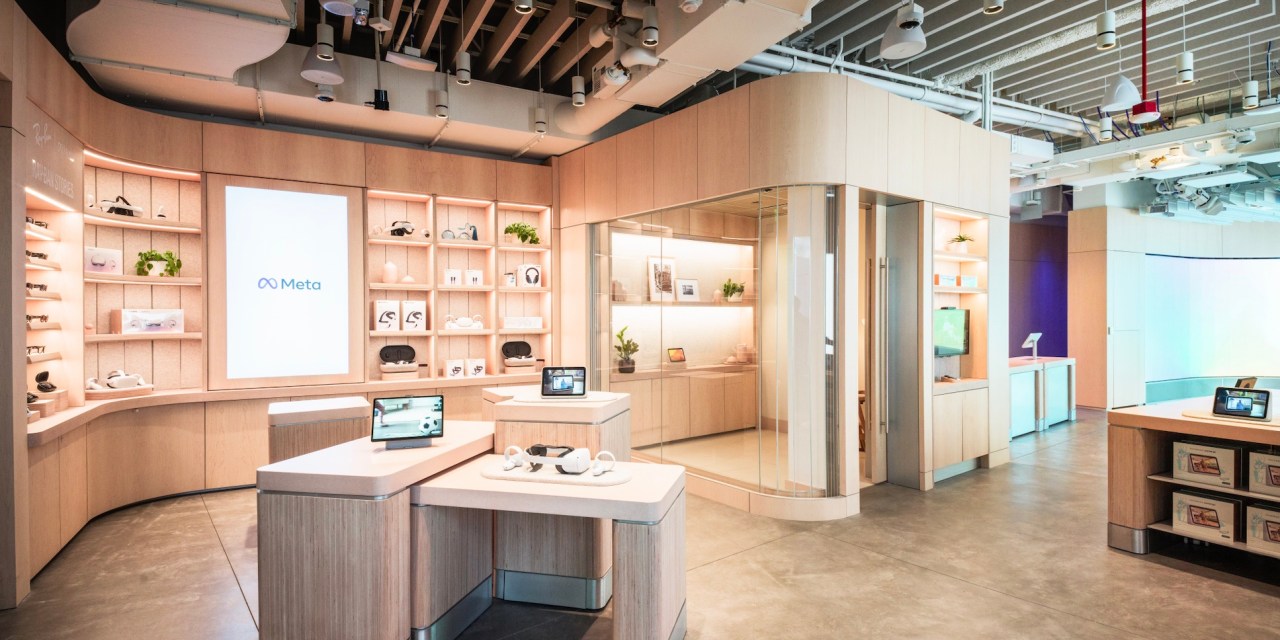 Meta
Meta — formerly Facebook — is betting on a brick-and-mortar store to sell people on its metaverse business.
The first Meta Store is set to open early next month in California near Meta's Reality Labs research facility where metaverse products are developed. In-store, consumers can try and buy the platform's three metaverse products: the smart video chat device Portal, smart glasses Ray-Ban Stories and virtual reality headset Meta Quest.
Meta had a dismal fourth-quarter earnings presentation in February, underperforming revenue estimates and losing daily active users for the first time amid Apple's iOS14 privacy roll-outs. The Meta Store concept is the latest signal of Facebook's intentions to diversify its revenue streams beyond advertising to products, platforms and services in the metaverse. However, analysts are skeptical about the mainstream adoption potential of some of these technologies.
Meta is taking cues from the Apple playbook and using brick-and-mortar as a place for consumers to try out their technology, potentially for the first time. Shoppers can try on Ray-Ban Stories to see what styles or colors best suit them and snap a few pictures using the smart glasses technology in-store. They can play VR fishing games using Meta Quest headsets. They can call retail associates using Portal's smart video features.
"Once people experience the technology, they can gain a better appreciation for it," Meta store head Martin Gilliard wrote in a blog post. "If we did our job right, people should leave and tell their friends, 'You've got to go check out the Meta Store.'"
Andrew Lipsman, a principal analyst at Insider Intelligence, said the platform didn't have "any other choice" but to open physical retail to promote its products.
"Meta is betting its entire future on a family of devices that — at the current moment — next to nobody uses," said Lipsman. "They have a really high hurdle to adoption for a lot of consumers so they need to put these devices in front of consumers in a way that they can experience them."
Lipsman added that while younger generations might be most likely to engage with a product like Meta Quest, parents are more likely to have the wallets to afford the $300 product. He said that stores may encourage older consumers to try out these sorts of products and get them comfortable purchasing them for their children.
In many ways, this is all part of the social media giant's newfound focus on getting consumers comfortable with the idea of the metaverse itself. In November, Facebook announced that it would rebrand itself as Meta, to signal how serious it was on the metaverse being a significant driver of business going forward.
Broadly, the metaverse refers to any technology that builds into a persistent virtual world. In practice, that can be anything from Meta's VR gaming investments to Snap's AR shopping focus to Roblox's user-generated video games.
Gilliard and Facebook seemed aware of this informational hurdle in their announcement of the new Meta Store concept. "The Meta Store is going to help people make that connection to how our products can be the gateway to the metaverse in the future," said Gilliard. "We're not selling the metaverse in our store, but hopefully people will come in and walk out knowing a little bit more about how our products will help connect them to it."
But the jury is still out as to whether or not people even want to be connected to the metaverse. According to GoogleTrends, searches for the term "metaverse" peaked in January. But, by April 3, "metaverse" searches were down 81%.
Moreover, even consumers interested in joining the metaverse might not want Meta's version of it. "Trust is very low: we've done plenty of our own research that puts Facebook at the bottom of social media platforms [in trust]," said Lipsman.
However, Lipsman added that Facebook's usage dominance and early entrance in the space might counteract that lack of trust. "If they build a better experience that can kick off those network effects and get a lead on others who are going to enter the metaverse, that can be enough, independent of trust."
And Facebook certainly has to do something to diversify revenue beyond advertising. The platform predicted that iOS14 privacy changes would result in a $10 billion dollar cut to revenue over the course of 2022. Indeed, after the platform announced a fourth-quarter earnings performance well below estimates in February, Meta experienced the largest stock market value drop of all time at $232 billion.
"Increasingly, they're in a position where they have to bet big and the metaverse is clearly that bet," said Lipsman. "Any diversification of their revenue stream — especially with their ad revenue stream under fire — is smart… But the question then is how quickly can that business scale and drive profits, as the other businesses start to lose momentum?"