Why Buitoni partnered with Impossible Foods on co-branded products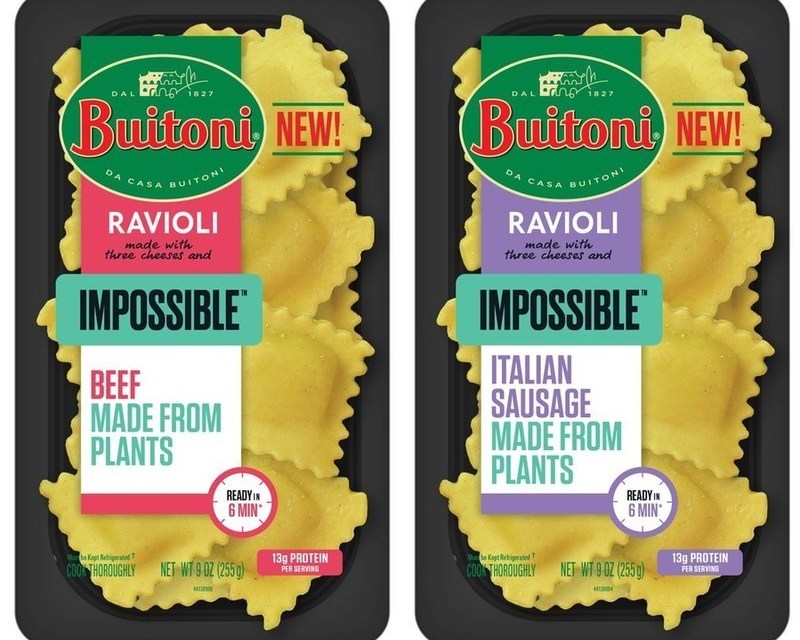 Image via Buitoni
This month, Impossible Foods partnered with Buitoni on its first grocery brand collaboration, starting with meat-free Buitoni ravioli products. 
The partnership is the first branded plant-based collaboration for the 194-year-old Italian food brand Buitoni. It's also the first time Impossible Foods has partnered with an existing food brand on a co-branded product that's sold in grocery stores. According to Buitoni Food Group, partnering with Impossible Foods helps the company reach shoppers who are increasingly interested in plant-based meat alternatives. Meanwhile, Impossible Foods said the partnership helps the Silicon Valley startup reach new customers with the help of a company that has had decades to build brand affinity.
Peter Wilson, president and CEO of Buitoni Food Group, told Modern Retail that the new release is part of the company's latest efforts to modernize the brand's decades-old product lineup. The Stamford, Connecticut-based parent company was formed by Brynwood Partners VIII L.P. in July 2020, after Buitoni's North American business was acquired from Nestlé last year. In 2019, Buitoni generated roughly $130 million in annual sales under Nestlé. However, the Buitoni sale was part of the CPG conglomerate's strategy to focus on its growing portfolio of health and wellness brands.
Since then, Buitoni Food Group has been trying to ramp up the pace of new product development. In early 2021, Buitoni Food Group opened a facility at its Danville, Virginia plant, which acts as a test kitchen for the company to develop new recipes and products. "Since investing in the pilot plant, the staff has helped come up with 10 new items," Wilson said — including refrigerated spaghetti, traditional meat sauce, refrigerated beef ravioli as well as the Impossible Foods SKUs.
"We know that plant-based eating is here to stay," Wilson said. This realization prompted the company's research and development department to work on upgrading traditional recipes — made with beef and sausage meat — to get the meat alternative treatment. Buitoni's first two Impossible Foods collaborations — ready-to-serve ravioli trays made of Impossible's beef and Italian sausage fillings — are available in the refrigerated pasta aisle.
The Impossible collaboration was first inspired by a blind taste at Buitoni HQ's monthly staff luncheon, where employees bring in dishes made with the brand's ingredients, Wilson explained. Given the positive reactions to the Impossible-made pasta, "I called Pat [Impossible founder Pat Brown] and his team to work out a licensing agreement," he said. From there, Buitoni's in-house R&D department figured out a go-to-market strategy. 
Buitoni's Impossible Foods line hit Publix shelves in mid-November, and will be available in Sam's Club over the coming weeks, said Wilson. The two new products will be promoted as part of Sam's Club plant-based fixtures during January. 
Aside from catering to existing customers interested in healthier alternatives to Italian American recipes, Wilson said Buitoni is also attempting to attract new customers with the branded Impossible Foods items. "We're hoping that a new group of people, who hadn't been able to try Buitoni until now, will consider them," Wilson said of the animal product-free items. 
Buitoni is planning more Impossible Foods SKUs for the coming year. "Our herb chicken tortellini has the potential to be made with Impossible," he said. "We also think we can build a meat-like Buitoni sauce using Impossible." 
The new retail collaboration also arrives ahead of Impossible Foods' anticipated IPO. The startup, which first grew via wholesale restaurant partnerships, has been pushing further into grocery stores with CPG products in the hopes that it can rival growing competition. 
Growing plant-based competition
The Buitoni partnership is just one example of the many ways in which meat-alternative producers, like Impossible Foods and Beyond Meat, are trying to eke out revenue growth as the space becomes more crowded. Beyond Meat, for instance, has been struggling to grow its wholesale business, which largely comes from restaurants and makes up about 12% of its total sales. During its most recent earnings, Beyond Meat reported that U.S. revenue declined 13.9% year-over-year, while the company's net losses hit $54.8 million.
Erin Dress, director of product and retail marketing at Impossible Foods, said the alternative meat maker chose Buitoni for its first brand retail collaboration due to its established name recognition. "We knew a collaboration with them would give more consumers a new way to try Impossible products," said Dress.
While it's too early to tell how the new Buitoni's Impossible products are doing, Dress said "we've heard from a few people that it was sold out at their local store, which is always a good signal for demand." 
Carly Sutherland, a CPG consultant whose clients include General Mills and Pepsi, said Buitoni is part of a wave of traditional food producers trying to appeal to "flexitarian" diet consumers. "The Buitoni and Impossible collaboration signals brands' need to appeal to consumers who are shifting to healthier lifestyles, in moderation," said Sutherland. "It makes sense that they're offering a plant-based option for when people choose to indulge by choosing pasta." 
Wilson said the Impossible partnership is just one way that the decades-old Buitoni is trying to modernize its offerings "to make sure we're top of mind." This brand revamp includes not only updating recipes for changing lifestyles, but jumpstarting marketing efforts, like increasing digital advertising and influencer marketing.
Wilson said the company also has to rethink the way it works with grocery partners as grocery delivery and online shopping becomes more popular. For example, the company's marketing team is working with partners like Kroger and Publix on updating imagery, logos and fixtures to reflect more modern branding, he said.
"At the end of the day, we have to stay competitive to reach today's consumers," said Wilson.