Thrift shop Housing Works is building going digital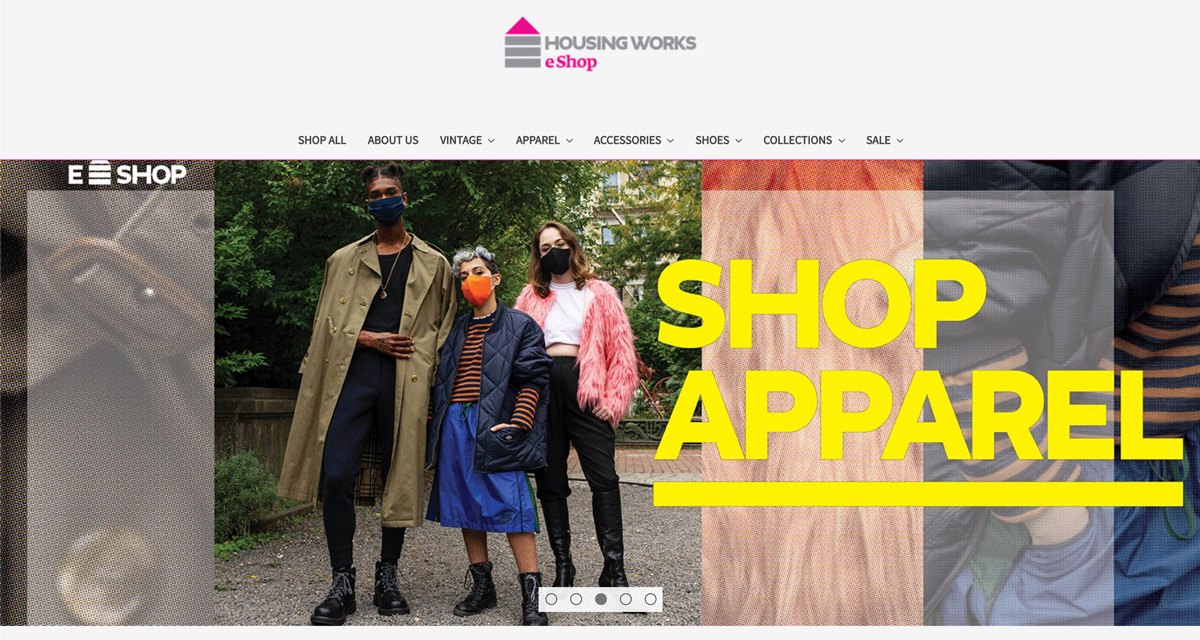 Even nonprofit retailers are feeling the pressure to go online. 
New York-based organization Housing Works' efforts have for the last 30 years focused on fighting AIDS and homelessness — with a large chunk of its revenue coming from 10 retail thrift and bookstores. Over the last year, Housing Works has had to adjust to the pandemic by doubling down on online sales. 
Online secondhand retail platforms have been on the rise during the pandemic, and Housing Works is no exception. Last fall, Housing Works launched an official online shop, featuring pre-owned and vintage apparel, shoes and accessories. Before that, Housing Works' e-commerce presence was limited to an auction-based platform that listed special items, such as rare collectibles and art. According to the organization, Housing Works decided to spin the eShop out from the auction site to better streamline the checkout process.
So far, hundreds of pieces have been added to the newly launched eShop. The auction platform, which accompanies in-person auction events, also features dozens of collectibles available on a rolling basis. 
Since Housing Works separated the two sites, e-commerce sales have increased 23% over the previous year. The customer base also went beyond its predominately New Yorker clientele, with 40% of business now coming from out of state. "We want to expand nationally while keeping the Housing Works thrifting experience and branding consistent," Cheryl Grimm, vp of Housing Works Thrift Retail said. 
Grimm told Modern Retail that thrifting relies on experiential in-store browsing, which is not easy to recapture for an online audience given the unique assortments. "The parent organization relies on us for sales, so there is a major incentive to make the eShop successful," said Grimm. 
Unlike venture-backed resale sites — this month alone, Vestiaire Collective announced a $216 million funding round — Housing Works' digital efforts are bootstrapped. Thus, the organization has been focused on figuring out which parts of the retail business can be digitized and what corners can be cut. For the non-profit, the trick is to efficiently analyze and upload items that would do well online. One example Grimm gives was the early decision to photograph apparel flatly lay, as opposed to bust forms, as it's less labor intensive. 
Due to coronavirus-related slowdowns — as well as the storefront being completely shut down between March and June 2020 — Housing Works retail operations faced months-long losses. Housing Works furloughed its retail employees in March, and later reopened with a staff team of volunteer; the move followed a year-long effort by staffers to unionize (which Housing Works claimed was unrelated to the furlough). Grimm said the e-commerce business hasn't offset the pandemic-related losses and warehouse operation costs. 
The organization, however, said the online operation is showing bright spots. The company added two staff members last year to operate the online shop, and Grimm said the plan is to grow the program more in 2021.  The focus now is to drive traffic to the site. These efforts will include expanding the email list for the relatively new online shop, as well as increase paid advertising and social media marketing. 
The Housing Works retail department is focusing on forging new pacts to increase awareness — as well as seeking out new donation sources from big brands and retailers. "We've also been establishing partnerships with influencers and events to help curate goods through branded collections," Grimm said. 
Housing Works isn't the only thrifting destination focusing on e-commerce. Goodwill began investing in its online shop decades ago — and is now seeing the fruits of its labor. This month, Goodwill's online store has surpassed $1 billion in sales, with half of that revenue coming in during the last three years alone. According to Goodwill, 2020 sales alone hit $171.3 million.
Forrester analyst Sucharita Kodali said that unlike traditional retailers going online, thrift shop operators like Goodwill and Housing Works have had to get creative in building their tech. "They have to manage all the fragmented businesses that are run regionally," Kodali explained.
As these thrift chains' online businesses grow and demand for second items increases, they'll look to more sophisticated tools to scale. Until now, "they've been built as patchwork solutions," Kodali said.