The founder of Untuckit launched a degradable activewear brand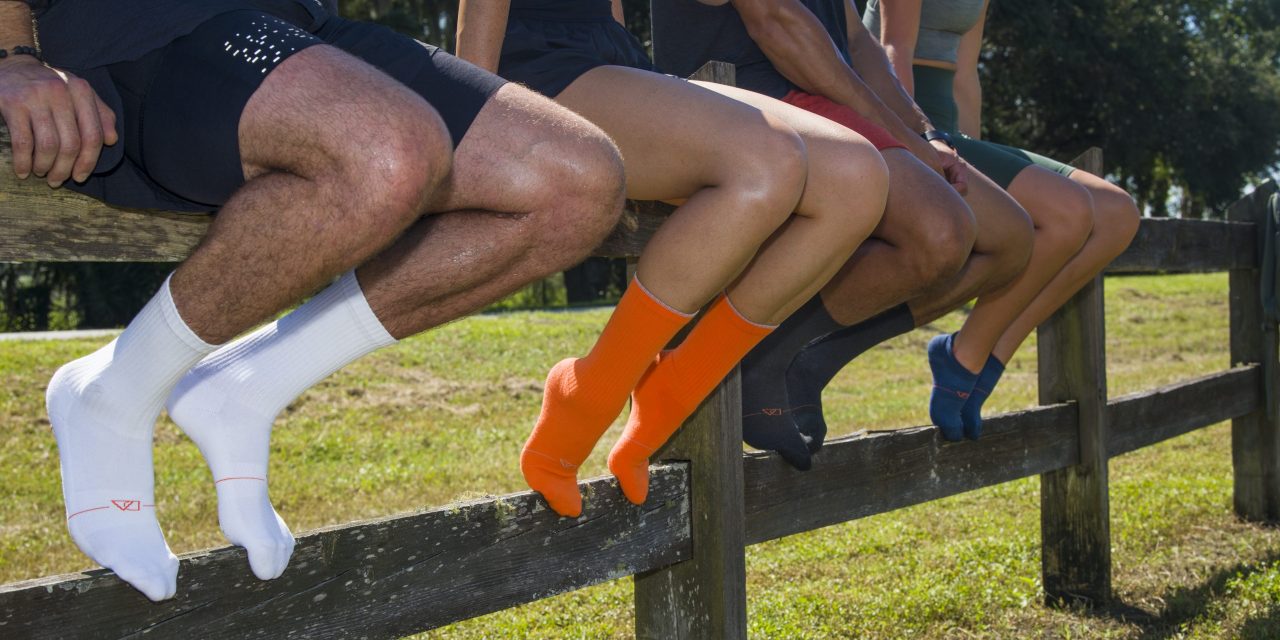 This story was first published on Glossy, Modern Retail's sibling publication
Polyester and nylon are some of the most used materials in the fashion industry, especially in the activewear sector. And yet they are also one of the worst when it comes to environmental cost. Could additive technology be a solution to the problem?
Definite Articles, the brand started by Aaron Sanandres, co-founder and CEO of shirt company Untuckit, launched last month with a mission: to create a more sustainable activewear line, starting with socks. Composed of 51% sustainable nylon, 23% BCI cotton, 23% sustainable recycled polyester and 3% spandex, the sock textiles are composed using Ciclo, a pellet additive that gives them a unique property: They're degradable at the same rate as natural fibers like wool when in sea water, wastewater treatment plants and landfill conditions.
During the pandemic, the founder had noticed that he was wearing through his sports socks at an alarming pace. Building on his experience at Untuckit, which celebrated a decade on the market last month, Sanandres was moved to tackle another brand with sustainability at its core. "If you think about the sustainability equation, carbon footprint is one part of it, but environmental pollution is another one," he said. "Performance clothing has historically been very bad for the environment, because of the plastic leakage when washing your clothes and the microplastics in the water. And also, in the long term, polyester and nylon take hundreds of years to biodegrade." 
One of the main reasons that plastics cannot degrade at the same rate as natural fibers is that they don't have the same open molecular structure. However, with Ciclo additives, millions of biodegradable spots are created in the structure of the plastic. Microbes that naturally exist in the above conditions can then break down the fiber, just like with natural fibers. As noted on its website, Definite Articles has applied for B Corp certification. It aims to keep production local through a supply chain based solely in North America and the use of a supplier code of conduct.
Andrea Ferris, co-founder of plastic additive company Ciclo, has been working on the technology for 10 years. "Microbes that naturally live in environments where plastic is a major pollutant are attracted to it because it is essentially a food source. They're able to build functional entities on the material and break down the material completely. When I say break down, I really mean biodegrade; they're able to break down the molecular structure of the polyester and then digest the molecules and truly biodegrade the material."
Synthetic fibers are one of the biggest issues for the industry that is trying to address its environmental impact. According to a July 2021 report by Changing Markets, a sustainability solution accelerator, fashion brands are having an increasingly difficult time decoupling from their reliance on synthetic fibers. The report looked at different types of brands, from luxury players like Gucci to Zalando and Forever 21. In terms of activewear, most of the sports brands analyzed in the report — including Adidas, Asics, Nike and Reebok — reported that the majority of their collections are based on synthetics. They "expressed no plans to curtail this," according to the report. However, the widespread adoption of material development during the pandemic and an openness to innovation could propel the activewear market to invest in solutions for its synthetic fabric problem.
Ciclo has previously partnered with brands including heritage denim brand Cone Denim, and it's working to expand in the textile market. However, progress has been slow, even with scientific tests available on its website. "We launched Ciclo for the textile industry in the summer of 2017, which isn't so long ago," said Ferris. "If you consider that even fully vetted technologies take years to implement into supply chains, it is no surprise it has taken this long. Even if it was a known technology, and everybody was comfortable with it, it takes a couple of years to get into a supply chain." What's more, the additives can also only be inputted at the beginning of the supply chain, making it difficult for wide-scale adoption. 
However, progress has been made through collections by brands including Definite Articles. For its part, Definite Articles is expanding its performance wear products in the coming year. In the Synthetics Anonymous report, sportswear brand Puma also indicated that it is aware that synthetics represent half of its total fabric material. It is endeavoring to gradually reduce the proportion of the polyester it uses, showing that a lower reliance on synthetics is feasible in sportswear. It may indicate a shift in the industry.