The Container Store's Netflix partnership hints at the future of streaming-based retail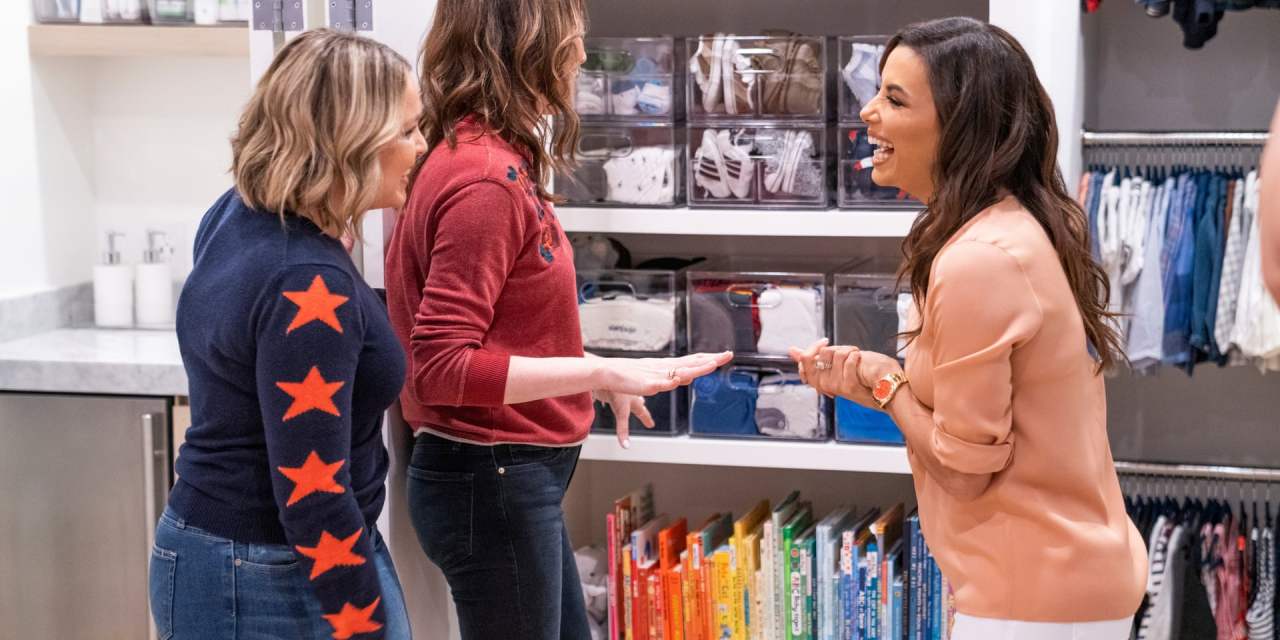 If any viewers of the Netflix show "Get Organized with the Home Edit" found themselves with a sudden desire to buy organizers from The Container Store, then consider that a win for streaming-based retail.
The TV show had an extensive partnership with the brand — and little about it was subtle. In "Get Organized," stars Clea Shearer and Joanna Teplin, who own an organizing business in Nashville, strut into the homes of celebrities like Reese Witherspoon and Khloé Kardashian, plus a set of normal families, and find ways to box up messes. Almost all of the organizing products they selected came from The Container Store.
That may have paid off in a big way. After the show debuted last month, The Container Store's sales jumped 16.8%. To what extent the bump can be traced back to Netflix is difficult to tease out, but the company certainly thinks it played a role. In a recent earnings call, it described experiencing a "relative halo effect from The Home Edit Netflix show launch."
The tight-knit partnership between "Get Organized" and The Container Store is just an acceleration of an ongoing trend: Streaming is becoming ever more entangled with e-commerce. Product placements have existed forever, of course — think of "E.T.", the 1982 film that sent sales of Reese's soaring 70%. But these placements were almost never as thorough as the full-scale collaborations on "Get Organized." And as brand sponsorships become more encompassing and data-driven, TV shows are beginning to look a lot more like online retailers.
Plenty of efforts to replicate the success of a channel like the Home Shopping Network or QVC for the streaming era have failed to catch on, and the vision of a shoppable TV future remains more hype than reality. But this year, Netflix and Amazon Prime have each demonstrated paths forward for e-commerce and streaming.
According to Felipe Avila, The Container Store's vice president of marketing, the company had two partnerships with "Get Organized" — a product-based agreement with Shearer and Teplin and a marketing partnership with Netflix. Avila said that the company partnered with the show as a way "to stay relevant to a new generation of consumers that are heavily engaged on digital platforms."
The level of connectedness between "Get Organized" and its featured brand has only a handful of precedents. "Partnerships like The Container Store and The Home Edit are more intense product placement agreements," said Beth Fossen, a marketing professor at Indiana University. And they "are rarer than a simple product placement where a product may be featured once or twice."
Another example is "Making The Cut," the "Project Runway" knockoff starring Tim Gunn and Heidi Klum that Amazon rolled out in March. With "Making The Cut," Amazon was looking to make a hit TV show, sure — but it also wanted a springboard for its luxury fashion business. "Making The Cut" blends TV and shopping — the winning outfits pop up at the end of each episode, with a friendly-looking Amazon buy link attached. Plus, Amazon sprinkled in a few more expensive options into its "Making The Cut" store, which it served to viewers. Outfits inspired by the show cost up to $995.
Amazon isn't the only company that has blended shopping into its TV shows. Until this July, Walmart owned the streaming service Vudu — a move that seemed much more like an e-commerce play than a content one. Walmart slipped "Add to Cart" buttons into the streaming's services ads. But the shows never caught on, and advertisers were reluctant to buy in. Vudu was a failure, but it didn't stop Walmart from agreeing to invest in another video-platform prize: TikTok.
These unsubtle product placements are not without risk. "The research I and others have done on product placement show that their effectiveness at driving sales usually decreases as the prominence of the product placement increases," said Fossen, who has studied product placements. To work, "the product placement has to be the right mix of being useful to the plot and the viewer without distracting form the entertainment value," she said.
That's what "Get Organized" and "Making The Cut" have done — they are synthesizing products so deeply into their shows that it would be hard to disentangle one from the other. The difference is that Netflix has thus far made clear that it doesn't want to build out product advertisements that merge with its shows; Amazon and Walmart, on the other hand, have already embraced combining the two.
Yet the biggest shakeups for shoppable TV might still be on the horizon. Over the last few years, a pair of startups, Mirriad and Ryff, have started hawking technology to rotate out product placements depending on who is watching — in essence, turning TV into an ad micro-targeting paradise. If Mirriad thinks someone is a Pringles super-fan, for instance, they might see a giant Pringles billboard in the middle of their next binge watch. On that same billboard, someone else who has been looking to buy a new vacuum might see a Dyson product.
Mirriad says it can swap out products placements even depending on the time of day. Viewers who fire up "The Haunting of Bly Manor" on first wakeup might see Cheerios or coffee in the background of the show. Turn on the same episode at night, and they could get ads for bourbon or mozzarella sticks.
Mirriad has been around for several years, and although it works with 20th Television, Univision and Condé Nast, it has yet to land partnerships with major streamers.
For now, the closest that streamers have gotten to driving a big sales jump is The Container Store's recent partnerships. An influx of micro-targeted sponsorships seems inevitable, but the floodgates have not quite opened yet.