The case for and against Facebook advertising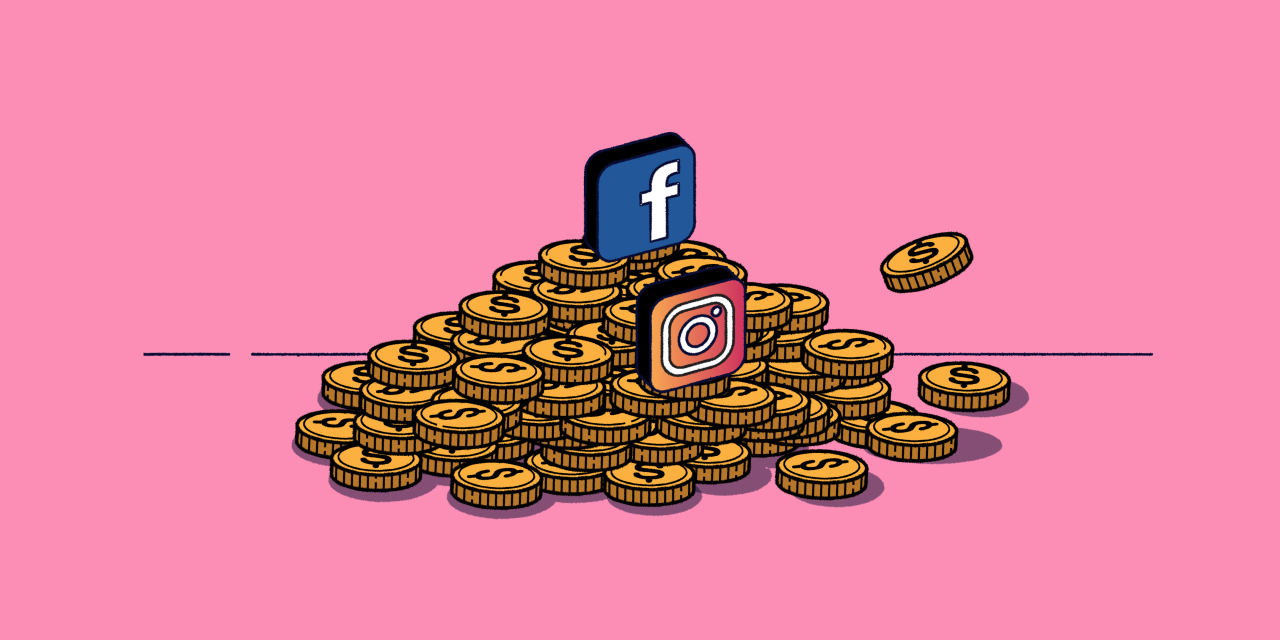 Ivy Liu
Over the past year, marketers and retail brands have grappled with how best to use Meta-owned Facebook and Instagram. For many digitally-native brands, Facebook had been a major part of their advertising strategies. Then came Apple's iOS 14 privacy changes in April 2021, which had a huge impact on algorithms since it became more difficult for platforms like Facebook and Pinterest to track and target users.
Since then, digital advertising has been largely upended, with many retail brands rushing to diversify their marketing channel mix to decrease Facebook and Instagram's dominance.
But, Meta's platforms, Facebook and Instagram, are still considered the largest digital sales converters. As such, there's a widespread debate about whether or not to be on the platform — and, if so, how much money to spend on it.
Below, Modern Retail breaks down brands' cases for and against advertising on Facebook.
For: Meta still has the most scale potential 
For brands with a big following on Facebook and Instagram, simply turning them off is not a realistic option. 
"I'm still a big believer [in Meta] because it continues to deliver unparalleled scale and sales volume," said Ryan Pamplin, co-founder and CEO of personal blender BlendJet. The blender brand has over 645,000 Instagram followers, along with 100,000 members in its recipe-sharing group on Facebook. 
"Facebook and Instagram continue to take the lion's share of our budget and will continue to as long as they have the users, which I don't see changing anytime soon," said Pamplin. "We're more diversified than ever, but not at the expense of our budget across Meta platforms." 
Despite many marketers' instinct to pull away from Facebook, Pamplin said BlendJet's website conversion rate "has continued to increase over time thanks to our ongoing creative and website optimizations." He confirmed that the company hasn't experienced a hit from last year's iOS changes, and the company has been tweaking campaign spending accordingly. "We adjust our ad spend throughout the day, every day," he said. "When the cost to acquire a customer goes above a certain level, we decrease spend, and when it falls, we increase spend to maximize our scale."
Pamplin credits the BlendJet videos the in-house team creates every week as one of the reasons Facebook platforms still work, which he said have a "high production value." Its recent ASMR blending video is an example of this, which features soothing whispers over smoothie blending. On YouTube, the specific video currently has 3.6 million views; On Facebook and Instagram, it has over 100 million across several versions. 
"We have over 300 active ads with different variations running right now," he said. "The key is to make visually stimulating content that grabs the users' attention, and stops them from scrolling long enough to understand how your product is the pill to their pain." 
Pamplin said the company is also making use of Facebook Shops and Live Shopping, "which are growing very rapidly for us." BlendJet's Facebook Live Shopping events have driven "six figures in sales" with minimal paid promotion, he said. Another key Meta strategy, he said, "is that we respond to every single comment and build real relationships with our potential customers." That requires investing in a large team, Pamplin said. "But it's a game-changer."
"By running a huge number of ads everywhere across every format, we reach over two million people per day through Facebook and Instagram alone," said Pamplin. While the company has adapted the video strategy to its YouTube and TikTok accounts, Pamplin said that figure is still "unmatched" when it comes to social reach. 
Against: Conversions have plummeted
Plant-based superfood mix brand Your Super wants to move away from the flailing DTC playbook by dropping a big chunk of its Facebook and Instagram ads. "Since the iOS changes, we've seen a big enough decrease in conversion that's made it hard to keep spending millions on Facebook," said Kristel de Groot, co-founder and CMO at YourSuper. 
The company launched in Europe in 2014 and made its U.S. debut in the beginning of 2018. Since then, social ad spend — dominated by Facebook and Instagram — has become about 70% to 80% of its total advertising budget. 
This month, Your Super decreased its spending across Meta from $1.5 million per month down to about $200,000. "For the past month, we've been trying to turn it off to test what conversion will look like without out," said DeGroot. She said that so far, DTC conversion rates have remained relatively similar to the past year's levels, thanks to Your Super's organic Facebook and Instagram engagement. She said the new budget better reflects how well Facebook and Instagram have been working this year.
Instead, the company will focus on Amazon advertising and promoting its new physical retail rollouts. The brand is launching in Target, The Vitamin Shoppe, CVS and Sprouts stores this year. Your Super's direct-to-consumer sales reached $60 million in 2021, and is expected to continue growing alongside Amazon and wholesale this year, according to de Groot.
Despite testing different creative campaigns over the past year, including video and varied photography, de Groot said conversion rates were "significantly less" than when the brand started heavily using Facebook in 2018.
Other retail brands that benefited from Facebook's heyday in the late 2010s have similarly felt conversion drop. Apparel brand Outerknown, for instance, experienced a 25% decrease in return on spend within months of Apple's iOS 14 rollout.
De Groot, added that getting new customers via Facebook and Instagram has become too expensive in 2022. "It doesn't make sense to acquire customers at this cost," she said, adding that, "most importantly, we're focusing on retention and trying to double our customers' lifetime value."
For: Reaching deep-pocketed demographics
Jane Win, a jewelry brand that launched in 2019, is still largely sold through its DTC website with about 15% wholesale distribution at specialty retailers. The model naturally pushed Jane Win's digital advertising budget to Facebook and Instagram, which remain relatively effective at attracting fine jewelry shoppers that skew older.
Emily Bajalia, who leads marketing at the startup, said that because the brand's average order value is about $300, conversion isn't always easy via other platforms like Pinterest or TikTok. "We see great impressions, but you have to take them with a grain of salt." 
Bajalia said that, for now, the majority of potential spenders in the jewelry category are spending their time on established social feeds, and Facebook and Instagram are the biggest ones around.
So despite seeing some conversion dips on Facebook since last April, Bajalia explained the company is still consistently spending on Meta while it tries to diversify its advertising mix – including working more with Google Shopping and affiliate marketing. She also noted that since the privacy changes took place, Jane Win has been receiving outreach by Facebook's in-house marketing teams for campaign tips.
"We're not leaving Meta altogether anytime soon," she said. "But as a DTC brand, we shouldn't be leaning on it for sales." 
Against: Costs are spiking
A number of CPG brands have struggled with increased CPMs on Facebook. One example is digestive supplements brand Arrae, whose Facebook ads have skyrocketed since launching in 2019 — pushing the DTC brand to invest in the cheaper TikTok ads instead. Arrae co-founder Nish Samantray told Modern Retail Facebook's CPM rate has passed the $25 range for the company. That's nearly double TikTok's CPMs, which is rapidly building out its beta advertising platform.
Another CPG brand, DTC instant ramen brand Immi, is also in the middle of figuring out how dominant Meta will be among its mix as paid content costs continue rising. With that, Immi is rapidly moving toward the cheaper TikTok.
Still, the ramen brand is totally off the platform. Kevin Lee, co-founder of Immi, said the brand had increased Facebook ad spend this year to continue creating consistent sales on the platform. He agreed that Meta's advertising model "has become a necessary evil" over the past two years. To get the most out of Facebook and Instagram, Immi has built an in-house content team to create and run unique campaigns featuring the brand's noodle recipes.
But Meta's high costs are pushing Immi to look for cheaper digital conversion channels. The company has migrated a portion of its total budget to TikTok's beta ads. "We want it to work as fast as possible," Lee said. The move is important to avoid pumping cash into Meta, which becomes more and more of a money sink. "Every single month we notice CPAs go up a tiny bit," he said.