Target's private labels boosted its quarterly sales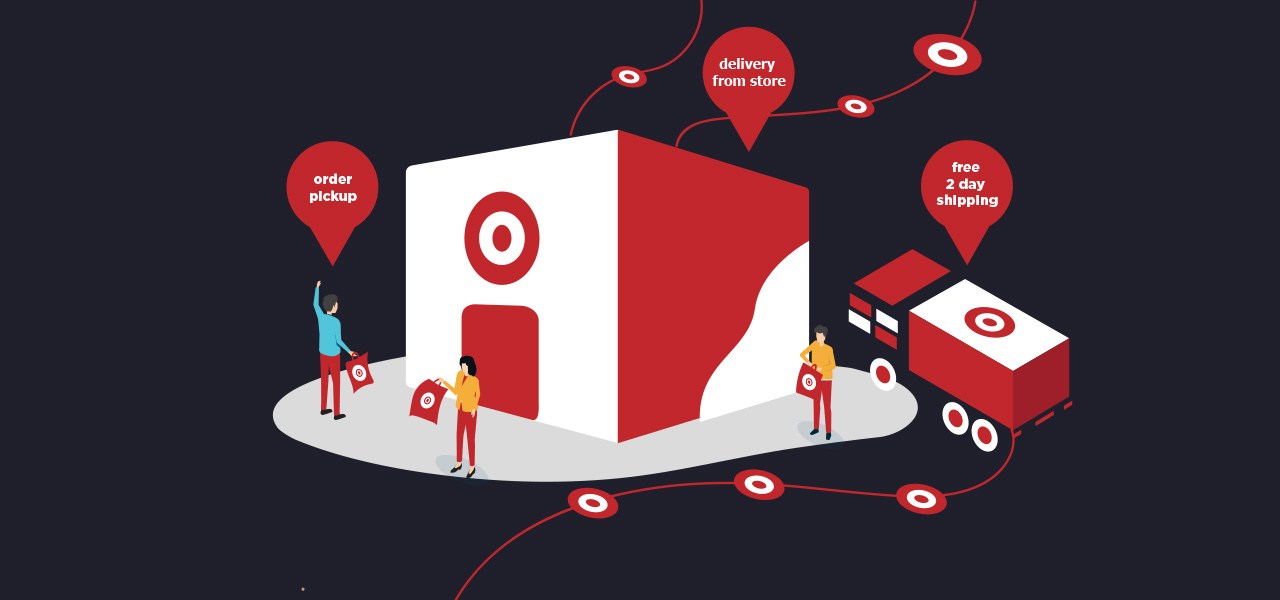 Coming off a strong 2020, Target's latest earnings exceeded estimates. In its 2021 first quarter earnings report, the company recorded double digit growth and increased its market share.
The big box store's same-store sales jumped 23% during the first quarter of the year, totaling $23.88 billion. That's up from $19.37 billion the same time last year. Target execs credited investment in stores, pickup and delivery for the growth.
The company added that private label lines were also a major driver of sales, reaching a record 36% in sales growth. It's an example of how Target is betting that its preference for in-house products and services will help it build more loyalty with customers. 
Here's a look at how the retailer performed over the last three months.
Curbside and delivery's continued success
According to Target's recent fiscal year 2020 report, digital sales accounted for about $10 billion out of the total $15 billion. During the March call, CEO Brian Cornell said the retailer added $9 billion in new market share during 2020, citing internal and third party data.
Much of this growth was thanks to new fulfillment options. During this week's earnings call, Target's chief operating officer John Mulligan said the retailer continues to make more products eligible for all three of its same-day services. This includes adding more perishable food to the pickup and drive up services, as well as making more general merchandise — such as fashion and apparel — to Shipt.
Drive up, in particular, has been a fast growing fulfillment option among customers, and will continue to be a big focus for Target, Mulligan said. Part of the reason is that it doesn't force shoppers into a time slot, and store employees are able to bring it out "in two minutes or less."
"You'll see us invest in making that easier for our team, and building capacity on the front end of the store [for drive up]," Mulligan said.
T.J. Waldorf, vp of marketing and customer experience at product content provider 1WorldSync, said that Target's growth is a result of consistent investing in exclusive inventory and fast fulfillment. This includes same day delivery via Shipt, as well as two-day shipping from local store locations. "Target has also decided to continue curbside pickup at full speed," Waldorf said. Most recently, the retailer announced the addition of alcohol to its same-day pickup and delivery offerings. "They're providing shoppers with the ability to get their items quickly in any possible format," Waldorf added. 
In the upcoming second quarter, Target said it will have adult beverages available at more than 1,200 stores via pickup and/or drive up.
Private labels' payoff
Private brands were a large part of Target's successful quarter, said CEO Cornell. He pointed to Target's "multi-category portfolio and unique combination of our own brands and curated national brands." 
During the earnings call, Christina Hennington, Target's chief growth officer, focused a great deal on the store's growing private labels. "These brands aren't something that our guests pick up while they're at Target, they're a big reason why they shop at Target, which is why we continue to invest in them," she said.  
Expanding its private label assortment in grocery has been a big focus for Target. In April, it introduced a new line called Favorite Day, which features 700 products across snacks and frozen desserts. Target is also expanding its Good & Gather line, a grocery private label line introduced in 2019, by adding more plant-based products to it. "Good & Gather plant based reinforces the brand's commitment to products that prioritize great taste and quality, with the value only Target can offer," chief food and beverage officer Rick Gomez said during the call. 
Target's private label efforts aren't just limited to grocery. The retailer also recently launched a new private label brand called Mondo Llama, geared at people who picked up crafting during the pandemic. Target now carries over 45 owned labels in total.
Katie Burkhardt, director of brand strategy at private label development firm Daymon, said Target has a deep understanding of its consumers' lifestyle and multiple needs. Past examples of this have included Target's popular home decor brand Opalhouse and women's apparel and accessories brand A New Day.
"Their aesthetic-driven private brands have reflected that, even prior to the Covid-19 pandemic," Burkhardt said.