Retail's inventory glut means big business for liquidators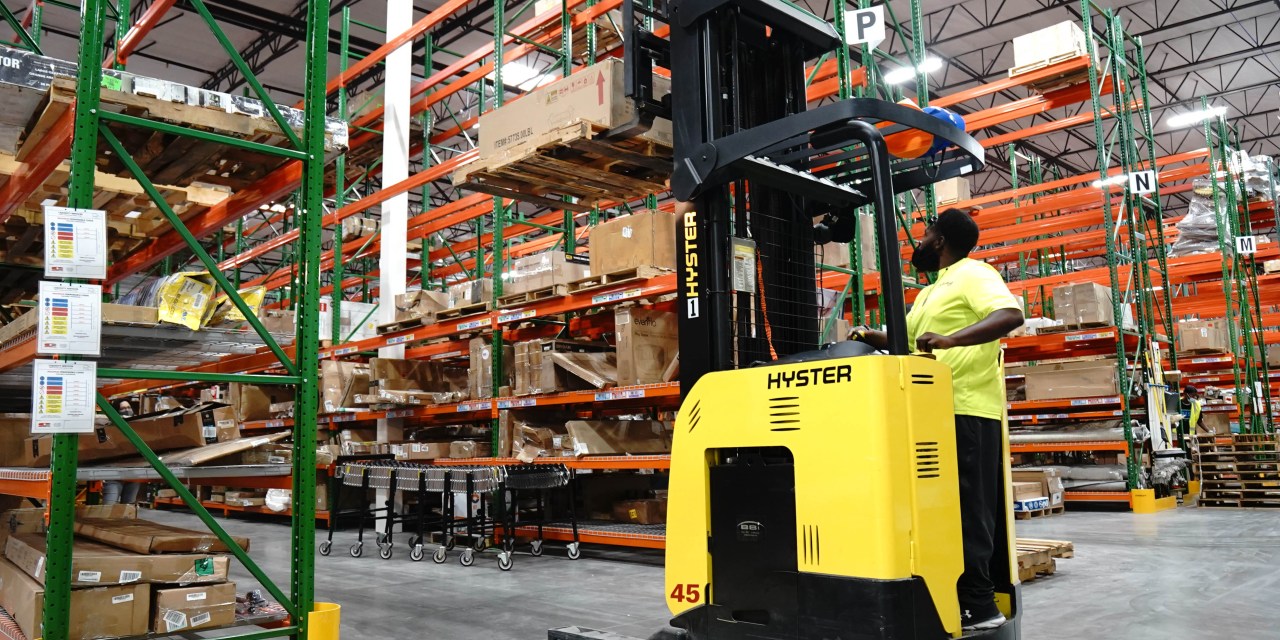 Liquidity Services
While some companies are suffering losses from excess inventory, others are making bank from it. Liquidity Services fall in the latter category.
Liquidators, like Liquidity Services, often buy excess and returned merchandise from retail giants, which they then sell to resellers and regular consumers typically at a much lower price. As retailers' warehouses pile up with goods that are no longer seeing high demand, tapping liquidators is one of the methods retailers use to make room for other items. 
Several retailers have recently alerted investors and analysts that their inventory levels climbed as a result of supply chain delays as well as consumer spending shifting away from goods and more towards travel. Target said its product inventories were up 43% from the previous year, while Walmarts increased by 32%. Orders that can't be canceled or sold at a discount tend to make their way to liquidators — and thanks to this phenomenon, demand for the services liquidators offer has grown significantly, leading to new partnerships and growth.
"We have certainly been growing. That's been going on through the pandemic and even accelerating after the pandemic," said JD Daunt, chief commercial officer for Liquidity Services. "We find ourselves, Liquidity Services, in a pretty privileged position." In its most recent earnings, Liquidity Services' revenue was up 11% year-over-year to $68.3 million. 
Founded back in 1999, Liquidity Services has worked with hundreds of retailers, including Amazon, Wayfair and Home Depot. Daunt said that Liquidity Services has recently begun working with new retailers, but declined to name specific ones. With the demand Liquidity Services has been getting, the company has even had to turn down deals with other firms.
Some retailers are already redirecting the excess inventory to liquidators even before it touches their shelves. "We've been approached by several retailers to explore the possibility of selling their inventory before it ever gets to their shelves, in some cases, when it arrives in ports or directly from their distribution centers," he said. "They don't want to create a glut or occupy capacity in their facilities that might otherwise be used for the holiday season, the back-to-school season."
Murali Gokki, a managing director in the retail practice at AlixPartners, said the need to offload excess inventory has allowed these liquidators to be picky with who they want to work with and which products they want to take in. That might vary depending on who the liquidator's core customer is, or what geographic market the company operates in. 
"With inventory levels going up, now liquidators also have to be thoughtful in terms of where they want to place their bets," Gokki said. "So they want to go after that the safer bets and it is prudent for them to turn down deals that they think they cannot, in turn, be able to sell to the end consumer."
To keep up with the demand, Liquidity Services has expanded its capabilities. Liquidity Services currently has seven warehouses related to its retail business across North America and is planning to add another one "very soon." It is also begun offering curbside pickup in one of its Phoenix, Arizona locations, and it plans to roll out this service to all of its facilities.  
B-Stock, a software company that essentially functions as a marketplace for excess inventory, has been seeing an uptick in inventory volume, giving its buyers more opportunities to source from the B-Stock platform. B-Stock CEO Marcus Shen said that the number of sellers on its platform is well into the "high hundreds." The company works with retailers like Walmart, Target, Amazon and GameStop, among others. 
"We're certainly seeing more demand from retailers," Shen said. "Those are folks who are trying to adjust and optimize their businesses accordingly as things change."
Some of the products that B-Stock and Liquidity Services are seeing more of include those in the outdoors, home furnishing and appliance categories. These are categories that trended during the pandemic, but the demand has since died down. Target, for example, has recently said it has too many bulky items like furniture and television.
Shen said the company also began seeing an unusual rise in demand for its services in the first half of 2020, in response to temporary store closures and fewer people buying products in stores. When e-commerce skyrocketed months into the pandemic, professional liquidators like Quicklotz Liquidations also benefited from online returns. "We had a record year," Butch Maltby, the spokesperson for Quicklotz Liquidations, told Modern Retail at that time.
AlixPartners' Gokki said that despite seeing high demand now liquidators need to be selective with the types of initiatives they want to take on, especially if they're working with a limited amount of capital to run their business.
Still, with lead times growing even longer for retailers as supply chain issues persist, Gokki said a lot of companies would rather have inventory and not miss out on sales than the other way around – a scenario that could continue to favor liquidators. "They're always running on a forecast and projection and many do tend to be optimistic," he said.