NTWRK is taking a pricey gamble on original livestream shopping shows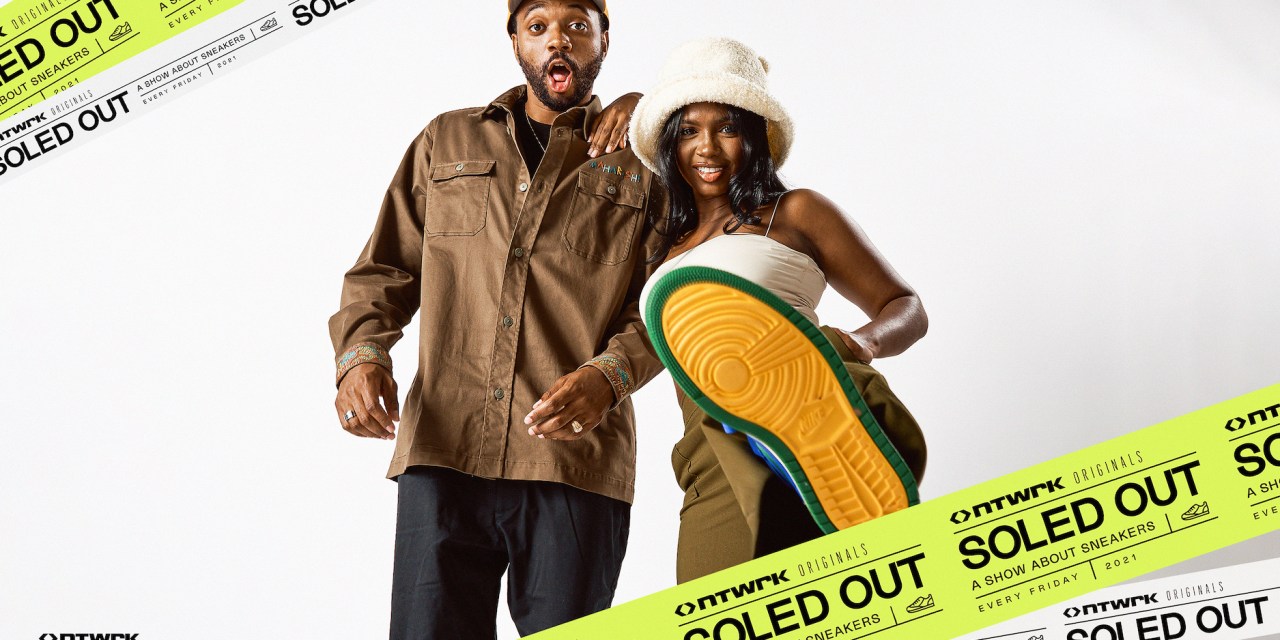 NTWRK
NTWRK, an app that sells exclusive merchandise during live video streams, is investing in original shows to drive up engagement.
The platform is producing polished programming out of the first-floor studio in its Los Angeles office. Inside, it has built multiple sets, featuring multi-camera setups. Up to 35 people are working on individual shows, according to NTWRK president Moksha Fitzgibbons. The company has earmarked a seven-figure annual budget for its fledgling originals strategy. 
NTWRK, which is available on iOS and Android phones, says its app has been installed 2.5 million times. It's hoping its pricey bet on originals can help it to reach 4 to 5 million app installs by the end of the year. But, the platform's success is inevitably tied to the broader adoption of livestream commerce in the U.S. — a trend that remains in doubt.
The company's shows cater to its young audience of collectors and hypebeasts, who devoutly follow streetwear culture and influencers. There's a sneaker show titled "Soled Out," a comic book show called "Meltdown" and its latest creation, "Wild Cards," is dedicated to sports trading cards. An additional show dubbed "Unhinged," about shopping and dating, is currently on hiatus.
Already a sensation in China, where millions watch live shopping for entertainment, apps like NTWRK are banking on the format to captivate viewers around the world next. The value of China's livestream commerce market reached an estimated $171 billion in 2020, according to an analysis by consulting and research firms McKinsey and iResearch. While there's no shortage of U.S. platforms that blend video with commerce, they have yet to achieve mainstream success. 
NTWRK's latest original, Wild Cards, offers an insight into how high-quality video, and a buzzy topic, can help it to differentiate itself from the glut of user-generated content online. The new show is fronted by Scott Rogowsky, who became an overnight internet sensation in 2018 by hosting viral quiz app, HQ Trivia. Wild Cards sees Rogowsky opening, or "breaking," packs of sports trading cards to unearth rare finds. 
The show includes a revolving lineup of guests, with a recent appearance from former MLB player Harold Reynolds. It's a far cry from the amateur breaking videos uploaded by creators to YouTube and Twitch, according to Rogowsky. "Most of the time, you are just watching someone's hands opening packs of cards," he said of the clips. "NTWRK is marrying TV quality products with live interactive mobile video. Our show is like a talk show. We're trying to reach sports fans and not just collectors."
NTWRK's high-budget approach is also distinct from the low-cost livestreams broadcast in China, where a deluge of throwaway content fills up shopping apps like Taobao. "[Chinese platforms] optimize the production for scale," explained Jason Goldberg, chief commerce strategy officer at Publicis. "Hosts make next to nothing, they work like crazy. It's fast content that only exists for the 45 seconds for that spot and is never seen again." 
NTWRK is pleased with the initial results from its originals. When asked about viewership, Fitzgibbons pointed to strong conversion rates. "Franchise shows tend to get strong engagement," he said. "The conversion rate between viewership and purchases is 10% to 15% on the low end and up to 70% at the high end." It also landed a notable sponsor for its comic book show Meltdown in Amazon Prime Video, the e-commerce giant's video streaming service. The company declined to share any further engagement and viewership metrics. 
Fellow NTWRK presenter Brittany Sky is a livestream shopping convert. The DJ and influencer had little hosting experience before joining the app as a co-presenter on sneaker show Soled Out. Now, she works with NTWRK's social team to create content that she can cross-pollinate on her socials. "I post on TikTok to let my followers know when I'm about to start streaming [on NTWRK]," she said. Sky effusively describes the app to her fans as "QVC for you and me."
The pandemic may have provided a much-needed boost to livestream shopping. More companies embraced the format, with retailers like Nordstrom and Walmart experimenting with live video amid store closures, alongside more established players such as Amazon and tech names including Facebook and TikTok. 
What's more, virus-related restrictions also spurred increased consumer adoption of digital payments services. This trend in particular could smooth out endemic wrinkles for the format in the U.S, according to Goldberg. Visa revealed in March that its tap-to-pay transactions grew over 30% year-over-year. 
"Every consumer in China has a digital wallet. Either Tencent or Alibaba has their banking information," Goldberg said, adding "so when they see something they want to buy in a livestream there is little friction in the purchasing process."
With an eye on these shifting habits, investors from the worlds of retail, big banking, sports and entertainment are bankrolling dedicated live video commerce platforms. NTWRK has raised $60 million to date through funding rounds. Its backers include Goldman Sachs, Gucci and YSL owner Kering, Drake, NBA star LeBron James — who recently appeared on the app in a custom segment — Live Nation and sportswear retailer Foot Locker. 
Conversely, the amount of money being spent in the sector may end up fueling unrealistic ambitions. "When you're raising so much VC money, you are expected to be a multi-billion dollar business," Goldberg said. "Maybe, these platforms are betting on an astronomical exit."
He continued: "They can trade on that buzz and hype and get acquired by someone. Maybe a distressed retailer which needs a live video platform or component to convince investors that they are more digitally-native."
Update: An earlier version of this story mentioned the NTWRK original "Unhinged." The story has since been updated to reflect that the show is on hiatus.