The story of the pandemic's effect on retail is familiar to us now – at least in its broad strokes. But as supply chains and consumption habits were upended, not all responses were equal. How large CPG companies responded – and in many cases are still adjusting – to Covid-related changes is determining who will remain competitive in a volatile environment.
One major trend to emerge: With shifts to e-commerce and direct-to-consumer marketing tactics, CPG food and beverage brands have increasingly leaned on limited release products as a way to create buzz and stand out for new consumers and make loyalists fall in love all over again.
In this report, Modern Retail:
Provides an overview of how the biggest players in the CPG food and beverage industry fared financially over the past two years

Analyzes how these retail behemoths pivoted their product roll-out and marketing strategies as a result of pandemic-induced pressures

Gives an in-depth analysis of 139 limited-release product launches to uncover core strategies and best-in-show examples pointing the way forward.
By focusing on the changes CPG leaders made in (and in response to) 2020, new strategies and playbooks emerge that will shape how the industry operates for years to come.
Looking at key benchmarks like revenue and retail presence, 2020 was a mixed bag for the top 10 U.S. food and beverages-related CPG companies followed by a strong recovery across the board in 2021. The beginning of the pandemic pushed CPG brands to swiftly innovate on their business and marketing strategies to respond to an overhaul of supply chain and distribution processes – not to mention a seismic shift in demand. So in 2020, while supply chain costs increased by 50% for the CPG industry, it also saw more absolute growth than the previous four years (2016-2019). By 2021, these companies were honing their winning strategies and adapting to a changed CPG landscape with paths to continued growth.
The CPG's pandemic response leads to mixed results
Overall, and unsurprisingly, some key pandemic-led trends across the CPG industry affected company sales and performance in 2020, such as:
Companies that were nimble in response to these changes were able to take advantage of shifting consumer habits (or at least offset losses caused by currency fluctuations and international penalties related to the Covid-19 pandemic). For instance, in 2020, Unilever's food services business, valued at €1.7 billion, was hit by decreases in sales as high as 30% to 70% year over year in some areas like "food solutions" because of channel closures. This was balanced out by increases in growing segments like ice cream and vegetarian food sales, with the latter seeing double-digit growth for the multinational.
Other companies like Nestle, Kraft Heinz, General Mills and Coca-Cola saw overall accelerated demand and an increase in their net sales. In fact, Nestle saw the highest level of year-over-year organic sales growth in the last five years at 3.6% in 2020. And net sales for Coca-Cola (3.7%), General Mills (5%) and Kraft Heinz (4.8%) all increased that year. These companies were able to benefit from an increase in demand for in-home products that offset the decrease in demand for out-of-home consumption as lockdowns swept the globe.
Companies that were nimble in response to these changes were able to take advantage of shifting consumer habits.
These shifts are captured by Nestle's CFO François-Xavier Roger in the company's 2020 full year results conference call: "The effects of COVID-19 on organic growth varied materially by sales channel. Organic growth for retail sales doubled to 7%, reflecting sustained strong demand for at-home consumption. Within retail, e-commerce saw exceptional growth of 48.4% and now accounts for 12.8% of total sales. Sales in e-commerce exceeded CHF 10 billion, with further market share gains online. Out-of-home sales declined sharply as a consequence of movement restrictions and the closure of many offices, restaurants and hotels, to name just a few. Before COVID-19, the out-of-home channel accounted for around 10% of group sales."
For many CPG companies, shifts and pivots came too late to completely avoid the pandemic's impact on the bottom line. French food multinational Danone's 2020 profit margin decreased by 14% or 117 basis points compared to 2019, with a 6.6% decline in sales. According to its annual report, this decline was mainly driven by a negative impact of fluctuating exchange rates, and a non-conducive product mix of Waters and Specialized Nutrition categories. But overall, Danone was unable to counterbalance this loss by meeting increased online demand for at-home and online products.
For all the talk of pandemic-related drinking, alcohol-focused CPG companies also experienced performance issues, since most of their business happens on-premises and they were not able to innovate quickly enough to match off-premises or at-home demand in the first year of the pandemic. As a result, Heineken saw a sharp profit decline of 11.9% compared to 2019, with a total comprehensive loss of €2.1 billion, even as it tried to offset this change in demand by spending much less on non-digital advertising and marketing – reducing its marketing expenses from €2.6 billion in 2019 to a little over €2 billion in 2020. Not even an impressive 49% increase in new customers and a tripling of consumer orders on Beerwulf, its European direct-to-consumer platform, could make up for that overall sales shortfall. This increase in digital demand was consistent with an increase in online business across all CPG companies, including on Heineken's other platforms, Six2Go and Drinkies.
For all the talk of pandemic-related drinking, alcohol-focused CPG companies experienced performance issues.
Anheuser-Busch InBev's growth was down by 3.7% as well, prompting the company to accelerate its digital transformation to offset the decline in a similar way. It quickly leaned into B2B marketplaces and direct-to-consumer alcohol delivery apps, like BEES and Zé Delivery, which have been successful in South America, and present a sound model for replication – though, as in the case of Heinekin, it wasn't enough to leave 2020 unscathed.
Companies like Pepsi Co, Mondelez International and Unilever also used new digital platforms to reduce their losses during 2020 by catering to changing global consumption habits. For instance, Unilever reacted to a 25% jump in take-home ice cream sales of Magnum and Ben & Jerry's by introducing Ice Cream Now, a fast delivery service available in 40 countries. As a result, the company was able to limit turnover growth decline to 0.8% in its food and beverage categories. Unilever is expanding its online offerings by developing even more products for online shopping and delivery, including the launch of more than 600 new products in 2020 across 18 markets designed particularly for the Amazon shopping experience. Like Unilever, most CPG companies are actively investing in e-commerce now.
PepsiCo launched PantryShop.com and Snacks.com in the U.S. in response to the exponential growth of e-commerce retail sales, and also acquired Be & Cherry, one of China's largest online snacks companies. These tactics enabled the company to contain its 2020 losses to a 1% decline in profit margin compared to 2019. And while Mondelez International saw growth in online demand and in-home products, overall the company saw a 0.3% loss in operating profit compared to 2019, which it attributed to currency changes.
The winners of 2020 were also set apart by their ability to strategically approach these changes in the retail landscape.
Specifically, Mondelez saw strong results in its biscuits category; as we'll cover in more detail in a later section of this report, the company launched the highest number of limited-release biscuit products with its Oreo brand. But given the company's heavy reliance on international sales (accounting for 73% of its total revenue in 2020), it was negatively impacted by border closures and different lockdown rules across the globe.
The winners of 2020 were also set apart by their ability to strategically approach these changes in the retail landscape. Companies like Coca-Cola and Kraft Heinz made changes in infrastructure by consolidating production facilities or moving them into North America. Most, including Unilever, launched and partnered with online marketplaces, and others innovated their product offerings. Nestle's growth was supported by the launch of multiple limited-edition products like Reviving Origins, an organic Nespresso product. While they didn't fully salvage 2020, these tactics and innovations led most of these companies into a brighter 2021.
A rosier 2021 for the CPG industry
Net sales and revenue grew across the top 10 CPG companies in the first nine months of 2021, and while the final reporting is still coming in, the expected outlook for full-year results is positive across the board. Each month saw higher and higher demand for consumer packaged goods, with 8% year-over-year growth for the industry in Q1 alone and sales totaling $1.62 trillion. This positive trend continued over the next two quarters as more supply chain and distribution channels opened up and away-from-home sales channels began to recover.
PepsiCo is expecting organic sales growth as high as 8% year over year, with Coca-Cola forecasting a whopping 13%-14% in revenue growth in 2021 over 2019. Danone and Kraft Heinz were the only CPG companies which saw flatter year-over-year sales growth, but even they were able to avoid heavy losses. For Nestle, while organic growth was about 7.6% for the first nine months of 2021 compared to the same period in 2020, the company's e-commerce sales grew by 17.2%, making up 14.1% of total group sales for this period. Investment and growth in e-commerce channels was a common strategy for CPG companies.
Coca-Cola's 2-year growth outstripped other CPG companies' by not only maintaining its brand image but also heavily investing in its winning product strategies from 2020. For instance, in September 2021, it launched a brand new online platform for Trademark Coca-Cola – any beverages that bear the Coca-Cola trademark or any trademark that includes Coca-Cola or Coke – called "Real Magic" promoting its brand message to a younger audience of gamers. The company gained value in non-alcoholic ready-to-drink beverages compared with 2019, including sparkling soft drinks (6% growth) and nutrition-rich beverages (12% growth), seeing 6% growth across hydration, sports, coffee and tea areas.
Alcoholic beverage-focused companies, which were slower to react in 2020, also invested in their winning segments to tap into the industry growth. Both Anheuser-Busch InBev and Heineken doubled down on pandemic-led strategic pivots with an emphasis on online marketplaces and showed a more than impressive recovery. Anheuser-Busch InBev focused on a "prove and move" innovation strategy to digitize its consumer relationships and saw organic growth of 17.0% in the first nine months of 2021, compared to the same period in 2020. Heineken also saw a 15.1% volume increase for the first nine months of 2021 by investing in its strongest brands, resulting in very strong financial performance. Both companies demonstrated product adaptability and focused on best practices from 2020 to revive growth in 2021.
While large CPG brands earned the highest absolute growth in revenue in 2021 thus far compared to their smaller competitors, they still face an encroaching threat from new direct-to-consumer entrants. According to a McKinsey study, small (generally digitally-focused) companies increased their market share from 18.2% in 2019 to 19.2% in 2020, while large CPG companies' market share fell from 51.2% in 2019 to 50.5% in 2020.
This trend was also reflected in a recent Modern Retail survey of CPG brands and the agencies that work with them: When asked if respondents saw DTC brands as a threat to traditional CPG brands, 53% responded that they "somewhat agree" or "strongly agree" with the statement. And this response grew to 55% when respondents were asked if DTC brands were more of a threat to traditional brands today than they were 3 years ago, with 30% of respondents strongly agreeing with that statement.
53% of CPG respondents said they believe DTC startups are a threat to tradition brands
For years, DTC companies focused on digital sales and online product release strategies, like Ugly Drinks' many limited flavor drops, and Crumbl Cookies' TikTok exclusive product drops, and now the larger companies followed suit in response to changing consumption habits. So far, they are seeing fruitful results. Launching new versions and flavors of well-loved products – and experimenting with new, buzzy offerings – is a strategy employed by a number of CPG companies to keep themselves competitive during these uncertain times.
02
CPG brands embraced limited release strategies in 2021
While other industries have established proven approaches to limited release products, such as the fashion industry's usage of the drop strategy, CPG food and beverage companies have lagged behind and have only recently begun to experiment with a diversity of implementations. The good news: For many, it's working. Compartés, a 72-year-old chocolate company, began experimenting with limited release products as a way to revamp the company and saw over 200% growth in its online sales from 2020 to 2021.
This is not to say that limited release products in and of themselves are new to CPG, but new forms of digital demand and social behaviors are breathing fresh life into the approach. According to Modern Retail's survey of CPG brands and the agencies that work with them, the number of companies launching limited-release products increased from 42% in 2020 to 54% in 2021, a 12.2% increase. This was against the backdrop of more product innovation across the board, with results showing a year-over-year increase in the overall number of new products launched: 18.4% of respondents launched 10 or more new products in the first nine months of 2020 versus 22.5% in 2021.
And it's not just talk: CPG companies are pouring more resources into the strategy, with 50% of brands reporting an increase in the budget allocated to limited-release product launches. To control the supply for an already scarce limited offering – one often made scarcer by stressed supply chains – the majority of brands reported launching these products online through their own or a partner retailer's websites.
But more than just direct sales revenue, brands looked to limited release products to capture hype; over 40% of the brands surveyed said they used the product drop tactic known to drive consumers into a frenzy. What's more, 29.5% of respondents listed brand awareness as the most important metric of success; only 24.6% listed revenue.
To go deeper, Modern Retail compiled a list of limited release products within food and beverage CPG categories released between January 2020 and November 2021, focusing on brands held by the top 10 CPG food and beverage companies based on annual revenue. We then sifted through 139 releases across 72 brands to analyze how they used limited-release strategies to court new cohorts and stay top of mind for loyalists.
Here's what we found:
Brands focus on three strategies and combine them to best fit the limited release product: Hero product iterations, seasonal (re)launches, and zeitgeist beneficiaries
Packaged snacks dominated the limited release food category setting the tone for the rest of the category
Sodas dominated the beverage space and, unsurprisingly, CocaCola and Pepsi led the pack
Within the the food category, dessert products had the most different strategy
While in the beverage category, alcoholic and water brands used similar tactics
The strategic framework of "limited release"
Of the measured limited release product launches, companies gravitated toward three overarching – and occasionally overlapping – strategies:
Hero product iterations: This strategy was typically used by more mature brands as consumers had familiarity with the hero or flagship product, allowing subsequent iterations to draw heavily on customer loyalty and brand awareness. The strategy focuses on changing the hero product and remarketing it with different flavors or shapes. Hero product iterations work exceptionally well for companies looking to benefit from collaboration-style launches and who do not worry about the brand being diluted by the collaboration partner. The products that are derived from this strategy are often eye-catching, potentially awe-inspiring, but ultimately short-lived explosions – though hopefully contributing to long-term recognition from shorter-term buzz for the brand.
Seasonal (re)launches: This strategy focuses on flavors and colors that spark nostalgia or warm and tender feelings toward a holiday or time of year. Some common examples: pumpkin spice fall-flavored desserts and Valentine's day chocolates. Contrary to the other strategies, seasonal launches focus on generating revenue rather than buzz. This seasonal nature also contributes another clear point of difference from the other strategies: Unlike many other limited release products, these often have a cyclical nature, relaunching every year – albeit with alterations to keep them current. Because of this, consumers can come to expect and anticipate them.
Zeitgeist beneficiaries: This strategy leans more into cultural cachet or hype, often allowing a brand to ride the coattails of wildly popular people, properties or trends. As a result, the focus is heavily on driving brand awareness – often in the form of reaching new audiences and markets. Being a Zeitgeist beneficiary is a favorable approach for brands that want to create short-lived limited release products that tap into the fervor of built-in fanbases.
Brands used the three strategies both separately and in combination with each other. For example, we often saw seasonal iterations of a brand's hero product that leveraged both the seasonal nostalgia and strong brand loyalty, and many Zeitgeist beneficiaries were reskinned hero products. On the other hand, some limited release seasonal products were new inventions, not based on the bedrock of a hero product, and some hero product iterations were simply new, outrageous flavors with no attachment to seasonal or pop-cultural cues.
Ultimately, each of these strategies are not mutually exclusive, but have the ability to complement each other flexibly – making any attempt at a rigorous taxonomy more difficult.
Which product categories made most use of limited-release strategies?
Limited release launches were categorized into two initial groups: food and beverages. The launches were further categorized into non-seasonal and seasonal based launches. With the prevalence of seasonal (re)launches, it made sense to keep track of how many launches in each category adopted the strategy.
The food category had a total of 96 launches, 57% of them involving non-seasonal product launches (products unrelated to a season or holiday). This category was then further broken down further into the following subcategories: packaged snacks (defined as pre-packaged ready to eat chips or cookies), ice cream, cereal, dessert, dairy, canned, chocolate, candy, condiments and other.
The packaged snacks subcategory accounted for the majority of the limited edition launches in the food category. Mondelez actually had the most limited edition releases in both this subcategory and the overall food category – 92% of Mondelez's launches were packaged snacks products. Second to Mondelez in food category limited launches was General Mills, which had almost half (48%) of those launches in the dessert subcategory, standing as the main dessert limited product creator on our list.
Beverages had a more meager total of 43 launches. Similar to the food category, the majority of the category (63%) were non-seasonal product launches. The beverage category included the following subcategories: soda, alcohol, water, energy drink, milks (milk substitutes such as almond included), coffee, and tea.
Soda had the most limited launches in this category, followed by alcohol and water. Within the soda subcategory, Coca Cola and Pepsi made up the majority of the limited launches, each company separately representing 42% of limited release soda products. Both companies separately own 8 soda brands within their portfolio. While Coca Cola primarily focused on the beverage category, Pepsi had limited launches in both the beverage and food categories.
In the alcohol subcategory, our list primarily included beer companies. Among the limited edition beer products, Heineken and Anheuser-Busch were the obvious and expected leaders, with 42% and 37% of total launches respectively. The two companies primarily focused on non-seasonal launches, but seasonal launches are a well known tactic for smaller breweries and other brands – typically tied to fall and Oktoberfest. These were not covered in this study.
Packaged snacks focus on their bestsellers
Within the food category, packaged snacks had the highest volume of limited edition launches, being responsible for 46.88% of total limited release food launches – results comparable to the next seven subcategories combined, including ice cream, cereal, dessert, canned, dairy, chocolate and other. Brands in this subcategory focused their limited launches on one genre of products or a singular product line. The subcategory's strategy revolved around hero product iterations.
Packaged snacks represented 47% of the total limited release food launches
For example, Pringles focused its limited launches on creating their well-known chips in different flavor variations with a diversity of partners, including a Wendy's collaboration and a Halo collaboration. Pringles leveraged its own iconic product – it maintained the Pringle shape and only changed up the flavors – partnering with another relevant or culturally resonant brand to bolster its popularity. Doritos, a Pepsi company, similarly launched a Twisted Lime Doritos flavor and a solid black colored Dorito as different takes on its iconic hero product – though this showed that in lieu of a partner brand, sometimes novelty alone can be enough.
Companies that used this hero product iteration strategy typically limited their launches to categories where they had strong product representation for better economies of scale. Mondelez exemplified this case: With a portfolio of mostly packaged snacks, the company is far more likely to launch a new, limited flavor for one of its chip brands than spin up a new product type outside of its wheelhouse. While it might seem obvious that most companies would play to its product category strengths, Kraft Heinz had a handful of out-of-category limited release efforts, including a Kraft mac and cheese ice cream in partnership with ice cream company Van Leeuwen and a mustard-flavored wine from its Grey Poupon mustard brand.
Of the packaged snacks limited release launches, Mondelez-owned brands were responsible for more than half, with Oreos making up the highest proportion of those launches. Naturally, Oreos championed the hero product iteration strategy, pushing out different iterations of the Oreo cookie, such as its collaboration with Troll's the Movie and limited edition flavors like Tiramisu and ​​Salted Caramel Brownie.
In comparison to other brands, Oreo had a heavy emphasis on product-celebrity and product-culture collaborations, such as with video game company Pokemon; celebrity Lady Gaga; sports team Team USA Olympics; and fashion brand Supreme. The collaborations focused on emulating characteristics of the partnered celebrity or brand, such as color palette or logos. In these collaborations, the mold and/or coloring of the product was changed, but the base flavor typically remained the same allowing the company to quickly create new visually different limited release products.
The Mondelez company also created product-product collaborations that combined two products to create a new flavor palette. Chips Ahoy, another Mondelez brand, employed product-product collaborations with Hershey's and Reese's. Chips Ahoy also partnered internally with another Mondelez brand, Sour Patch, for a similar affect. Lay's, a Pepsi brand, also created internal collaborations by combining different brands' hero products, as seen in its Lay's Doritos Cool Ranch Flavor & Lay's Funyon Flavor. The strategy in particular allows companies to drive a high volume of limited edition collaborations though it does not allow for too much difference between the limited edition products and the standard versions. Then again, flavor alone can be a huge differentiator.
Desserts favor seasonal launches
While the majority of limited edition launches across categories, regardless of food or beverage, focused on non-seasonal launches (such as Ben & Jerry's Totally Unbaked flavor as part of its routine limited batch releases) the desserts subcategory, including cakes or ready-to-bake products (different from sweet packaged snacks that do not have to be baked), inordinately employed a seasonal focus: About 79% of the collected dessert launches fell into the seasonal category. These seasonal launches are often annual, with many flavors reoccurring — Pumpkin Spice being the most notorious example.
While non-seasonal limited-release launches are typically unattached to a recurring event or holiday, seasonal (re)launches embrace the calendar — and, along with it, consumers' nostalgia for certain times of year — with festive products available for a limited time. Customers come to anticipate these products that customers expect and have higher intentions of buying. The graph below shows the seasonal surge of Google search volume for holiday flavors and indicates customers seeking out these flavors during the season.
The strategy was on grandest display specifically within the dessert subcategory. Many limited edition dessert products were launched in the fourth quarter – a higher spending time period for CPG – with a focus on seasonal flavors that appeal to the customers' idea of the holiday season. The dessert seasonal flavors are more heavily relegated to fall and winter seasons, as evidenced by the proliferation of pumpkin spice and even hot chocolate options and a dearth of spring and summer flavors, such as Easter-egg-themed limited launches or s'mores flavors for Fourth of July. But those warmer seasons aren't completely ignored: For example, General Mill brand, Betty Crocker, launched Spring Seasonal Baking Sets.
Still, the fall-winter span is primetime for limited releases within the category. Pilsbury, another General Mills brand, was a main player with a heavy focus on fall and winter. In 2021 alone, it launched five new fall flavors and products: Pumpkin Sugar Cookies, Ghost Sugar Cookies, Salted Caramel Cookies, Pumpkin Cream Cheese Cookies, Pumpkin Spice Rolls. The brand also prominently features a "Holidays+Celebrations" option on its main menu bar with recipes categorized by holiday to further leverage its seasonal appeal.
Alongside the aforementioned Betty Crocker and Pilsbury limited edition dessert category launches, General Mills also utilizes this strategy within its cereal category with Cinnamon Toast Crunch releasing a sugar cookie flavor in winter and Cheerios unveiling a pumpkin spice flavor for fall.
In the case of General Mills, demand for holiday products like refrigerated dough, frozen baked goods and baking products increases in Q4. Just the final week of 2020 — notably the week between Christmas and New Year's — contributed 2% of net sales growth for the company, showing the importance of the seasonal (re)launch strategy. Contrary to the other strategies, this tactic seems to focus on generating revenue rather than buzz.
Brands also layered the seasonal (re)launch strategy with hero product iterations. Oreos, the majority holder of limited launches for packaged snacks, featured seasonal and holiday launches of its mainstay Oreo cookie. Like General Mills, the Oreo brand featured seasonal flavors, such as gingerbread, or, more closely to its collaboration style, visual changes, such as Halloween packaging. Instead of siloing into just their main hero product iteration, brands have layered the strategies together to create stronger products.
Sodas create new cultural touchpoints
Soda makes up the majority of limited-release beverage launches, with it representing 48% of all limited release launches in the study. Along with dominating the category, the soda subcategory combined different strategies. Pepsi's Peeps flavored soda, a seasonal and a hero product iteration, is a clear — if questionable — example of taking a hero product and altering it for a limited seasonal spring time release.
While the category uses both the hero product iteration and seasonal (re)launch strategy to create new limited release products, they also utilized the zeitgeist beneficiaries strategy, as the category focused on hype creation and following trends. The strategy makes most sense for the soda brands that wanted to create short-lived limited release products to court new consumers for their main product assortment through the attention generated.
CocaCola was a heavy user of the zeitgeist beneficiaries strategy, going so far as to adopt a wartime mentality with its "100-days" sales initiative, an initiative where the CocaCola focused on product innovation to boost brand awareness and sales. Launched in January 2020 and lasting into April, the push resulted in several new products launching between New Year's Day and Easter and helped drive an increase in total sales by more than $120 million compared to 2019 to surpass $4.9 billion. This included limited edition promotions that were culturally relevant such as Sprite Ginger, which was paired with a limited edition clothing line, and Coke Energy, resulting in positive growth across the stills drink subcategory and its ready-to-drink coffee portfolio.
Sprite Ginger in particular heavily utilised the zeitgeist beneficiaries strategy by partnering with emerging hip-hop artists on its "Thirst for Yours" omnichannel marketing campaign to resonate with Coca-Cola's core consumer target of 13-24 year-olds.
After the 100 days initiative, CocaCola also launched two limited edition products: cinnamon flavored Coke and three coffee flavored Cokes. Both launches were iterations of the company's iconic Coke soda and featured new flavors and packaging and leaned more toward the hero product iteration strategy.
Pepsi, meanwhile, released a hot cocoa flavor and the aforementioned Peeps flavor. Pepsi's cocoa flavor falls into the hero product iteration strategy, but its Peeps collaboration leans more toward culture creation, with the company trying to generate a cultural moment by sending the collaboration product to customers for free through social media.

Pepsi also created a cultural touchstone with Mountain Dew's Mount VooDew product. Originally a discontinued seasonal product, the limited release version of its standard hero product was brought back again due to popular customer demand. Originally a Halloween release, Mountain Dew launched its 2021 iteration of VooDew in the summer and focused on the popular culture surrounding the product, transitioning it to a zeitgeist beneficiaries strategy for its return release. The two soda brands relied heavily on their product recognition and created new flavors and packaging for each of its main sodas by combining the three strategies: hero product iterations, seasonal (re)launches and zeitgeist beneficiaries.
Beer and water brands rely on packaging changes
Within the beverage category, alcohol ranked second to soda at 16% of all limited release beverage launches. Companies that focused primarily on alcohol — primarily beer in this study — focused on adding long-term, evergreen products to its set from 2020 to 2021 as opposed to a high volume of limited releases. For example, in 2020, AnnAnheuser-Busch InBev innovated on its most well-known brands and launched Bud Light Seltzer and Michelob ULTRA (hard seltzer and lite), which helped the company grow its seltzer portfolio at double the rate of the industry, according to its annual report.
Michelob ULTRA, was the second-highest selling beer in the United States after Bud Light and, according to IRI, it was the beer industry's largest gainer of market share in 2020. Heinnekin also provided a variation on its famous beer with a lower ABV version called Heineken® Silver, which saw double-digit sales growth in East Asian markets such as Vietnam and China.
But while legal barriers to alcohol distribution can make it difficult to fully embrace limited-release strategies, such as state laws that prevent beer from being sold at certain locations or that require third-party companies to handle distribution, certain beer companies did manage to launch limited release products on a nationwide scale. Most often, they focused on the lower-touch tactic of packaging changes to hero products, as seen with Heineken's limited edition UEFA bottle and Budweiser's holiday packaging for Memorial Day, the holidays in 2020 and 2021 and Veterans Day.
Similarly, water product launches ranked third in the beverage category with 12% of limited release products, employing a form of the zeitgeist beneficiaries strategy with limited edition packaging collaborations with artists, celebrities and other cultural figures. Both Evian and Perrier collaborated with well known artists and designers to launch limited edition packaging, including Evian with Virgil Abloh and Perrier with Murakami.
In the study, alcohol was represented by two beer companies: Anheuser-Busch InBev and Heineken Holding NV. Other alcohol launches on our list were one-offs from non-alcohol brands such as the aforementioned Grey Poupon wine. While beer brands do often employ seasonal approaches to limited release products, like Oktoberfest and pumpkin variants in the fall, none appeared in this analysis of the top 10 food and beverage CPG companies.
However, a standout brand in the alcohol category that broke that format is Heineken-owned Lagunitas, which launched experimental limited edition flavors. Lagunitas either used specific ingredients, such as coffee, special grains from a particular harvest, similar to how wines have years for their vintage – as with its Contents Under Fresher flavor – or combined a variety of different ingredients, such as hops from different regions, like in the Stereohopic series: Vol 1, Vol 2, Vol 3.
CPG brands strategy layering and formats
The three main strategies – hero product iterations, seasonal (re)launch and zeitgeist beneficiaries – do not always operate in silos. Many companies and brands layer them together. How the strategies are used with other formats changes the impact and nature of the limited release product. Of the previous cases, limited releases that incorporated collaborations, cultural, celebrity and other products, typically focused on big impact. Collaborations focus on a one time and brief product rather than a recurring product – akin to a supernova: attention grabbing, brief and unplanned. On the other hand, seasonal limited release products tend to focus on anticipation. They follow a cyclical nature, where customers understand that the product will reappear for a limited time and, as a result, builds anticipation for the specific time period – more similar to solar eclipses: predictable, but still exciting. While both formats can use any of the three main strategies, the way customers view the product greatly differs.
Along with the previous cases, Modern Retail has selected three case studies to focus on how different brands approach creating limited release products and the customer reception to them.
03
Case Study: Pringle's Moa Burger Flavor in collaboration with video game, Halo
In March 2021, Pringles released a "Moa Burger" flavored product based on a fictional ostrich-like animal called a Moa from the Halo video game series. In line with its brand strategy to stay relevant to and authentic with its customers, Pringles wanted to tap into Halo's highly engaged, loyal and – at least on social media – larger customer base. The flavor's launch was timed to coincide with the planned release of the highly-anticipated Halo Infinite in late 2020. While the game release was postponed to November 2021, Pringles benefited as gamers' hype continued to build. As a result, the product was a huge hit given the hype it generated online.
Pringles wanted to tap into Halo's highly engaged, loyal and – at least on social media – larger customer base.
The limited collaboration product played to both the hero product iteration and zeitgeist beneficiary strategies, as it used Pringles main staple chip product and leaned into the popularity of Halo's newest game.
As the Halo fanbase impatiently awaited the new installment, Pringles made it possible for them to taste a piece of the video game world. The flavor presents a blend of garlic, sweet ginger and savory beef, and tries to answer a question Halo fans have apparently been asking for a while: What would a burger made of Moas taste like?
Here's a look at the scale of the audience Pringles was aiming for with this move:
Reach (the Halo's fifth installment) made $200 million, and it went on to sell 300 million units in its first month in the U.S., making it one of the more successful in the series.
Prior to Halo Infinite's release, the series had sold over 81 million copies of the game.
After Infinite's release, the game currently ranks #3 on Amazon's best selling Xbox games.
An average of 6,000 to 10,000 users per month are playing Halo live on Steam alone, with a highest all-time peak of 93,000+ users, which constitutes one of the most engaged video game audiences out there.
The majority of video gamers in the U.S. are between the ages of 10 – 34 years old, with 20% under the age of 18 and 34% between 18 and 34. And while Pringles' target market is children to 40-year olds, it focuses mainly on the 10-25 year age range. Therefore, coordinating timing of a limited release product's launch with a highly anticipated video game launch is a great strategy for a CPG product launch aimed at the same demographic.
To spread the word, Pringles focused on activating social media platforms to promote its collaboration with Halo. In line with the relative difference in its followings, the Halo accounts played a far more significant role in the activation than the Pringles ones. The @halo handles on Twitter and Instagram have 1.6 million and 1.4 million followers, respectively, versus @pringles with 466,000 and 665,000. Knowing the difference in followership on social platforms between Pringles and Halo, the collaboration focused more heavily on Halo's ability to connect with its players about the collaboration.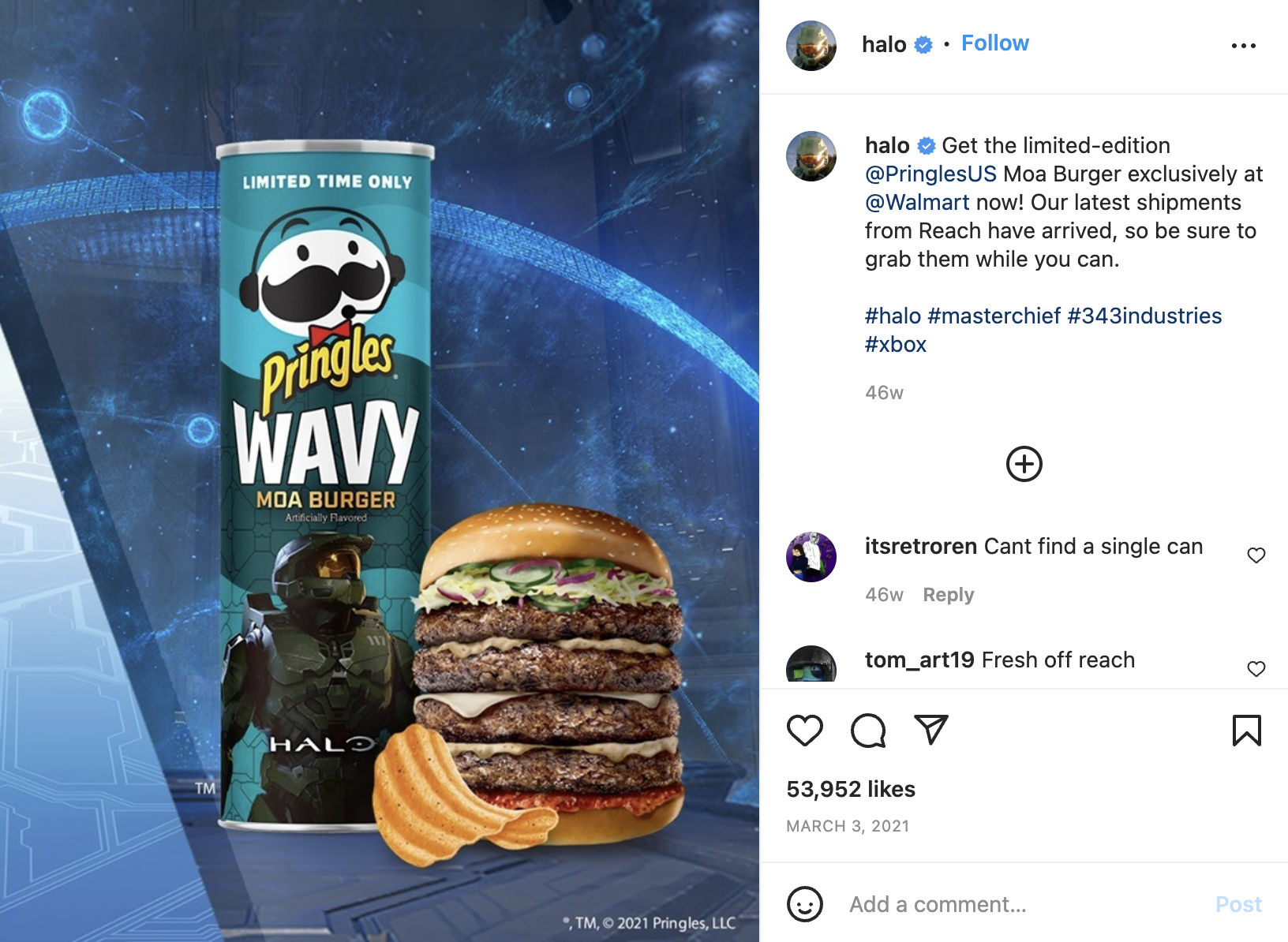 Halo fans heeded the call and started stocking up on the limited edition chips. Multiple ongoing Reddit threads have popped up since the release, discussing the flavor and availability of the chips. Meanwhile, its resale value exploded. Available until the end of the year only at Walmart (online and in-stores), the original price of the 4.8 oz pack was set at $1.67. But once it became difficult to find in stores or in stock, its value on third-party marketplaces surged: It currently stands at $15.99 on Walmart Marketplace, $12.33 for a 2-pack on Amazon and $3.99-$6.99 on Ebay.
In anticipation of the launch of Halo Infinite, Pringles set up a dedicated landing page for the collaboration and acted as a countdown for the release of the game. After the release of the game, the landing page updated to provide more media distribution. Pringles and Halo worked with gaming influencers to create sponsored livestreams and featured them on the landing page. Pringles also created a campaign on the landing page focused on "snack spots": a safe space mid-game where the user can take a break and eat a snack (presumably Pringles). Post-release of the game, the brands announced on the landing page an in-game reward of double XP (experience points) with the purchase of Pringles (and other participating Kellogg brands) products. Pringles delved heavily into the world and zeitgeist surrounding Halo to promote the collaboration.
Both brands are not new to collaboration; Pringles partnered with Wendy's in 2021 and in 2020, Halo collaborated with Monster Energy drinks and Butterfingers. But this collaboration highlighted each of the partners' strengths. For Pringles, it flexed its product creation expertise and retailer partnerships. The brand is able to quickly turn around new flavors and concepts quickly rooted in consumer tastes and trends, as seen in the number of limited edition flavors it has released in just the past year alone: Pecan Pie, Cinnamon Sugar, Dill Pickle and Pineapple Habanero.
On the opposite side, Halo makes up for Pringles' weakness with its strong customer loyalty, large popularity, and fan engagement. By bringing to life a flavor unique to the game, the collaboration successfully draws Halo's highly engaged players to the perfectly engineered product.
04
Case Study: Chobani's #SwitchTheChobaniFlip challenge only on TikTok reaches Gen-Z
On January 25, 2021, Chobani dropped a new, limited edition yogurt product of its Chobani Cookie Dough flavor. This limited edition version, called the Chobani Flip Cookie Dough, flipped the ratio and positioning of the yogurt and toppings, putting the yogurt in the smaller compartment and the topping in the bigger compartment; the limited launch was aptly timed to celebrate Opposite Day. The catch: Only 25 people could win the product through a TikTok challenge.
Chobani dubbed the promotion #SwitchTheChobaniFlip as a play on the product's name, and entry into the sweepstakes to receive the product required users to create a TikTok video of themselves to the tune of Missy Elliot's song "Work It" that used the hashtag #SwitchTheChobaniFlip. While not required by Chobani, typically videos featured the user dancing to the song and featured a Chobani product. At the end of the promotion period on March 1, 25 winners were randomly selected — limited to U.S. participants only.
In crafting #SwitchTheChobaniFlip, Chobani was also taking notes from a viral 2020 TikTok dance challenge called #fliptheswitch, where typically two users would video themselves dancing to Drake's song "Nonstop," and after the lyric "I just flipped the switch", the two users would switch spots in the video. The hashtag #fliptheswitch was viewed by over 7 billion people after celebrities jumped in on the trend; the #fliptheswitch challenge also has over 100,000 views on Instagram. Piggybacking off this organic trend and utilizing the zeitgeist beneficiary strategy, Chobani was able to introduce a familiar concept to audiences in a branded context and benefit from its popularity online.
By the end of Chobani's promotion period, the campaign was a huge success, garnering 2.6 billions views. And though the official campaign may be over, it spurred organic user-generated evergreen videos that continue to rack up views. In fact, as of November 2021, engagement with the hashtag has increased to 8.2 billion views on Tiktok.
Following the success of the promotion, the term "Chobani" was already increasing in Google search volume but saw an additional bump in volume from the campaign, reaching its highest level of interest in the measured time period (indexed at 100) in February 2021. This interest has been largely maintained since then, again peaking in September 2021. The success of the TikTok strategy contributed to increasing brand awareness across multiple platforms including Google search.
This wasn't Chobani's first foray into participatory social marketing. In September of 2020, the brand released a series of interactive Instagram stories to spotlight its Chobani Complete line, a lactose-free yogurt drink. The Chobani Complete campaign allowed users to solve puzzles on Instagram, playing on the product line's slogan: "Advanced, lactose-free yogurt that solves the nutrition puzzle."
While Chobani is currently the market leader in yogurt sales, with 45% of Americans consuming it in 2020, the brand is investing in social media platforms like TikTok and Instagram to cement its status with a new Gen-Z audience. According to Eddie Revis, the vp of marketing and media at Chobani, "TikTok is now on our radar as a way to engage with that community." The platform has 1 billion monthly active users globally and over 40% of users are in their teens or 20s. Chobani was able to hone in on a new demographic with its strategic choice of social platforms and utilized the features and behaviors available on them, and its success has led Chobani to replicate the zeitgeist strategy more actively.
"TikTok is now on our radar as a way to engage with that community."

Eddie Revis, Chobani's vp of marketing and media
Shortly after the TikTok campaign, the company extended the Chobani Flip product line to include another limited edition flavor: Chewy Churros. But with the hype already built by the previous campaign, this new limited edition flavor was a standard release in stores and online without a massive social media push. The cookie dough flavor was available for purchase after the campaign, but not the limited edition TikTok version and only the standard version with the larger yogurt compartment.
Chobani also recently partnered with Peloton instructor, Cody Rigsby, to launch a new limited edition revamp of its aforementioned Chobani Complete drink. Both the Chobani Flip and Complete lines followed a similar marketing strategy using interactive social media campaigns to highlight a limited flavor, then releasing those products — and additional flavors — in stores to capitalize on the hype.
05
Case Study: Campbell gets into the NFT game with limited-edition brand art
After delivering exceptional financial performance in 2020, with a 7% growth in net sales driven by an increase in demand for at-home cooking, Campbell Soup Company started seeing a decline in its revenue in 2021. This followed a shift in consumer consumption habits as Covid-related lockdowns began to ease and restaurants started opening back up – diminishing the appeal of easily storable canned goods. The company's second-quarter 2021 revenue was $1.873 billion, seeing a 11.15% decline compared with the second quarter of 2020. Third-quarter 2021 saw net sales decline even further, dropping another 11% but still increased 5% versus the comparable 2019 period. Overall, net sales decreased 2% year-over-year for Campbell Soup Company in 2021.
However, in the face of the general decline in 2021, Campbell's U.S. soup division actually increased by 2.7 points among millennials, according to first-quarter 2021 quarterly results, signalling an opportunity. So what did Campbell's do to counter declining sales and grab the attention of this growing segment? It got into the NFT game to remind customers of its most iconic brand images. In July 2021, Campbell Soup Company jumped into the limited-edition game, not with a CPG product launch, but with a digital product art drop geared toward increasing brand awareness.
In 1962, Andy Warhol appropriated the brand's design to create his famous Campbell's Soup Cans artwork. Warhol painted Campbell's soup cans and printed the images on 32 canvases, revisiting this project across three phases of his life. These images became synonymous with Warhol's art and are an iconic symbol of 60s-era U.S. culture. With the rise of NFT sales, generally associated with iconic images, pieces of art or even news articles, Campbell Soup Company brought this cultural weight to bear on a new audience in a new way. The company is selling a 100-piece digital collection of redesigned label art, including 2 GIFs that use the well-known red and white labels.
Rather than Warhol, this art is designed by Sophia Chang, a street artist popular with younger audiences. The 100-piece NFT limited-edition collection, titled "AmeriCANa — Sophia Chang X Campbell's," went on sale on July 27 on online platforms NTWRK and OpenSea. But let's take a step back and explain: what are NFTs?
NFTs are non-fungible tokens that act as a non-duplicable digital certificate of ownership for any assigned digital asset. These are built using blockchain technology, and an NFT's value is based on how well received the item is by the people who are willing to buy it, usually using cryptocurrencies like ETH. Once an NFT is purchased, the owner has the digital rights to resell, distribute or license the digital asset as they please. NFT creators also have the opportunity to earn royalties off of future reselling transactions. (Read more about how NFTs work here.) NFTs and cryptocurrency have generally attracted a younger audience and unique NFT pieces are "dropped" on online platforms like NTWRK, the way limited-edition products or new singles are dropped in the market, increasing their appeal to particular consumer groups.
NTWRK is a livestreaming shopping platform with a user base that skews toward millennials and Gen-Z. The mobile-first marketplace is emphasizing content and featuring talent that appeals to the streetwear community, making it ideal for Campbell's NFT drop. Given the nature of the products that appear on NTWRK's platform, there are often limited quantities of each item available, playing into the "drop model." According to NTWRK's president Moksha Fitzgibbon, the drop model is effective because "that demand generation that leads into it and comes out of it drives a lot of marketing value for not just our platform, but for all of the partners involved." And in this case, Campbell Soup Company's NFT drop has seen similar demand on the OpenSea platform, where NTWRK auctioned the collection. OpenSea brands itself as the largest NFT marketplace around; it is decentralized and used for buying, selling and trading of NFTs.
The demand for NFTs has skyrocketed in 2021, as seen in the Google Trends graph below, interest in NFTs has been increasing since the beginning of 2021, reaching its peak level of interest (indexed at 100) by December 2021. According to a 2021 survey, NFT ownership has an equal spread between two groups, 18-34 year olds and 35-44 year olds, with both groups having 22% ownership of NFTs. According to a recent Morning Consult poll, millennials are much more likely to purchase NFTs and invest in collectors' items as compared to Gen-Z. NFTs of digital art pieces can sell for as high as $69 million on auction and generate large amounts of press in the process, making it a win-win for brands like Campbell's which have been turned into famous artworks.
Campbell's NFT collection can now be repurchased on OpenSea, one of the most popular NFT marketplaces around, originally listed there by NTWRK until February 20th, 2022. The art pieces in the collection are selling at around 0.39 ETH (Ethereum, equaling $1,283.38 at time of writing – ETH and cryptocurrencies in general fluctuate greatly in price), which is considered above the average price per NFT for art sales on the platform. The collection has 70 owners so far who have relisted it for sale. As of writing, the listing has 900+ views and 70+ favorites, and it's all-time average price is 0.0982 ETH (roughly equals $322. Its average price has increased from a low of 0.05 ETH (~$164) to a peak of 0.55 ETH (~$1800) in September 2021, which shows its popularity and high resale value.
One Campbell Soup Company's GIF is also listed on OpenSea at the high price of 1,000 ETH, which roughly equals about $3,000,000 (depending on cryptocurrency price changes). Compared to other companies offering similar NFTs, Campbell's has not reached as many people but has a higher price listing; for instance, a Coca Cola GIF NFT was also launched around the same time as Campbell's and has garnered 33K+ views and 500+ favorites, while a single Campbells GIF NFT has only 450+ Views and 13 favorites on the listing. For further context, most popular collectible and art items on OpenSea at any one time can be priced as from 74ETH/item to as high as 100,000,000,000,000 ETH/item at a time, for example art pieces in the Bored Ape Yacht Club collection.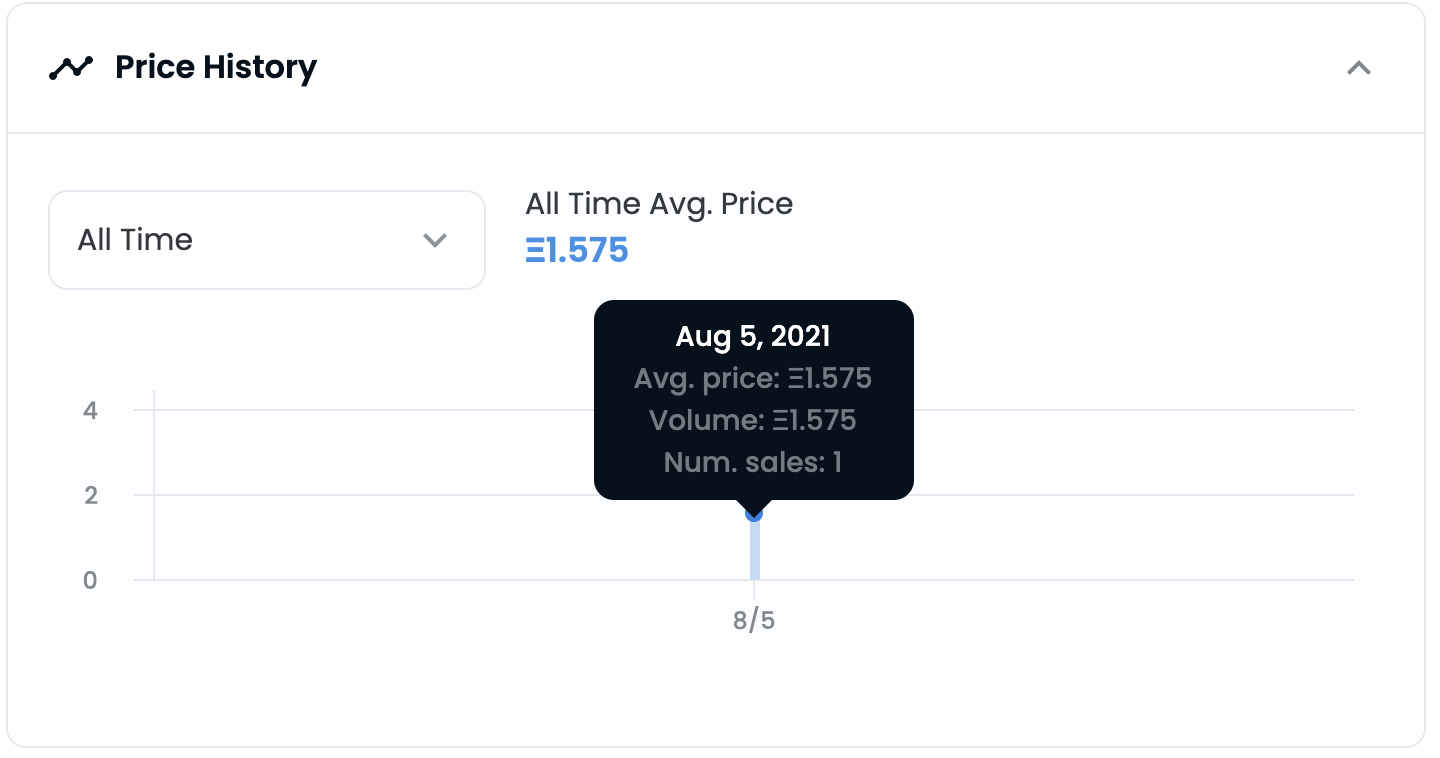 Given the high prices and popularity of digital artwork sales as NFTs, it's no wonder that more and more brands are jumping in on the trend. For instance, apart from Coca Cola, companies such as Dolce and Gabbana, Warner Brothers and Budweiser have all recently launched their own NFT collections. Marketers at brewing company Anheuser Busch InBev listed virtual horse racing NFT sales, allowing bidders to compete in auctions to win a virtual horse as well as a Stella Artois-branded skin and an art piece in the style of the brand. Alcohol-selling companies in fact, are getting in on the NFT game big-time and a dedicated spirits-specific NFT trading marketplace called "BlockBar" has already launched. Attention through innovation is the name of the game, as these brands find ways to appeal to younger audiences on these platforms.
"Brands are clamoring for NFTs."

Alanna Roazzi-Laforet
"Brands are clamoring for NFTs," said Alanna Roazzi-Laforet, publisher and CRO of cryptocurrency publisher Decrypt. "We are fielding a myriad of requests and will soon be launching a solution to assist our marketing partners in navigating the NFT and more importantly, the digital asset space." In the first quarter of 2021, NFTs generated transactions worth more than $1.5 billion showing a 2,627% growth from just the previous quarter. NFTs of digital art pieces can sell for as high as $69 million on auction and generate large amounts of press in the process, making it a win-win for brands like Campbell's which have been turned into famous artworks.
Although not a typical limited release product, Campbell's strategy follows the
zeitgeist beneficiaries strategy as it leans into the fervor behind NFTs to reach a younger audience. Whether this strategy works out for Campbell Soup Company will only begin to be apparent when its year-end financial results come in. For now, the 100-piece limited NFT art collection has generated a buzz amongst its target audience and reminded its consumers once again of the brand's iconic status in American culture.
As lockdown regulations continue to ebb around the world, the surge in at-home consumption has started to stagnate. According to a McKinsey report, by mid-2021, consumer spending was on track to fall by 20% in Europe and the United States, and almost 20% of consumers had switched from preferred brands and retailers to new ones. Given the continued record rise in inflation, prices for CPG food and beverage products are likely to climb higher in 2022, which could drive sales volume down by 1% to 5% compared with 2021. And while the extreme 2020 increase in demand for CPG products online might have tapered off, 43% of consumers say they plan to continue shopping for groceries online post-pandemic.
According to IRI, online grocery shopping will continue to grow — particularly for major grocery chains – to an estimated 12-13% of total sales; in 2021 alone, e-commerce edible product sales made up an estimated 11.2% or $66.3 billion of omnichannel edible product sales. CPG companies which can cater to these digital forms of demand are likely to win more market share moving forward. And with consumers spending more and more time online – including in emerging virtual environments – CPG marketing will have to make a similar digital pivot. No wonder this has resulted in an increase in limited release products driven by hype and catering to impulse buying.
As demonstrated in this report, limited-release product launches aim to create excitement around everyday items by elevating them to limited-time experiences. But an important part of this marketing strategy is to make these products easily available online, setting time limits on sales and potentially partnering with well-known personalities, properties or other brands to expand appeal to new consumer communities. In the face of increased competition from niche, focused DTC brands, this playbook is proving to have potential for CPG giants and new entrants alike as more and more shopping and product discovery happens on a crowded web.