Podcasts
// November 18, 2021 ■ 4 min read
'It's not a blank canvas': Teva's Anders Bergstrom on how the sandals brand capitalized on recent fashion trends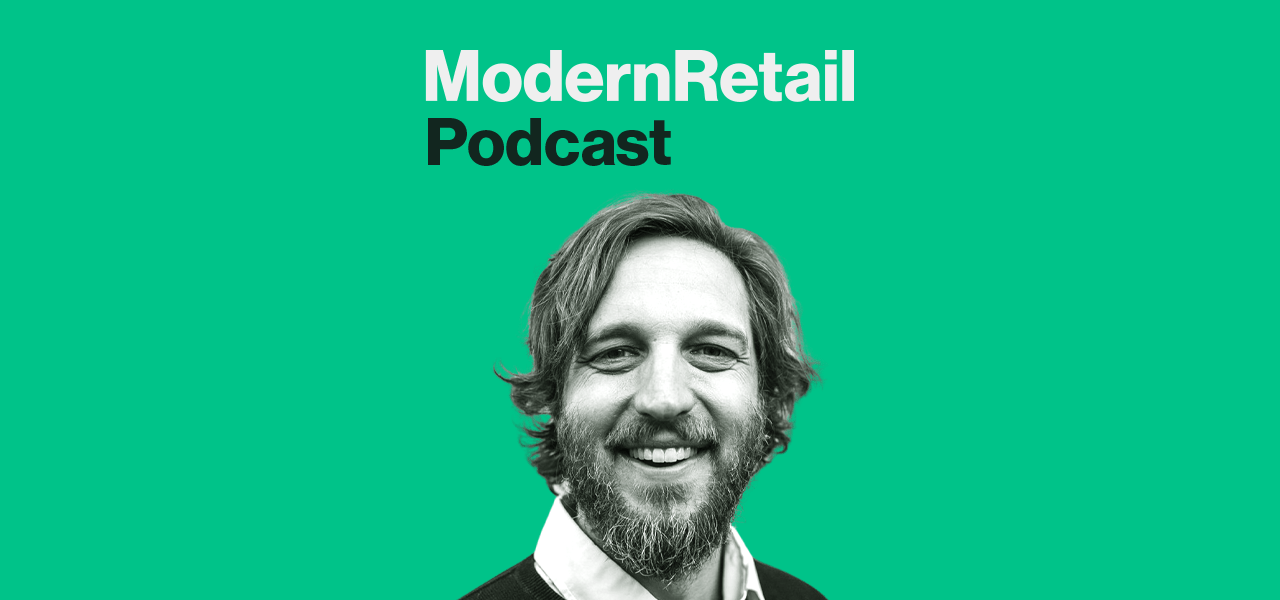 Subscribe: Apple Podcasts | Stitcher | Google Play | Spotify | RSS
It's a good time to be an outdoor apparel brand.
According to NPD Group, outdoorwear sales are up 45% this year, and some brands have been able to dominate this growing fervor. Teva, the shoe brand known for its velcro strapped sandal, has seen sales grow. In the '80s, when the sandals first hit the market, Teva was the leader in the space. Then, after a couple decades of dominance, fervor died down, as other competitors like Chacos and Keens began to encroach on its territory. But over the last three years the company has been focused on reemerging as a footwear leader.
"In short order," said Anders Bergstrom, Teva's global general manager, "we've retaken the number one position in sport sandals."
Bergstrom joined the Modern Retail Podcast and spoke about how he's been handling all the curveballs thrown over the last few years. Teva — which is pronounced 'teh-vah,' not 'tee-vah' — has been around since 1985. "The idea — the notion — of a sport sandal did not exist until 1985," said Bergstrom. Teva, he explained, was the first of its kind. "What Teva did was introduce an active component to the sandal category in a way that had not been done before," he said.
That has been the North Star for the brand — and it's long been associated with its well-known classic style. But the brand has been staying relevant with new styles and even brand collaborations. Some partnerships include the singer Jhené Like, Outdoor Voices and Cotpaxi. "The sport sandal itself is so iconic — it's so unusual — that, for lack of a better term, collab partners just have a field day tweaking it," said Bergstrom. "It's not a blank canvas — it is just a number of straps that are attached to a midsole."
What also has kept Teva relevant of late is the fact that a certain type of outdoor apparel has become quite fashionable. What some describe gorpcore — which includes outdoor classics like Patagonia vests and hiking boots — has become all the rage in New York fashion circles. Said Bergstrom, the way to know a fashion trend is on the horizon is to look at what's going on in Japan. "What we call gorpcore is really just the way people in Tokyo dress, said Bergstrom. "It's really fascinating."
He went on to explain how this has led to a new apparel adage. "If we ever have a question about whether a product is going to work or not, [ask] can you see it on the streets of Tokyo?"
Here are a few highlights from the conversation, which have been lightly edited for clarity.
How Teva reclaimed its number one spot
"Teva in particular has had a very interesting past few years with respect to sport sandals. In 1985, Teva created the category and led it globally until sometime around 2005, when Teva did not lead the category anymore. And, when a brand is not in a position of strength and leadership in its home category, that's a brand that is in trouble. This is just an immutable law of brand building — you have to be good at what you're known for. About three years ago, we re-dedicated ourselves to building core product authenticity, reconnected with the foundational moments of the Grand Canyon and the performance and design attributes that could be derived from that. And in short order, we've retaken the number one position in sports sandals in the U.S. To me — in a big picture, what's going on with the category — it's something that I'm exceptionally proud of."
On the rise of gorpcore
"I think the mainstream adoption — or call it the style identity adoption — of outdoor brands into streetwear and fashion is… coming back in a way in the U.S. that maybe is disruptive and new. We're lucky to have a really strong position in Japan — Teva has been the number one sport sandal in Japan for a decade. And in Japan, Teva is seen as a wardrobe staple because it offers this modern outdoor lifestyle. What we call gorpcore is really just the way people in Tokyo dress. It's really fascinating. And I was talking about this with the GM in Japan the other night. We just need to go back to: if we ever have a question about whether a product is going to work or not, [ask] can you see it on the streets of Tokyo?"
Teva's approach to handling the supply chain crunch
"What are we doing to alleviate the [supply chain] pressure [is] whatever we can. The way I think about this right now is really on a leadership level — which is to help my team [and] my stakeholders understand what the root cause of all of this is. Some of it is factory capacity; some of it is Covid-related,; some of it is logistics; some of it is not enough containers and chassis and things like that. It's really multi-dimensional and hard to understand. In fact, I have an all hands this afternoon to talk about one level into the detail on our supply chain — where are we, what's moving. It's about understanding what you can control and accepting what you cannot control and working around it. "