Instant delivery service Jokr winds down U.S. delivery operations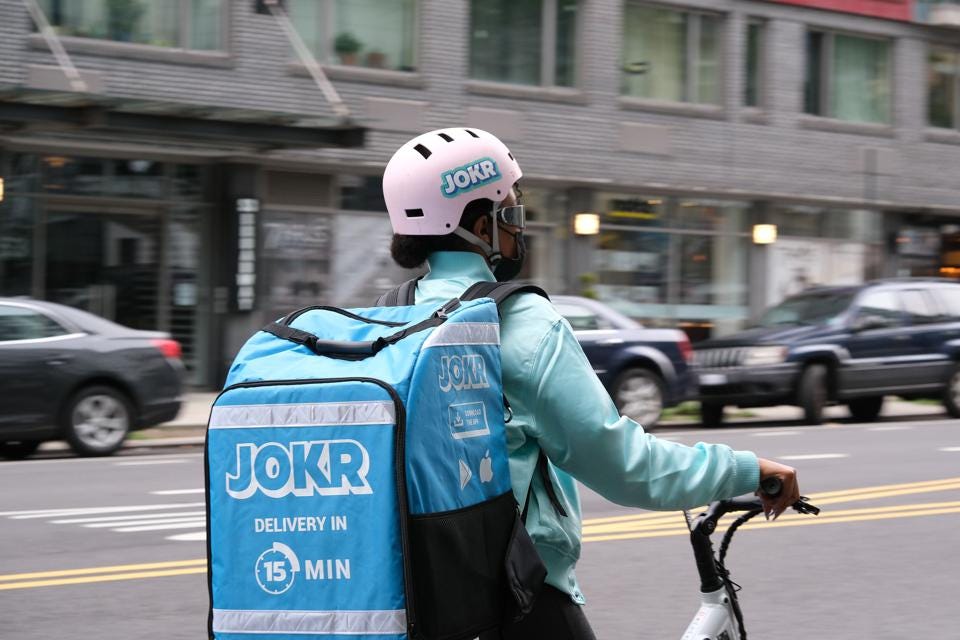 Jokr
Rapid delivery app Jokr is winding down its U.S. delivery operations. 
In an email sent to vendors and obtained by Modern Retail, the company notified brand partners of the "incredibly difficult decision we've made at Jokr," to shutter its U.S. delivery operations in Boston and New York City. The news was first reported by Bloomberg. 
"Effective today, we've decided to ramp down the U.S. operations and focus our efforts on our LATAM business." The last official day of the company's U.S. delivery operation will be June 24, per the note. "While we have made tremendous developments in building a sustainable operation in the U.S. in recent months, we continue to face a tumultuous, ever-changing macro environment," a Jokr director said in an email to impacted brands. 
Jokr said it was "able to create a loyal customer base of over 60,000" in Boston and New York City since launching a year ago. The company also noted that it will continue to focus on its Latin America operation, "which accounts for 90% of our business, and where there is a more clear path to profitability."
Modern Retail reached out to Jokr for comment but did not hear back as of press time.
In a statement to Bloomberg, Jokr CEO Ralf Wenzel said that the company decided to stop business activities in the U.S. "for now," leaving the door open to potential future expansion. Bloomberg also reported that Jokr will keep on some staff in the U.S., and is looking at selling or closing its remaining fulfillment centers.
The company launched in the U.S. during the summer of 2021, and has raised $430 million in venture capital to date. As part of the 15-minute delivery wave, Jokr competed with several startups for customers in large metro areas — including Gorillas, Getir and Gopuff. 
Jokr is the latest instant delivery service to shutter in recent months, highlighting the difficulties of scaling hyperlocal grocery delivery. The news follows the closing of Fridge No More and Russia-based Buyk earlier this year. 
In the past six months, the company announced plans to diversify revenue by launching an ad network. Last fall, it also attempted to get into the alcohol delivery space by offering local beer and wine delivery.