How travel brand Béis was able to grow during a pandemic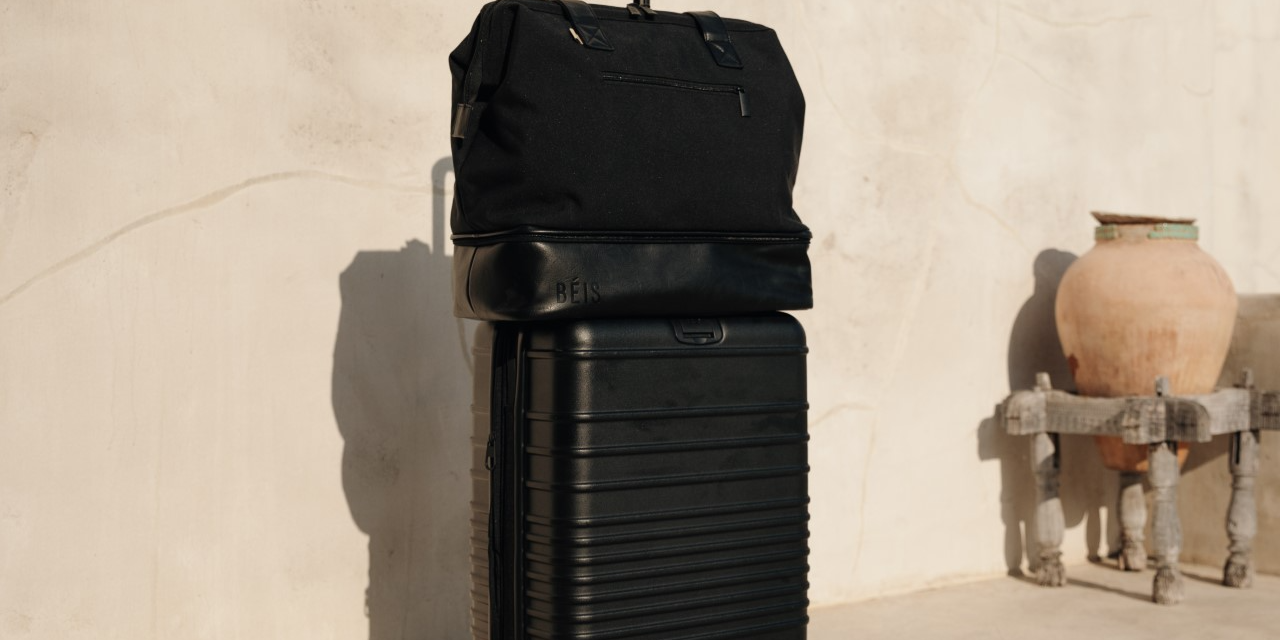 Béis
When the coronavirus pandemic hit in 2020, DTC luggage startups were among the hardest-hit brands.
Béis, founded by actress Shay Mitchell, launched in 2018 and has since quadrupled its business. Despite the pandemic, the company found ways to grow. Like other luggage brands, Béis stayed afloat by pivoting its product assortment and tweaking marketing campaigns.
Being an influencer-owned and operated brand gives Béis an edge in areas like building brand awareness, given Mitchell's built-in audience of over 30 million social followers. However, scaling the company in a couple of years also comes with several challenges, like balancing merchandising and navigating fluctuating demand during the coronavirus.
At the Modern Retail DTC Summit — held in New Orleans this week — Béis president Adeela Hussain Johnson and vp of brands and creative Liz Money discussed the startup's early-stage growing pains.
'We didn't want to be Away'
As a brand launched by a celebrity influencer, Béis tried to tap a different customer segment within the DTC luggage market, said Hussain Johnson. "Shay [Mitchell] was known for her 'Shaycations' on YouTube, so people trusted her expertise in this area," she explained.
Hussain Johnson added that when the company was founded in 2018, buying luggage online was still a novelty. "Brands like Away paved the way [for] creating a DTC channel for this category," she explained. Béis didn't want to be utilitarian, and instead targeted a fashion and price-conscious audience.
When the pandemic hit the U.S. in March 2020, Béis was still a nimble company at less than $20 million in revenue. Being an aspirational, travel-geared brand that saw tourism ground to a halt overnight "was scary," Hussain Johnson said.
"We scrapped our upcoming assortment, and pulled back heavily on core travel SKUs and repurposed dollars on our core products," she said – such as a hands-free bag solution for going on walks or socially-distanced gatherings.
Cut to today, Hussain Johnson said that Béis has bigger focus on day-to-day bags that stay true to the brand's highly functional and well-designed ethos. While Hussain Johnson said the Béis customer loves newness, "we now think about seasonal items that drive buzz." This is in contrast to when Béis was a younger brand and tried to consistently launch new SKUs every six to eight weeks.
As a company scales, constant newness isn't viable, said Hussain Johnson. "The operations and supply chain can't withstand it," she said. For instance, retail partners like Nordstrom and Revolve require large volume fulfillment, so we have to be more strategic. "We can't move the ship as fast anymore," she said.
Adjusting marketing to accommodate changing habits
When the pandemic hit, "we completely renovated our marketing," said Money, Béis' vp of brands and creative. In the past two years, the company has ventured into different categories, such as baby products and commuter-friendly bags. In turn, Béis' marketing material became more focused on day-to-day use and less so on vacations. This was a departure from its earlier jet-setting social media and paid advertising.
The inflection point also highlighted the pros and cons to a celebrity founder's business involvement, said Money. The trick is to utilize their role in effective ways. While Mitchell is currently hands-on in the product design and marketing campaign approvals, Money said the biggest challenge is for Béis is how to make the brand live past Mitchell, especially as Béis tries to reach customers in new channels who may not be as familiar with the actress.
Béis recently began using other influencers and models, instead of solely Mitchell herself, as a way to test out how that plays to the Béis audience. The company is also set to test more advertising channels this year, such as connected TV, podcasts and direct mail.
As the company grows, one of the challenges the brand faces is diversifying marketing efforts. "We can't be too heavily reliant on Shay, on social and paid media, or one product category. The downside of losing one of those is huge as you grow," said Hussain Johnson.