How the strawberry dress took over the internet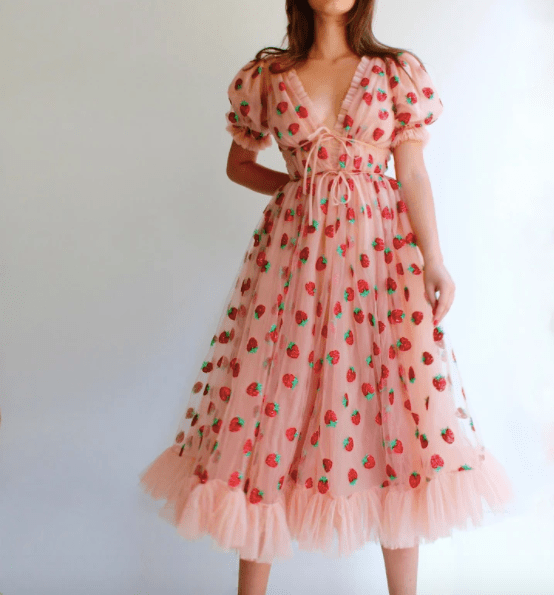 You probably won't remember the first time you see the strawberry dress online. But you might remember the tenth — or the 100th — time this $490 tulle and glitter creation, from the 22-year-old Kosovan designer Lirika Matoshi, tracks across your feed, via influencer accounts, memes and lush illustrations. 
This is how it was for Lauren MacRae, based in Edinburgh, Scotland, who first saw the dress advertised online. "I absolutely fell in love with it — and then the more people I saw on the Instagram feed, the more I wanted it for myself!" she said. "I even saved a photo of it as my phone wallpaper for a while, as motivation to buy it one day." She waited just under six weeks for the dress to arrive, as a present from her husband, then wore it for a backyard celebration for her 30th birthday. "It definitely helped make the day feel special, considering I felt like a princess for the whole day." 
In the space of a few months, the strawberry dress has all but taken on a life of its own online. First released in 2019, it was initially moderately successful, including being worn to the Grammys by the American model Tess Holliday in January 2020. But in the past weeks, it's become almost omnipresent in certain corners of the internet, as a meme.
In response to this sudden virality, Lirika Matoshi essentially did nothing, beyond sharing a few well-chosen pieces of content and allowing the meme to run rampant all by itself. For a brand prepared to ride the wave and submit to the forces of the internet, it's an extraordinary opportunity to connect with millions of people across almost every platform, at no charge. But it's also all but impossible to replicate, requiring an organic effort from content makers and huge pick-up from the general public. 
Though individual items of clothing have previously gone 'viral' in a certain sense, the strawberry dress has no obvious predecessor in terms of having become a meme on this scale. Roughly this time last year, a black and white spotted dress, retailing at Zara for £40 ($50), became ubiquitous as "the dress"; a few months earlier, the keyhole jumpsuit featured on the BBC Three show Fleabag had its own spate of popularity. The "Amazon coat" is yet another contender, with a designated Instagram account (@theamazoncoat) with more than 5,000 followers.
But the strawberry dress transcends them all. It's inspired memes across multiple social media platforms and different online niches. On Twitter, one iteration involves celebrities badly photoshopped into the dress, among them pop singer Harry Styles and the Lord of the Rings character Gollum. On Instagram, it inspires vivid anime renderings, depicted on characters of all genders, races, and even species. On TikTok, content creators post videos of themselves unboxing the dress (or cheaper imitations, which tend to disappoint), as well as their own DIY efforts. You can acquire a version of it on Animal Crossing. It's even inspired a pop song ("strawberry dress and a / smile restores me"), by the singer-songwriter Mxmtoon.
The designer's name generally doesn't feature in these memes — but it doesn't really seem to matter. Sales of the dress increased 1073% "compared to the same date period last month," Matoshi via her general manager, Ledri Mahmuti, told NBC News. (Matoshi did not respond to a request for comment.) 
"Usually, I would say, an item of clothing where it's not apparent who made it becoming a meme wouldn't necessarily have any payoff for the brand, because you couldn't immediately ascertain where it's from," said Rachel Bell de Navailles, a professional memer and content strategist. "But the strawberry dress has become so viral that those two words together now mean only that dress." 
The dress' virality has almost nothing to do with the company itself. While Lirika Matoshi did send the dress out to a handful of influencers and celebrities, some of whom posted photos of themselves wearing it in dreamy locations, the response appears to have surpassed these efforts. Instead, the fervor seems to have organically combined multiple trends — among them the billowy, dreamlike aesthetic of #cottagecore, the frills and froth of Japanese-inspired Lolita fashion and a current preoccupation in high-end fashion with fruit. (Gucci's 2020 pre-fall collection also prominently includes strawberries.)
Some of these memes are shared on the Lirika Matoshi website, further increasing the virality, as well as helping to connect the illustrations with their source. "Sharing some of the memes, that's only going to have a net positive impact on how they're perceived as a brand, because it says, 'yeah, we're in on the joke,'" said Bell de Navailles. More than that, the less the company addresses the virality of the dress — including not acknowledging the sub-$20 knockoffs that proliferate online — the less room there is to respond in a way that irritates consumers and harms the brand. "It's kind of a cool move," said Bell de Navailles. "Like, 'You could never replicate the actual thing, so keep doing it.'" 
More than that, the meme has allowed the designer to get reach of a sort a paid campaign could only dream of. An August 3 tweet featuring a picture of the dress, with the caption, "girls don't want boys girls want strawberry dress" was liked almost 200,000 times; on TikTok, videos tagged #strawberrydress have had 5.9 million cumulative views. 
Though not everyone will have clicked through to the designer's website from these memes, those who do may find themselves followed by the strawberry dress wherever they go.  "You see a viral meme for a brand, you click through to the website, and then for eight months you're going to see their ads on your Facebook feed or Instagram feed," said Bell de Navailles.  (A popular meme features Facebook CEO Mark Zuckerberg repeatedly reminding the user to "purchase the strawberry dress or be joined by the eternal screams of your entire bloodline.")
It's relatively unusual — and difficult — to successfully make memes part of your marketing. "The very idea of memes is that they are widely shareable and relevant to many people," said Bell de Navailles. Having a logo, watermark or some other kind of brand identity attached to it seems to make people less inclined to share it or play with it. While some companies, like the rental marketplace Flip, have actively produced memes as part of their marketing, others have simply left the door ajar to content creators, like the hard seltzer company White Claw, which has successfully traded off its internet irony.
At a time when no one has anywhere much to go, a handmade $500 party dress makes far less sense than other pandemic fashion trends (bike shorts, athleisure wear, grippy socks for at-home yoga.) But for the customers who buy it or make content inspired by it, it's a shot of pure joy, at a time when other sources of happiness are profoundly constricted. A good analogue might be Kate Spade's bestselling $348 yellow leather bag, in the shape of a six-inch pineapple. On a recent earnings call, CEO and brand president Liz Fraser drove home the importance of "happy prints," "iconic" status and "novelty" to the brand's success. When it came to the pineapple bag, she said, "She's happy to pay for that, because it makes her happy." 
Speaking to NBC News, Matoshi put it in similar terms: "A lot of people have been at home wearing sweatpants for a long time, so the dress feels extra special," she said. "It's almost like an escape from the current situation."
For MacRae, loving the dress is as simple as that: It makes her happy. And it seems to make her followers happy, too: While regular photos of MacRae and her life received a few dozen likes and comments, images of the dress itself were liked many hundreds of times. A recent Instagram post of herself wearing the strawberry dress, with a glass of champagne in hand, had the caption: "My photos of it are my most liked ever by miles now, so I guess this is a #StrawberryDress fan account now? 😍🍓🍰"