How Schwan's convinced its grocery partners to redesign their Asian frozen foods sections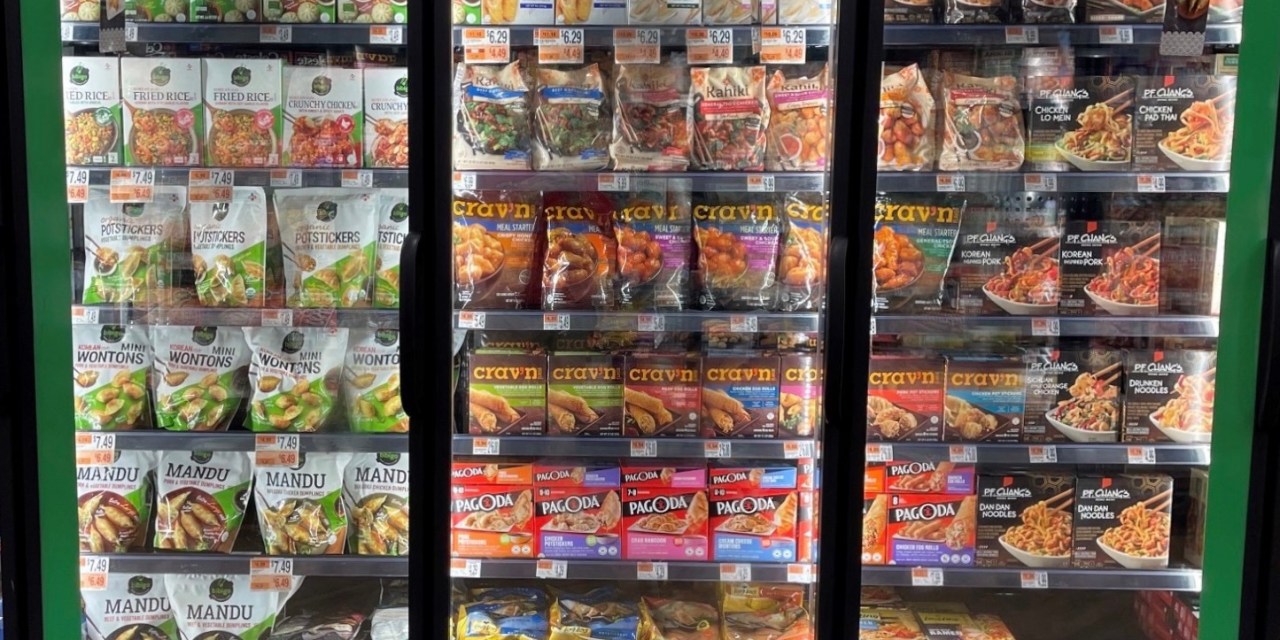 Image via Schwan's Company
Changing trends have brands persuading retailers to shake up their aisles. 
According to 2021 IRI retail data, U.S. sales of frozen Asian food brands were up 31% over the previous quarter. And CPG company Schwan's wanted to grow its market share within the $3 billion market. While Schwan's had an existing family of Asian-inspired frozen brands include Bibigo, Pagoda, Annie Chun's and Kahiki, the company wanted to promote them on shelves more prominently. So, it spent the last year convincing retailers to change its frozen aisles to put all the Asian products together.
Schwan's Company, a subsidiary of CJ CheilJedang, created a new Asian Destination merchandising program to draw retail consumers' eye to its products. Before, its products were scattered across several locations in the frozen section. But this new marketing program, which was launched last year, brought together the store's Asian-style food brands into a two or three-door section. That way, Schwan's full portfolio of Asian-inspired products were merchandised together under branded freezer banners.
Ron Slominski, vp of sales at Schwan's, told Modern Retail that one of the company's major goals this year is to grow its Asian category. "The idea is to make the Asian ready-to-eat category more approachable," he said, by catching the consumer's eye before they continue down the aisle. The concept was first tested in 2019, but the company began scaling it to thousands of stores in the past year. 
"We worked with retailers to replace other single and multi-serve meals our products were near," Slominski explained. "This helped position us next to popular categories, like ready-to-heat appetizers," he continued. 
But getting retailers on board with rearranging their freezers took some time. 
"At first, only a couple of retailers got the concept," Slominski said. "But once we had the statistical proof from the first test, they [retailers] realized there is overlap between our products and standard single or multi-serve meals." By the end of 2021, Schwan's reported that overall frozen Asian food sales at retail partners with an Asian Destination grew by 69%, versus by 8% at stores without it. By then, the Asian Destination display was implemented in over 2,200 stores, said Slominski. Participating grocery retailers include Southeastern Grocers, Meijer and Food City, among others. 
For the period ending on Dec. 26, 2021, parent company CJ Foods' Bibigo brand hit $47 million in annual sales, representing 184.3% growth. Meanwhile, Schwan's' Pagoda brand — which sells egg rolls, wontons and potstickers — had $68 million in sales, a 50.9% year-over-year growth. During that period, the Schwan's frozen Asian snacks category grew a combined 7.6 points, or 63%, year-over-year, according to the company. Slominski said that one of the top-performing SKUs include Bibigo's six-pack steamed dumplings, "which lends itself as both an appetizer and a snack." 
These types of merchandising strategies may continue to spring up as retailers change up their offerings to appeal to evolving consumer tastes. 
Carly Sutherland, a brand and communications strategy consultant, said grocers' ability to analyze sales data is improving, so there's less guesswork involved in how two merchandise products to reflect customers' changing habits.
"Retailers are likely to increasingly feel pressure from CPG companies to adopt a more 'real-time' merchandising structure," Sutherland explained. This includes pushing retailers to be more nimble and dynamic in how they swap SKU placements based on trending searches and even trending hashtags, Sutherland said.
"Similar to how an online store's algorithm will update product placement and hierarchy based on consumer interest, I wouldn't be surprised if large grocers begin employing in-store data merchandisers," she added. 
Indeed, following the success of this marketing program, Schwan's now plans to partner with retailers on marketing displays for its other frozen products. "Next, we want to apply the destination merchandising to our pizza category," Slominski said.