How retailers are handling the record number of post-holiday returns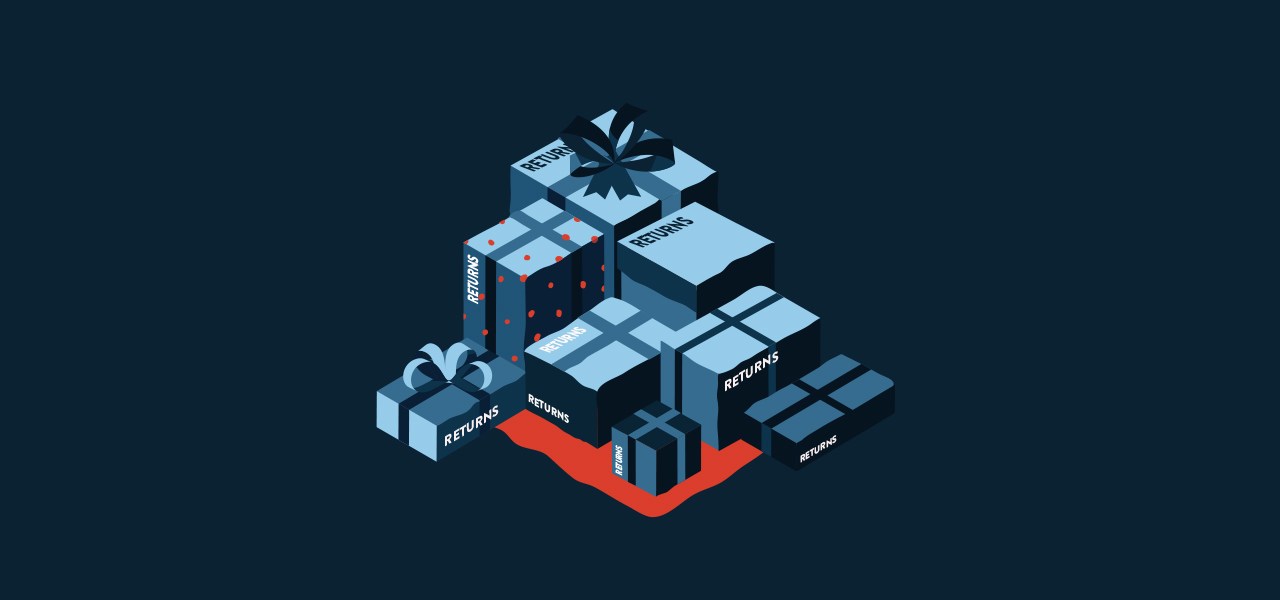 After months of planning to get holiday orders out, U.S. retailers and brands are now shifting their focus to prepare for a long window of returns. 
Up to $114 billion in purchases is expected to be returned in the coming weeks — up from $100 billion last year, per B-Stock Solutions tracking. This week, UPS said it expects to fulfill a record 60 million returned packages during its holiday parcel window, which runs until Jan. 22. The figure is slated to surpass UPS' previous record of 55 million post-holidays returns in 2020.
Because many major retailers have extended their return policy, the wave of returns is expected to continue over the next couple of months. This year, companies like Apple and Nike are allowing customers to return unwanted gifts up to 90 days after the original date of purchase. While some retailers have modified their policies, others are investing in technology to make online returns as seamless as possible. 
Even high-volume retailers are increasingly relying on vendors to ease the pressure from the returns influx. For example, Target, American Eagle and Best Buy are using returns service provider Optoro to speed up warehouse and store returns. Once a store or warehouse associate scans a return via Optoro, it's then sent to a central facility to be sorted — and eventually merchandised again or liquidated. In December, Optoro announced a $25 million funding round, which included backing from UPS and eBay. 
Tobin Moore, CEO of Optoro, said that returns management is becoming an increasingly critical part of retail logistics, especially as supply chain issues persist. "In fact, we're expecting a record $120 billion in returns from this holiday season alone," Moore said.
That said, handling returns isn't cheap. "Every customer return comes at a cost to a retailer," said Agnes Stubbs, senior retail analyst at Software Advice, a Gartner company. "As consumer spending shifts from in-store to online, the volume of returns can as much as triple, by comparison," Stubbs said. And with the current state of supply chain delays and labor shortage, retailers also have to account for the labor costs of returns, she said.
These modifications are harder to make for bootstrapped startups and small businesses. According to Software Advice's supply chain disruptions survey, only 15% of small and medium-sized retailers modified their returns policy to account for inventory delays ahead of the 2021 holiday season. 
For some upstart retailers, the occasional high volume of e-commerce returns is part of doing business. 
Julie Bornstein, co-founder and CEO of shopping platform The Yes, said that despite the reported spikes in January returns, The Yes isn't seeing major disruptions on the reverse logistics side. 
The Yes doesn't house or handle items on behalf of brands. Instead, the marketplace's returns automatically go back to brand partners' warehouses, Bornstein explained. The Yes is giving customers a 30-day return window on all holiday orders. 
Processing free returns for customers can be time-consuming and expensive. However, Bornstein said that e-commerce players like The Yes try to minimize them at the start of the customer journey. "Our strategy around returns is to help customers pick the best product and size to reduce returns," Bornstein said. This is primarily done via The Yes' style quizzes and product sizing guides, along with the website and app's customer service team.
Other brands are taking the slow, long-term approach to returns and exchanges. For the past few years, skincare company Deciem has been offering 365-day returns for purchases made on its website. This allows customers "to have a chance to properly test out products" and mitigate sampling challenges, CEO Nicola Kilner previously told Modern Retail. This holiday season, the company ran its annual "shop slow" campaign, which was designed to avoid the rush of big sales days and eventual returns. 
"What we're seeing right now is that many retailers are not passing along those higher costs, hoping that the rise in costs is temporary," said Nikki Baird,  vp of retail innovation at Aptos.
Instead, Baird said that more than ever, retailers are trying to offset the costs of returns by adjusting promotional runs or easing operational expenses in other areas. Encouraging customers to buy online, return in-store is one such example. 
"More retailers are putting a heavier emphasis on 'return to store' as the more convenient option," Baird said. This allows customers to get a refund faster and easier, Baird explained. "That doesn't prevent returns, but it does make them cost less to the retailer."
At the same time, some returns are inevitable for online sales, Bornstein said. "We accept that returns are part of fashion shopping, and are building the most efficient process to support customers and brands."