How Popchew is helping creators and restaurants launch food brands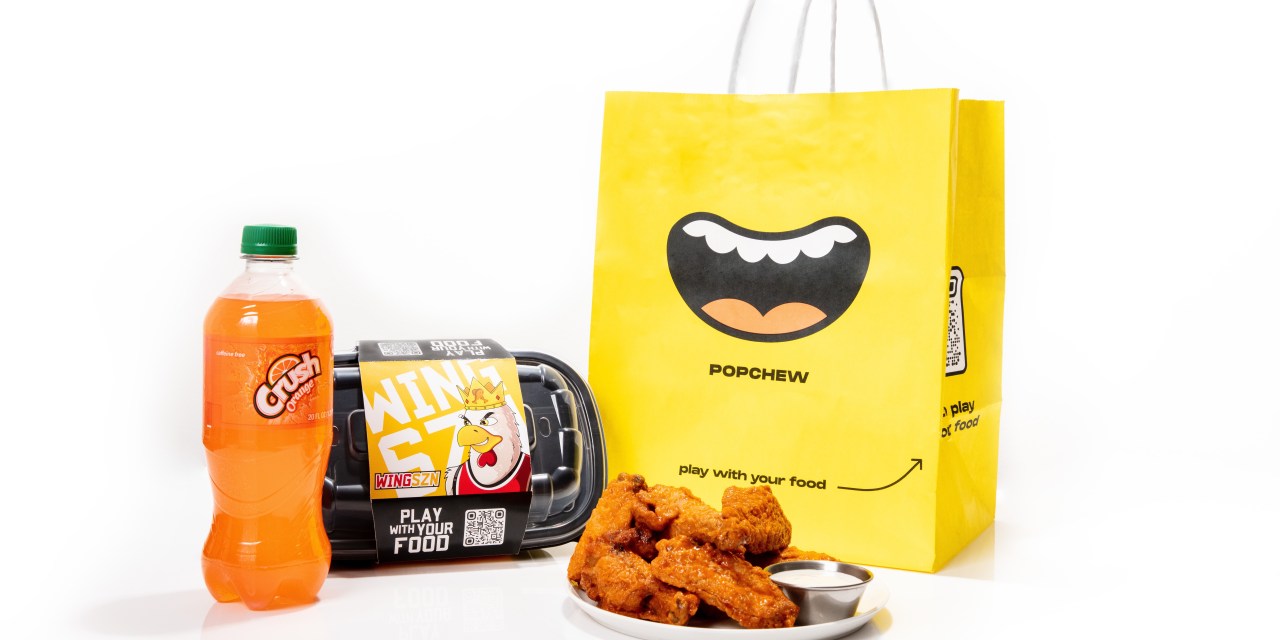 Popchew
With restaurants back in full force, takeout delivery is at an inflection point. One startup called Popchew is trying to reinvigorate the space by marrying food delivery with the creator economy.
The startup's strategy is to create Gen Z-geared food brands and experiences with the help of influencers while offering existing restaurants another revenue stream source.
The company was co-founded last year by CEO Rushir Parikh and COO Nick Sopchak. Popchew has since launched three influencer brands: Anthony "Pomp" Pompliano's Bitcoin Pizza in May 2021, Wing SZN with YouTube creator Zik in December 2021 and Jack Settleman's sports bar-themed menu, SnapBack Sports, in April. According to Popchew, the brands have generated a few million dollars from hundreds of thousands of orders. Bitcoin Pizza Day last year, which launched in 10 cities, brought in $100,000 in gross merchandise volume during its first week live. To date, the startup has signed over 100 restaurants, and expects to partner with another 100 before the end of this year.
Celebrities have increasingly started to permeate every area of retail, looking to launch their own brands — and restaurants are no exception. Fast food and fast-casual chains are increasingly tapping celebrities to act not only as spokespeople, but to also create and promote limited-edition menu items. McDonald's has taken this approach with musicians like Saweetie and BTS. Meanwhile, ghost kitchen businesses like Virtual Dining Concepts are also increasingly working with celebrities on branded dishes. However, Popchew is looking to take a different approach by pairing creators and mom-and-pop restaurants.
The idea is to give restaurants a more straightforward way to partner with influencers – with Popchew supplying the recipes, ingredients and marketing material, as well as helping the restaurants develop videos and content. Each of the creator-led concepts is its own brand, and works with Popchew's network of restaurants to fulfill orders locally. For example, since Wing SZN launched last December, its orders have been routed to dozens of Popchew's restaurant partners in 25 cities. Customers in serviced areas can either order Wing SZN through the brand's website or via the restaurant and its delivery partners, such as Grubhub or Uber Eats.
All customer orders are handled by Popchew, delivered via a third-party app. From there, the company splits the weekly revenue between the creator and restaurant, and Popchew takes a cut from sales; the company declined to disclose the commission rate. Each branded menu item takes about two months on average to execute, from start to launch.
To get started, Popchew has the creator come to its New York City test kitchen, where they brainstorm and cook up recipe ideas. "We hired a head of culinary from Sweetgreen to lead recipe development," said Parikh.
The company is not building a real estate presence or actual ghost kitchens. "But we centralize everything through our food distributors," Parikh said — which allows Popchew and its restaurants to select the specific ingredient SKUs they need every week. 
Each restaurant brand is typically asked to participate in at least two of Popchew's brands, and owners suggest tweaks along the way. "Sometimes, they'll tell us if a sauce is maybe too complicated, while in other instances we get a restaurant to use new ingredients they wouldn't normally consider," he said.
To date, Popchew has worked with Verdi Pizza in Las Vegas, which generates over $10,000 a month from Popchew orders. At Charlie's Pizza Cafe in Weehawken, N.J., Popchew orders accounted for 40% of the family-run restaurant's weekly revenue up until last month, when the pizza shop's profit margins drew enough attention to get acquired by a local restaurant group. Popchew will continue to work with the rest of the group's stores.
Typically, Popchew wants to work with creators who have at least a couple of million followers — so they have the reach to create and promote the brand, he said. "A lot of our creator talent comes to us through partnerships agencies like CAA," Parikh said.
Lindsey Hyams, a member of The Z Suite, a Gen Z consumer research collective, said that Popchew's model is trying to cater to the way young people order and interact with food brands. 
"We see that when a brand comes out with a new product, or unique collaboration with an influencer, it's bound to do better than an average launch of a product," Hyams explained. She pointed to companies like Gopuff and Chipotle, as well as retailers like Erewhon, all of which work with influencers, content creators and celebrities to promote products. 
"TikTok creators went crazy over Hailey Bieber's new smoothie at Erewhon," she said. "Popchew's model of a play and eat platform for creators touches on this concept of celebrity collaborations."
Currently, the Popchew team is trying to add new locations weekly, and for now are focusing on the top 30 cities and top 30 college campuses across the country, Parikh said. "To be able to scale the model across the country, we're currently building out materials to be digital and get pushed out automatically," he said. Popchew is set to launch its next brand later this summer, with several more to come in the coming year.
"We'll also be rolling out brand performance reports in the next few weeks," Parikh said. The company is also planning to build out a customer-facing app, but has no plans to become an aggregator. 
"We're not trying to replicate DoorDash or Postmates, so we won't be offering groceries," he said. "We're building a recipe playbook, so it becomes a rinse and repeat process," Parikh said.