How fashion brand Faherty tapped into resort towns for its retail expansion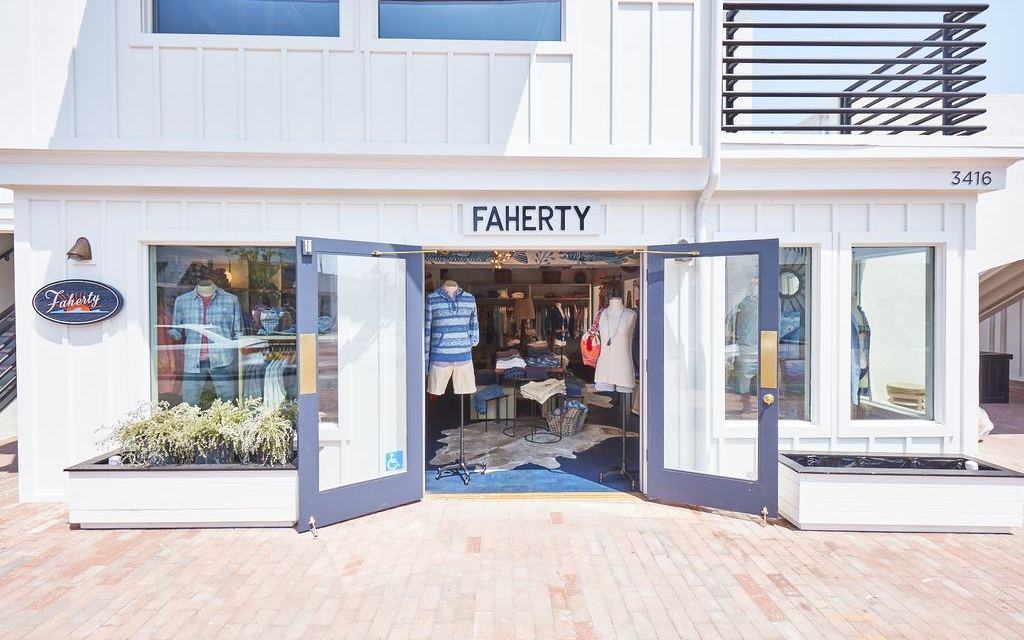 Image via Faherty
Fashion brand Faherty is taking its physical retail business on vacation. 
Prior to 2020 the company, which was founded back in 2012, had 14 stores concentrated in major cities such as Boston, San Francisco, Chicago, along with multiple New York City locations. However, the brand — whose merchandise features outdoor and beach-friendly styles — is now prioritizing locations that aren't traditionally targeted by retailers. It follows a playbook of other brands increasingly trying out new store strategies to acquire customers, whether it be via popups or traveling showrooms.
For the past year, Faherty's strategy has been to open storefronts in vacation destinations across the U.S., such as Rosemary Beach, Fla., Big Sky, Mont., Nantucket island and Sag Harbor, Long Island. The company expects to open 13 new stores in 2021, bringing its total store count to roughly 36 by year's end. There are five more openings being planned for 2022.
"With so many people relocating and continuing to work remotely, we're seeing major growth from these markets," said founder and CEO Alex Faherty. He went on to say that with many young urban consumers moving to cities like Austin, Nashville and Seattle, there is a ripe opportunity to cater to them.
At the same time, more people are able to spend their remote work days in sunny regions, such as Florida and Texas. This year, Faherty opened new locations in Fort Lauderdale, Fla. and Charleston, South Carolina in time for summer. A Miami store in the artsy Wynwood neighborhood is currently being prepared. 
"We also added a 'mountain strategy' that focuses on outdoor destinations," he said. This began with Jackson Hole, Wyo., whose Faherty location opened in January amid ski season. Faherty also noted that with flexible work schedules, winter and summer resort seasons have gotten longer. "Many of these locations have big summer businesses."
The company's direct-to-consumer digital sales increased about 100% year-over-year — the strategy now is to double down on retail simultaneously. Currently, the majority of Faherty's sales still come from its own website. The company also sells at online retailers like Mr. Porter and department stores like Nordstrom and Neiman Marcus. "Our online, wholesale and retail are becoming a balanced channel mix," said Faherty.
Faherty's new crop of stores, which are open year-round, are seeing increases in comp sales, with foot traffic picking up after the vaccine rollouts, according to the company. The destination stores' foot traffic increased this summer compared to last year, helping boost sales. "So much of the destination stores' business comes from 'buy now, wear now,' sales," said Faherty. This is a contrast from the big city locations, in which customers tend to shop days or weeks ahead of wearing the items. 
There are several advantages to focusing on high traffic vacation towns. For one, the stores are less expensive to open and operate, said Faherty, making the economics enticing. Faherty uses a dedicated real estate team that scouts potential property locations in new markets. With destination stores, Faherty said the company prioritizes cities and towns the team sees potential in, as opposed to strictly basing storefronts on online sales in specific markets. The traditional metro area locations were opened to build on Faherty's existing online sales. However, the vacation-focused stores follow ongoing population trends showing where young Americans are spending time, as opposed to just the brand's own customer base. "Once you leave the top 10 performing cities, it gets trickier to go by e-commerce data." 
These vacation-focused stores are also becoming a bigger part of the brand's advertising. These stores are designed to reflect the local climate and activities, such as surfing or skiing. Faherty's upcoming fall catalog — which it releases annually as part of its seasonal marketing campaign — will be Nashville themed and feature the Faherty store that opened in July. This winter, the brand's marketing will focus on Big Sky, Mont., which has become popular among young visitors in recent years.
Todd Sachse, founder of Sachse Construction — which works with brands like Allbirds and Bonobos — said more retail brands are looking outside major metro areas to build their next store. These include mid-sized cities, such as Austin, Dallas and Miami, which have seen major influx in population as people migrate away from big cities like New York and Los Angeles.
"These brands are wise to test new markets by opening up stores or pop-ups," said Sachse, who noted that some landlords in these unexpected markets have offered discounted rent during the pandemic. The "low-risk" investment, as opposed to a big flagship in a retail hub, "helps the brands meet the customer where they're traveling or temporarily living," he said.