How dining reservation apps are helping restaurants prepare for winter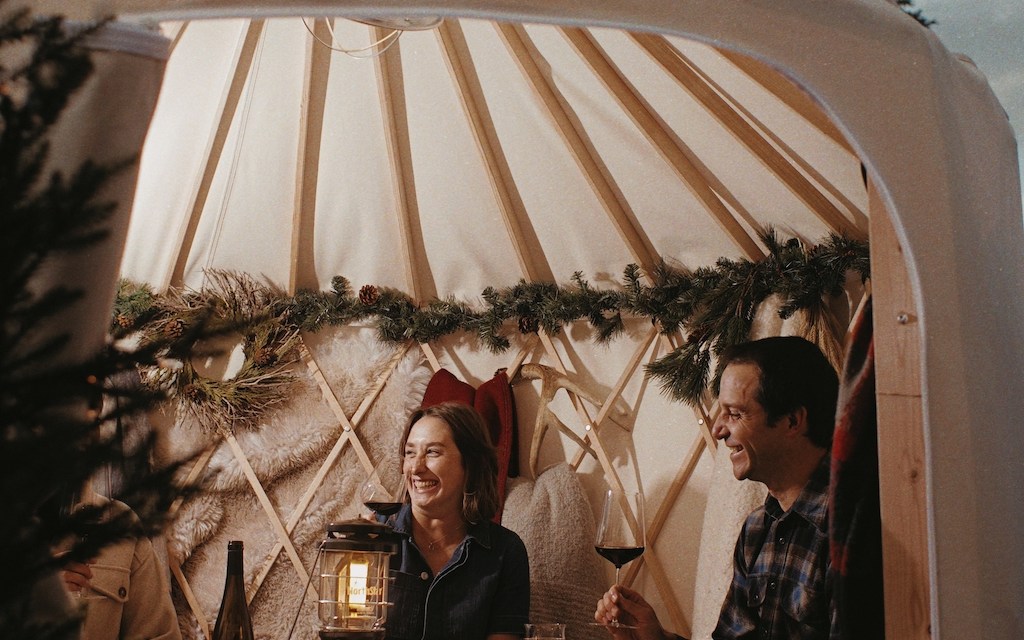 As coronavirus cases skyrocket — and the weather gets colder — dining reservation apps are trying to offer new services to help restaurant partners stay afloat.
The National Restaurant Association predicts that the industry will lose $240 billion by the end of the year, highlighting the pandemic's severe impact on hospitality. Naturally, many restaurants are increasingly recognizing the need to streamline operations with the help of technology. Following shutdowns, Platforms like Tock, Resy and OpenTable began modifying and building out new tools to address the current hospitality climate. They've even ventured to add retailers, including grocery stores, to their rosters since then. And with major metro areas like New York, San Francisco and Chicago restricting restaurants and bars' operation again, the need for these tools appears to be here to stay.
In the spring, the goal was to help restaurants reopen safely, by enabling them to take reservations, manage waitlists and integrate pickup and delivery services. Now, the services are expanding as the pandemic approaches winter. The new programs from these companies range: from Resy's converted outdoor tents to its virtual dining experiences for at-home diners. For Tock, the focus is on creating digital management tools for existing and new restaurant clients to handle the second wave of shutdowns and pickup.
According to Open Table's state of the industry report, released this month, dining establishments' safety remains a top concern for diners. The data, collected from its 60,000 listings, shows that the majority of diners are cautious about their own and dining establishments' sanitizing protocols. Out of the respondents, 50% agreed that businesses must communicate strict cleaning policies, while 48% want staff's temperature to be taken regularly. 
And while indoor dining has been on the rise throughout the fall, with some diners reporting they feel safer and more confident about indoor dining than they did in the summer, it's still a low percentage of customers. According to OpenTable's survey of 47,000 diners across the U.S. and Canada, 25% of diners "feel eating indoors is low to somewhat low risk," a 32% increase since July. 
Many of Tock's new features are aimed at restaurants that have been trying to safely offer indoor dining. They include backend tools that help staff monitor dine-in customer traffic in real time, as well as incoming pickup and delivery orders.
As summer came around and street patios opened, "people thought they'll just go back to 'normal' service," Tock founder Nick Kokonas told Modern Retail. But that's not how things panned out. Much of the early work was simply explaining to restaurants what new pandemic operations would look like. "It's been frustrating trying to convey that this is going to be a long process that involves modified floor plans, capacity tools, as well as kitchen pacing," he said. 
Tock's new offerings now focus on making communications with diners easier as well as streamlining ways to make money beyond dining in. They include two-way texting tools and more robust pickup and delivery integrations. Right now, the goal for many in the industry is to use sales tools that reduce waste and up yield, Kokonas said. 
Other new programs focus on helping track the spread of the virus. Health experts are concerned that dining, especially indoor, has become a big factor in the coronavirus spread. This has prompted the need for businesses to be involved in contact tracing, as well as symptom screening at the door, Kokonas said. With this, Tock has made it possible for diners to list who they're eating with, to assist with contact tracing efforts. Restaurants can also use the company to inquire about the customer's recent travel.
Tock, which raised a $10 million funding round in May, has since added thousands of restaurants, bars and vineyards to its platform. The platform, which allows restaurants to collect a deposit during booking, is adding places at twice the rate it was in February. "I'd say it's about 50 restaurants every couple of days," Kokonas said.
Despite its original focus of fine dining establishments, Tock has since expanded to include food trucks and more casual restaurant popups. Kokonas, who also owns Chicago-based The Alinea Group, has also been leading Tock's reopening guidance tools. In advising restaurant owners, Kokonas said the focus has been to help businesses figure out long term service plans, such as calibrating pickup vs. delivery vs. dine-in capabilities. Another recently added feature is meant to counteract the fees that apps like DoorDash and Seamless add to purchases; With it, Tock clients can add on a flat fee to cover delivery costs, which the customer pays when choosing the option over pickup, as opposed to the percentage most other platforms make the restaurants pay.
Beyond health and safety tools
Tock is not the only booking platform witnessing recent growth. This quarter, American Express-owned Resy also saw record numbers of inbound inquiries, mostly coming from "no tech" businesses, said chief marketing officer Victoria Vaynberg. Resy, which is currently providing partners with a fee relief through 2020, has had a 69% increase in onboarded restaurants this quarter, up from 45% in Q3. The biggest lift came from restaurants that were previously walk-ins only, said Vaynberg. 
The core tools include inventory and table management, which allow for quick changes, such as overnight announcements of limited capacity. New coronavirus-specific features include mobile waitlists that allow customers to wait further away from the host stand, along with a capacity alert feature. When booking, users can also select from table types and view a venue's safety checklist. 
But the company has also been working on revamping its events offerings for restaurants to be better suited to the current environment. This winter, American Express and Resy are partnering with select restaurants on outdoor and at-home dining experiences. Targeted at Amex card members, the Yurt Villages program will start rolling out in the beginning of December and go through February. Locations like New York's Crown Shy and Frasca Food and Wine in Boulder will feature outdoor heated tents. Dining parties get winter-friendly perks, such as a s'mores course at Seattle's Canlis. The launch follows s drive-through dining experience Resy launched last month that allowed Los Angeles customers to pull up and dine inside their cars.
"The events ticketing tool, which we launched in May, allows all members to create culinary experiences tailored to their customers,"  Vaynberg. And similar to platforms like Masterclass and Airbnb, Resy restaurants are also offering at home events for customers, such as virtual cooking and baking classes. 
She also pointed to a lift in at-home programs. For example, Resy at Home, which launched in April and offers at-home meal kits and virtual wine consultations, has received a positive reaction from users, she said. . 
There is also an opportunity to scale digital reservations beyond dining, said Kokonas. For example, Tock has added skiing destination Vail Resort, which began using it for managing reservations at restaurants, lodges, amenities and private club. The software is also currently being tested by car dealerships.
For the struggling industry, planning is the best approach to handling the coming months. "You don't want walk-ins right now, that's the worst idea," Kokonas said. "Building a hybrid system is imperative to surviving this."